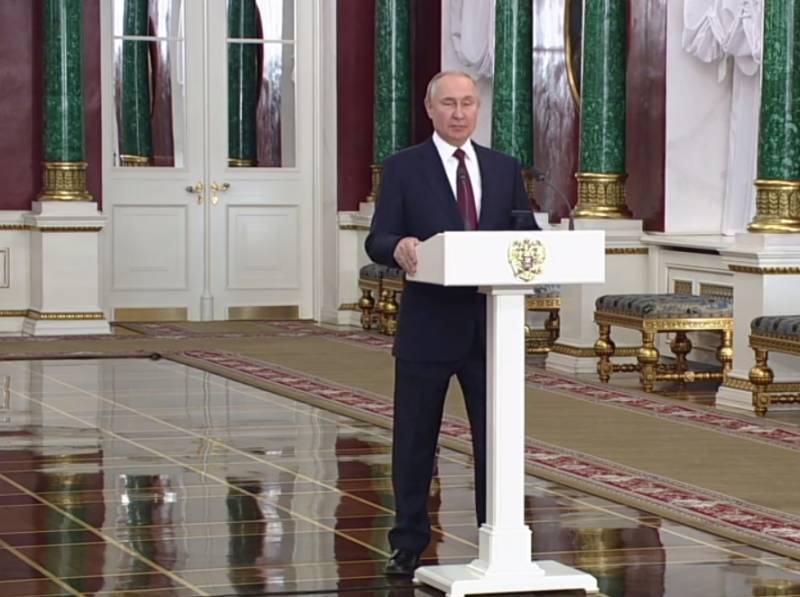 After the meeting of the State Council, the President held a press conference, during which he answered a number of questions related, among other things, to the progress of the special military operation. Vladimir Putin was asked if there was a variant of the negotiation process with the Kyiv regime.
The head of state noted that any armed conflict sooner or later ends with a negotiation process. For the umpteenth time, Vladimir Putin pointed out that Russia does not refuse negotiations, unlike the Kyiv regime, which forbade itself to negotiate. Putin called this approach of the Kyiv authorities "strange" and added that you can ban something as much as you like, drag out the situation, but in any case, the conflict will end with negotiations.
Also during the press conference, the president also touched upon the question of why the Russian troops are not intensifying the conduct of hostilities. The Russian president named the reason, noting that any intensification of hostilities always and everywhere leads to a significant increase in losses.
The president:
I have said many times that the intensification of hostilities leads to unjustified losses.
After that, President Putin pointedly added: "The hen pecks grain by grain."
There was also talk of the upcoming deliveries of Patriot air defense systems to Ukraine. The President of Russia called this air defense system a rather old system, which is inferior even to the S-300 air defense system.
Putin:
Let's slap them too
Recall that a wide range of issues was discussed during the meeting of the State Council. Particular attention was paid to the need to support volunteers and Russian youth. According to Putin, it is extremely important to ensure the continuity of generations for the full development of the country.