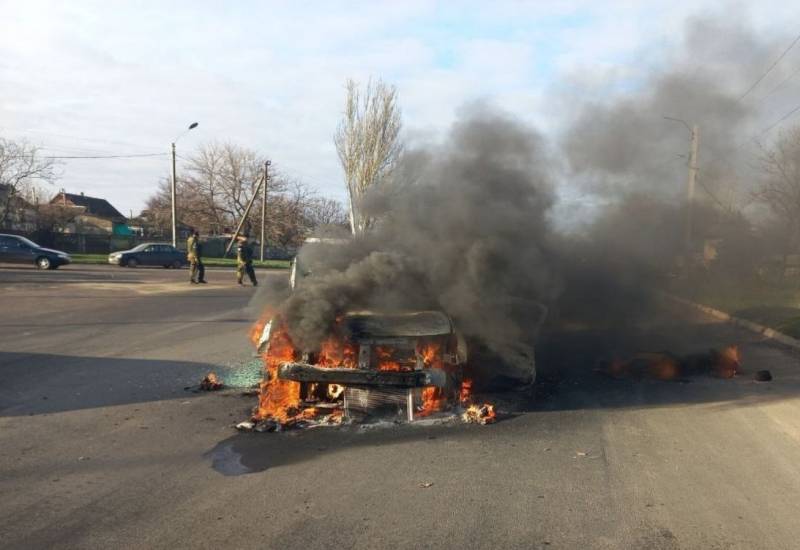 Ukraine is a terrorist state, which was confirmed by today's terrorist attack, during which the head of the village of Lyubimovka Andriy Shtepa was killed. Reportedly, the car with the official was blown up in Nova Kakhovka, Shtepa died on the spot.
According to currently available information, Ukrainian saboteurs planted a bomb in the car of the head of the village of Lyubimovka, the explosion occurred while the car was moving along one of the streets of Nova Kakhovka. Whether there was someone else in the car, there is no data, the car itself burned down after the explosion.
According to preliminary data, he died. Documents in the car on his last name, the body is charred. It was an undermining
- said the head of the district administration Pavel Filipchuk.
The administration of the Kherson region confirmed the death of the head of the village Lyubimovka Andrey Shtepa.
Andrei Shtepa was a true professional and a fearless person who selflessly led the evacuation and remained in his native village to the last, fulfilling his duties, despite the threat to life.
- said in a statement.
Currently, emergency services and law enforcement officers are working at the site of the terrorist attack, investigative and operational measures are being taken to search for those involved, i.e. Ukrainian DRG.
Recently, Ukrainian DRGs have become significantly more active on the territory of the Kherson and Zaporozhye regions, and a number of attempts were made on officials of the new Russian regions. Some attempts were prevented, law enforcement and special services are working, but due to the situation in the front-line regions, it is very difficult to identify Ukrainian agents and saboteurs.