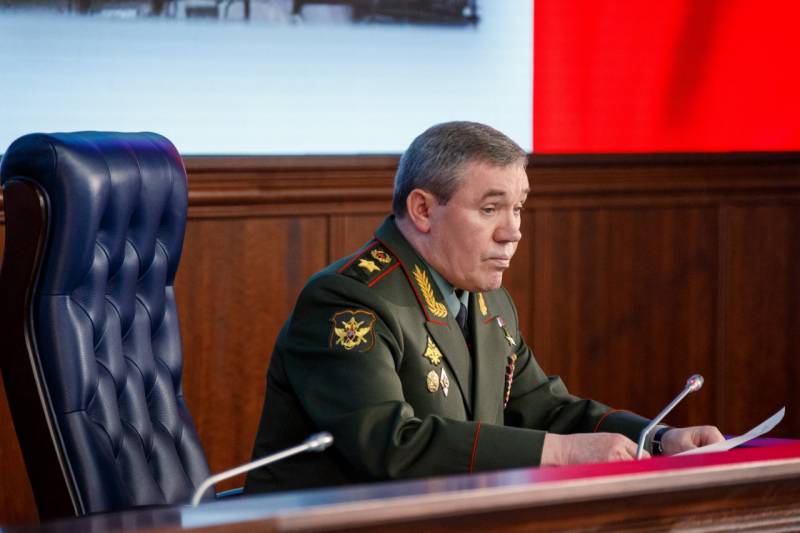 Chief of the General Staff of the Russian Armed Forces, General of the Army Valery Gerasimov, held a briefing for military attachés of foreign states, which touched upon the topic of a military special operation of Russian troops in Ukraine.
During the briefing, Gerasimov brought some aspects of the special operation to the attention of foreign military attachés. According to him, the special operation began in order to eliminate the military threat from Ukraine. From the very beginning, the fighting unfolded over a vast territory and is fierce.
To date, the Lugansk People's Republic has been liberated, the city of Mariupol has been taken, control has been established over the Azov coast, the territories of the Kherson and Zaporozhye regions. At present, the front line has been stabilized, its length is 815 km. The main efforts of the Russian troops are focused on the liberation of the territory of the DPR.
High-precision long-range missiles hit more than 1300 critical infrastructure facilities in Ukraine, which significantly reduced the combat potential of the Armed Forces of Ukraine, disrupted the command and control system, paralyzed the work of the military-industrial complex, and significantly hindered military transportation.
The United States and its allies poured $100 billion into the Zelensky order regime in order to prolong the armed conflict. In total, since the beginning of the NWO, the West has delivered more than 30 helicopters to Ukraine, more than 350
tanks
, 700 artillery systems, 100 MLRS, about 1000 AFVs, at least 800 armored vehicles, as well as 130 thousand anti-tank weapons, over 5300 MANPADS and at least five thousand different drones.
Earlier, the Ministry of Defense stated that more than 250 Russian servicemen received combat experience during the special operation.