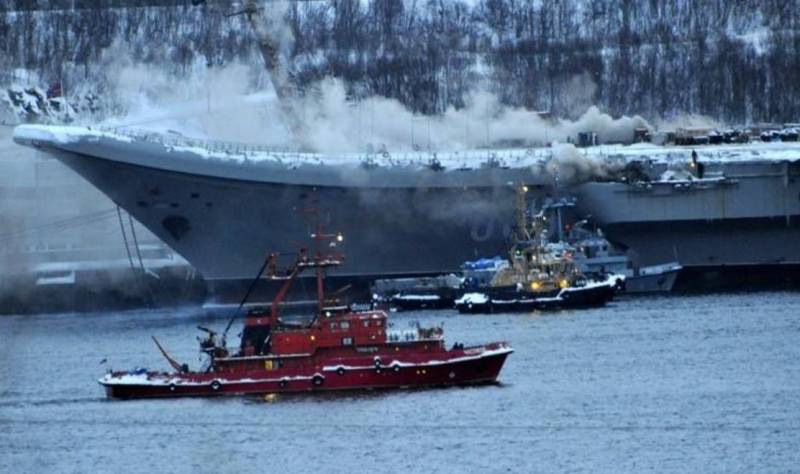 The photo is illustrative
On the only Russian aircraft-carrying cruiser "Admiral Kuznetsov" a new incident, the head of the USC, Alexei Rakhmanov, reports a fire, though a small one. At the moment the fire is extinguished.
On the cruiser "Admiral Kuznetsov", located in the dry dock of the 35th shipyard in Murmansk, a small fire broke out, as stated, during repair work. The fire was promptly extinguished, and the ship's fire systems worked normally. There is no information about calling fire brigades. As Rakhmanov emphasized, no damage was done to the ship, no one applied for medical help.
There is a small kurtosis during the repair work (...) No damage or casualties
- leads
RIA News
words of the head of the USC.
Recall that there was already one fire on the cruiser, which affected the delivery time of the ship. On December 12, 2019, a fire broke out at the Admiral Kuznetsov TAVKR under repair and modernization, the area of ​​\u500b\u14bwhich reached XNUMX square meters. meters. It took almost a day to put out the fire. The preliminary reason is that a spark from welding got into diesel fuel. During the fire, XNUMX people were injured, two servicemen died.
Currently, "Admiral Kuznetsov" is in the dry dock of the 35th shipyard in Murmansk, docking work on the ship has been completed, and an operation has begun to remove the cruiser from the dock. According to available information, it will take at least a month, after which the Kuznetsov will be put back to the outfitting wall and repairs will continue. According to the USC, everything is going according to schedule.
Work on the repair and modernization of the TAVKR "Admiral Kuznetsov" began in 2017. It was originally planned that the cruiser would be handed over to the customer in 2020, but a series of accidents on the ship led to the fact that the timing of the return of the TAVKR began to shift to the right. According to the latest data, the ship will be ready for transfer
the fleet
2024 in the first quarter of the year.