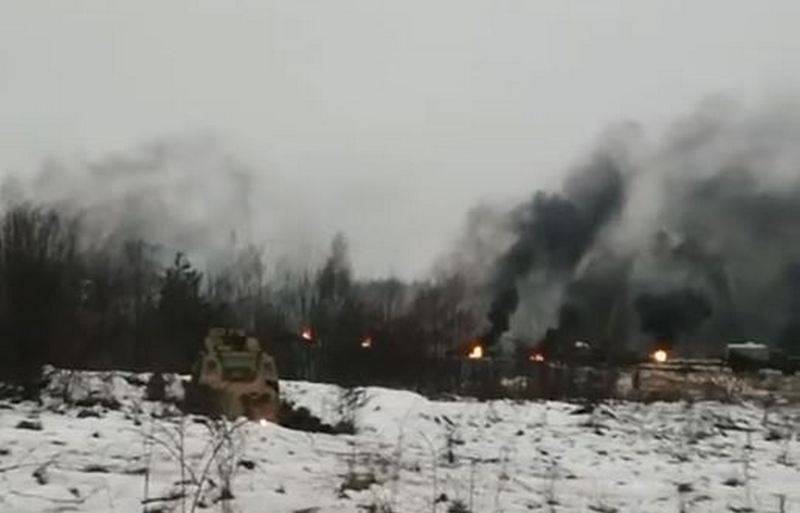 An attempt by the command of the Armed Forces of Ukraine to transfer reserves to Bakhmut (Artemovsk) ended very badly, a column of Ukrainian equipment came under heavy fire from Russian artillery. Judging by the video that appeared on the Web, almost no one reached the city.
Assault groups of PMC "Wagner" continue to squeeze the enemy out of fortified positions, fierce battles are going on both in Bakhmut and Opytny, and in the vicinity. South-west of the city, the "musicians" are fighting for Kleshcheevka, clinging to the eastern outskirts of the village. Despite its small size, it will be quite difficult to take it, the nationalists turned the village into a heavily fortified stronghold with firing points in each basement, a network of underground passages, etc. But PMCs do not lose heart, they only say that they will need to make a little more effort to clean up Kleshcheevka.
The advance of the "musicians" in mid-December made it possible to take under fire control the entrance to Bakhmut (Artemovsk) from Konstantinovka (through Ivanovskoye), this is the main supply route for the Bakhmut group of the Armed Forces of Ukraine. In addition, the second supply route for Ukrainian troops in the city came under the control of Russian artillery, we are talking about the road from Chasov Yar.
Fire control over these roads made it possible for Russian artillery to defeat the column of the Armed Forces of Ukraine with reserves being transferred to Bakhmut. According to available information, Ukrainian equipment was spotted from reconnaissance drones, after which it was hit at coordinates that had been targeted in advance. Thus, reinforcements did not reach the city, if only the remnants. A video with burning equipment and black smoke over the column of the Armed Forces of Ukraine appeared the day before.