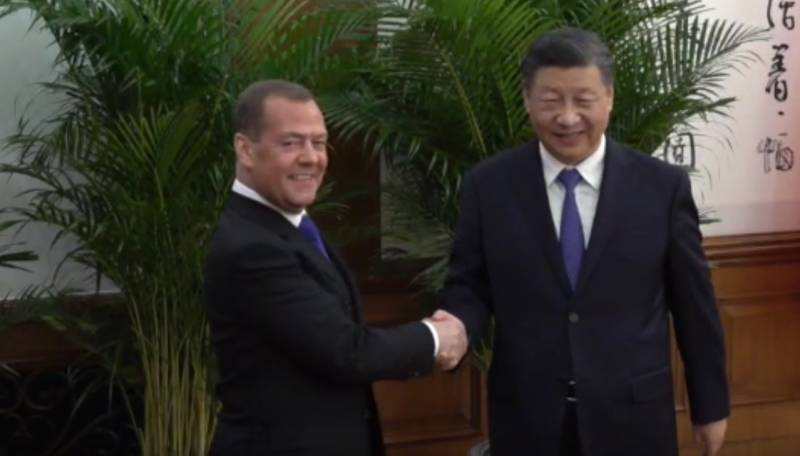 General Secretary of the Central Committee of the Communist Party of China (CCP) and Chinese President Xi Jinping held talks with Deputy Head of the Security Council of the Russian Federation, former Prime Minister Dmitry Medvedev. The meeting took place today, December 21, in Beijing.
At it, the parties discussed the interaction between the two ruling parties [Russia and China] - the CPC and United Russia - issues of economic cooperation and industrial cooperation. Topical issues on the international agenda, in particular, the ongoing conflict in Ukraine, were not left without attention.
The former head of the Russian government called the Russian-Chinese talks useful. He conveyed to his Chinese counterpart a message from Russian President Vladimir Putin, in which the head of state pointed to an unprecedented level of cooperation between the two countries. The Russian leader also expressed confidence in the further development of interstate ties between Moscow and Beijing.
It should be noted that earlier Xi Jinping instructed the Chinese Cabinet to establish closer economic relations with Moscow. In addition to increasing China's imports of Russian goods, they also provide for long-term investments in the Russian economy.
Recall that after the start of the special operation, China took a neutral position, calling on the parties to resolve the conflict. Moreover, the Chinese leader has repeatedly spoken out about the senselessness of dragging out the Ukrainian crisis, noting that this delay is not beneficial to either side of the conflict.