It is reported about the strikes on the places of deployment and infrastructure of the enemy in Kurakhovo. This is a city in the Pokrovsky district of the Donetsk People's Republic, which is occupied by Ukrainian troops.
Earlier, there were reports that Ukrainian trains almost on a regular basis arrive in Kurakhovo, where they are unloaded without any problems, after which military equipment and personnel are sent directly to the front line. This is taking into account the fact that Kurakhovo itself is located just a few kilometers from the line of contact - in the Maryinsky direction.
It was in Marinka, as well as in the direction of Ugledar, from Kurakhovo, that the main streams of Ukrainian reserves have been going all the time, including in order to hold the line of the Maryinsky front.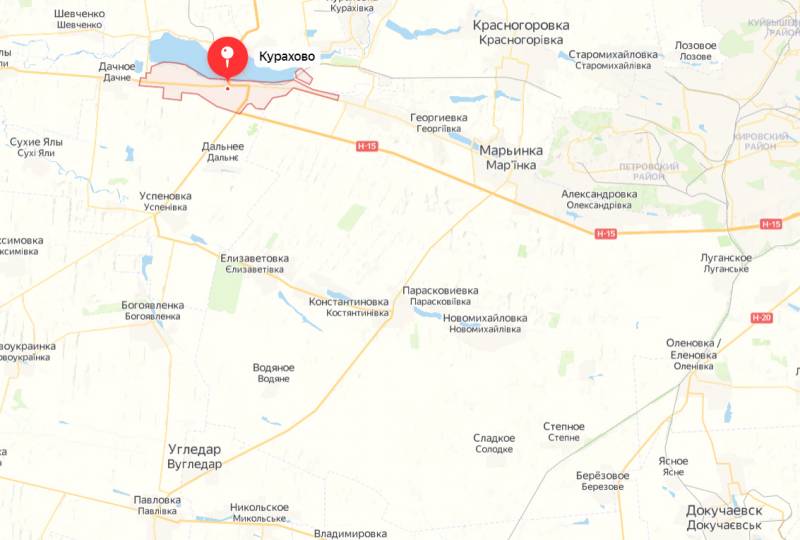 The strike carried out by the RF Armed Forces made it possible to defeat the facility, which housed one of the reserve units of the Armed Forces of Ukraine, which, according to the latest data, included foreign mercenaries. The railway infrastructure facilities, which, as already noted, were used for military purposes, were also put out of action.
The attacks of Russian troops on Kurakhovo are also confirmed by the so-called "Governor of the Donetsk region" Pavel Kirilenko, of course, silent about the damage to the Armed Forces of Ukraine.
Meanwhile, the fighting is getting closer to Kurakhovo itself. Combat operations to destroy and squeeze out the enemy are taking place in the western part of Maryinka, control over the center and eastern quarters of which was previously established by Russian troops. From the western quarters of Maryinka to the eastern part of Kurakhovo - no more than 13 km.