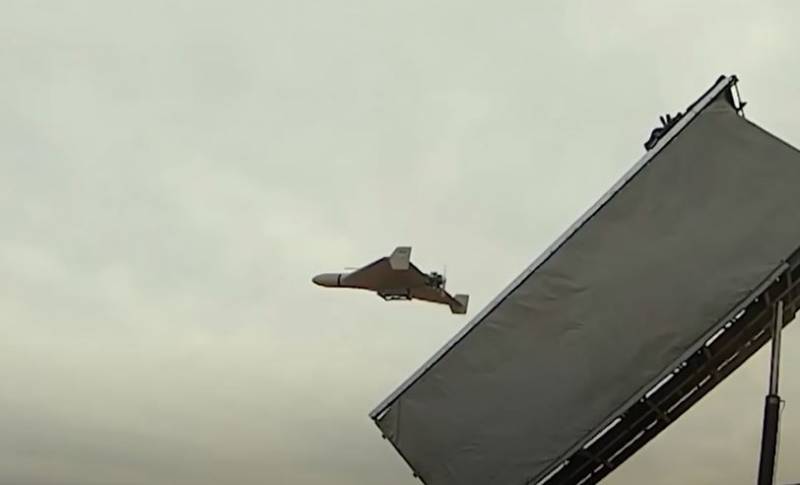 Russian troops began to use a new model of kamikaze drones called "Geran-1" for attacks on Ukraine. According to the official representative of the command of the Air Force of the Armed Forces of Ukraine, Yuri Ignat, we are talking about "Iranian drones" Shahed-131.
According to the command of the Air Force of the Armed Forces of Ukraine, Russia has begun to use a "new" model of drones, called "Geran-1" in Russia, which is smaller than those used by "Geran-2", to strike at the critical infrastructure of Ukraine. Ignat did not provide details.
It is worth noting that this is not the first mention of the Geran-1 kamikaze drone by the General Staff of the Armed Forces of Ukraine in the context of strikes on Ukrainian infrastructure; back in mid-October, the Ukrainian Ministry of Defense announced the discovery of fragments of this drone on the territory of the Buchansky district of the Kyiv region. The Russian drone was allegedly shot down by Ukraine's "valiant" air defense.
The Geranium-1 (Shahed-131) drone is slightly smaller than the Geranium-2 (Shahed-136), its length is 2,6 meters, its wingspan is 2,2 meters, and its approximate weight is 135 kg, of which approximately 15 kg are to the warhead. The main difference is the installed rotary piston engine (Wankel engine) Shahed-783/788, developed in Iran based on the Chinese MDR-208, which in turn were copied from the British AR731. The range of Shahed-131 is about 900 km.
Shahed-136 has a weight of up to 200 kg, a wingspan of 2,5 m and a warhead with 40-50 kg of explosives. It is equipped with an MD-550 piston engine, which emits a specific sound, for which the drone has already been called a "shahid moped". The declared range is up to 2 thousand kilometers.
In Kyiv, Iran is accused of allegedly supplying drones to Russia, but so far they have not been able to provide evidence of this. Neither Tehran nor Moscow confirms the supply of drones; a licensed assembly of Iranian drones at Russian facilities is possible, although there is no confirmation of this either. The Russian Ministry of Defense simply ignores all Ukrainian and Western accusations, continuing to use drones, and quite successfully.