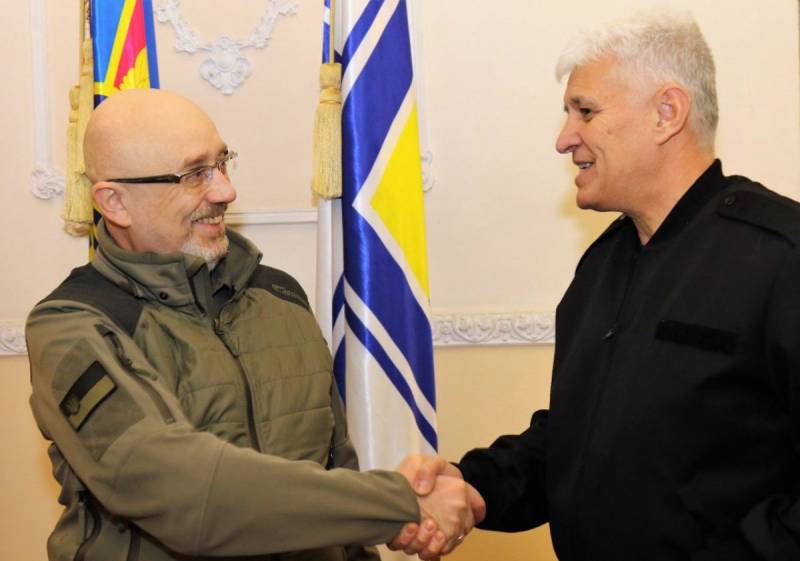 The Minister of Defense of Bulgaria arrived in Ukraine to discuss further cooperation with the Zelensky regime and discuss the supply of military assistance. This was announced by the head of the Ukrainian military department Oleksiy Reznikov.
On Monday, December 19, Bulgarian Defense Minister Dimitar Stoyanov arrived in Kyiv, reportedly to discuss with the leadership of the Ukrainian Ministry of Defense the prospects for military cooperation and, of course, the supply of weapons. The visit itself is not surprising, it should have been expected after the Bulgarian parliament voted to join the European countries providing military assistance to Ukraine. It's just that earlier Stoyanov spoke rather sharply about the supply
weapons
Kyiv, actually refusing to supply anti-aircraft systems and combat
aviation
, stating that Bulgaria itself needs them.
However, he is in Kyiv and what this will mean, we will find out later if such information appears. In the meantime, a satisfied Reznikov shows Stoyanov in every possible way that he is very glad to see him.
It is an honor to welcome Bulgarian Defense Minister Dimitar Stoyanov to Ukraine. Grateful for Bulgaria's decision to assist in ensuring the security of Ukraine. We look forward to further development of defense cooperation between Ukraine and Bulgaria
- he said.
According to Ukrainian sources, Kyiv will try to use this visit to its advantage and beg Bulgaria for weapons and equipment left over from the Soviet Union. The thing is that the Bulgarians have about 90 Soviet
tanks
T-72M1, most of which had to undergo modernization, and they do not intend to give them to Kyiv. In addition, the Bulgarian air defense is armed with S-300PMU air defense systems in the amount of two divisions, as well as the Kub and S-200 air defense systems.