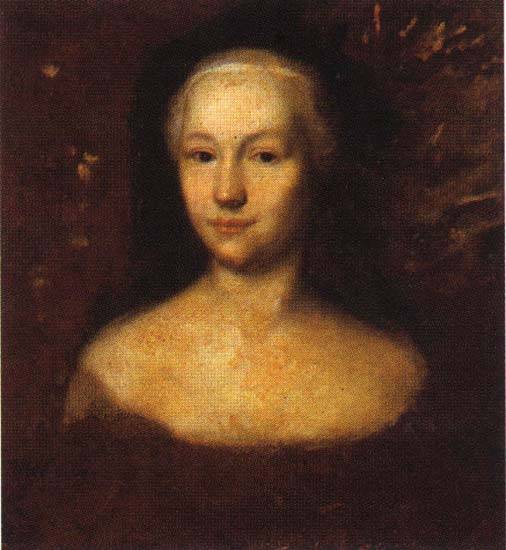 A. Matveev. Princess Anna Leopoldovna. Between 1733 and 1739
In a recent cycle dedicated to the reign of Empress Anna Ioannovna, the arrest of her niece Anna Leopoldovna (mother of the infant Emperor Ioann Antonovich) and her husband Anton Ulrich were briefly mentioned. In two short articles we will talk about the life of Anna Leopoldovna and her short reign, the palace coup in favor of Elizabeth Petrovna, and tell about the sad fate of the Braunschweig family.
Dynastic crisis in Russia
The power of Anna Ioannovna, who broke the "Condition", was strong and was not questioned. However, the fate of the dynasty was not determined and caused great concern. The empress did not have legitimate children (but, as we remember, with a high degree of probability, there was an illegitimate child from Biron - Karl Ernst, born on October 11, 1728). However, he was not considered heir to the throne.
But in Kiel, a boy from a rival branch of the Romanov (Petrovich) dynasty was growing up - Karl Peter Ulrich, Hereditary Duke of Holstein-Gottorp and Schleswig, Anna's nephew. Peter I, as you know, had two daughters - smart Anna and "cheerful" Elizabeth. They unsuccessfully tried to marry the "merry" to the future Louis XV, and Duke Karl Friedrich of Holstein-Gottorp married the smart one.
Everyone really liked Anna in Holstein, but she caught a cold and died immediately after giving birth. Her son, being the grandson of Peter I and Charles XII, became the heir to the crowns of Russia and Sweden. According to the secret protocol drawn up at the conclusion of the marriage contract, Peter I or his heirs had the right to take the boy born from this marriage to Russia.
Contrary to later testimonies left by the murderers of this emperor, he received a very good education (Catherine II was a pitiful dropout compared to him) and was not at all an alcoholic and a degenerate. However, he did not inherit from his great ancestors the main qualities of any ruler - firmness and willpower, which ultimately killed him.
But this child did not suit the empress and her supporters: they wanted to secure the throne for the Ioannoviches.
On the other hand, Anna Ioannovna's cousin, the "merry" Elizabeth, was in St. Petersburg, but no one seriously considered her candidacy. Firstly, everyone remembered who her mother was, who had gone through an unprecedented path from the accommodating "soldier's port" to the empress. During the life of Peter I, she was a modest and inconspicuous "mouse", but she changed dramatically after the death of the emperor. I. M. Vasilevsky called Catherine I
"a wonderful housekeeper, a very good maid, one of those who have been considered devotees all their lives and only in old age manage to steal a tidy sum from the benefactor who trusts her."
The acquaintance of Peter I and Marta Skavronskaya dates back to the autumn of 1703. Catherine at that time was 19 years old, and she was no longer under Sheremetyev, but under Alexander Menshikov: their first "night of love" dates from this time and Franz Villebois, author of the book "Stories about the Russian Court", claims that the tsar honestly paid Martha 10 francs. This episode of the "acquaintance" of Peter and Catherine was included in the novel by A. N. Tolstoy "Peter I", only this author was ashamed to report payment for the services rendered.
After that, Marta was in the service of Menshikov for another two years, and in the spring of 1705 he did not really distinguish her from other concubines. In 1704 and 1705, the future empress gave birth to two boys, Peter and Paul, who died shortly after birth.
Only in 1705 did Peter I take Marta away from his favorite, sending her to live in the village of Preobrazhenskoye, the estate of his sister Natalya. In 1707 (according to other sources - in 1708), she was converted to Orthodoxy, and Tsarevich Alexei became her godfather - after his name she received a patronymic. Since that time, she has been practically inseparable under Peter I, including in the Prut campaign, when she was seven months pregnant.
In 1711, her secret wedding with the emperor took place, on February 19, 1712 - the official marriage. At the same time, the illegitimate daughters of Peter and Catherine - 4-year-old Anna and 2-year-old Elizabeth walked around the lectern with Catherine, after which they were declared "married".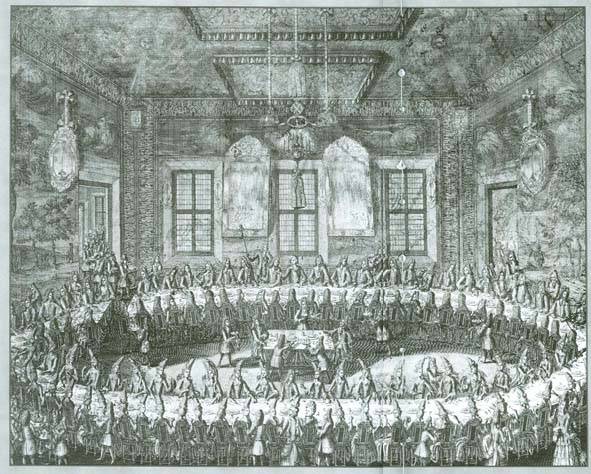 A. Zubov. Wedding of Peter I and Catherine in February 1712
And only in May 1724 was the coronation ceremony.
After that, the emboldened Catherine began to feel so free and confident that she took a lover, who was not just anyone, but Willem (Wilhelm) Mons - a lieutenant of the guards, a participant in the battles near Lesnaya and near Poltava, the brother of the famous favorite of Peter I, a former adjutant emperor. Upon learning of the betrayal, the shocked Peter practically broke off all relations with Catherine and only before his death did he reconcile with her - thanks to the efforts of his daughter Elizabeth.
Elizaveta Petrovna had no supporters at court and took after her mother: she was by no means a highly moral girl. At first, she tried to seduce her nephew, the teenage emperor Peter II, and he was so carried away by her that he ordered her chamberlain, A. B. Buturlin, whom he reasonably suspected of having a relationship with his aunt, to be sent to Ukraine.
Then, the ensign of the Semenovsky regiment, Alexei Shubin, turned out to be in her bed, to whom Elizabeth wrote love poems and even, according to some authors, gave birth to two children from him. The connection between the daughter of Peter I and the ensign was known to everyone. Anna Ioannovna, in order to avoid scandals, at first ordered Shubin to be sent to Revel, but the ardent ensign, apparently, did not let up, because a year later he was already exiled to Kamchatka.
In 1743 he was returned to St. Petersburg and "for innocent suffering" he immediately received the Order of St. Alexander Nevsky, the rank of Major General, and also became Prime Major of the Semyonovsky Regiment. In addition, he was granted an estate in the Nizhny Novgorod province with two thousand serfs.
Elizabeth managed to be in the arms of Semyon Naryshkin, who, seeing the fate of Shubin, chose to flee to Paris. But already in 1731, Elizabeth consoled herself with the young church choir singer Alexei Razumovsky, whom, as many are sure, she even secretly married, and they had a daughter.
It is believed that such was a certain nun Dosithea, who in 1785, by the personal command of Empress Catherine II, was placed in the Moscow John the Baptist Convent, founded by Elizaveta Petrovna in 1761, "for the care of widows and orphans" of noble and honored people of the empire. The windows in the two rooms allocated to Dosithea were always closed with curtains, and only the abbess and Dosithea's personal confessor had the right to visit her.
Only after the death of Catherine II, guests began to be allowed in to the prisoner, who invariably turned out to be extremely high-ranking persons, however, as a rule, they were retired. After the death of Dosifei in 1810, Moscow vicar Bishop Augustin of Dmitrovsky was buried, and some retired nobles in ceremonial uniforms and orders were present at the burial. It was her name that the mysterious impostor, who entered the
history
, as "Princess Tarakanova" (actually - Daraganova, this is the name of Razumovsky's nephews).
That is, the candidacy of Elizabeth for the strict Anna Ioannovna was doubly unacceptable: both for dynastic reasons and for moral issues.
However, in Russia since 1722 (according to another version - since 1723), Anna's older sister, Catherine, Duchess of Mecklenburg and Schwerin, lived in Russia, who left for her homeland with her daughter from her tyrant husband.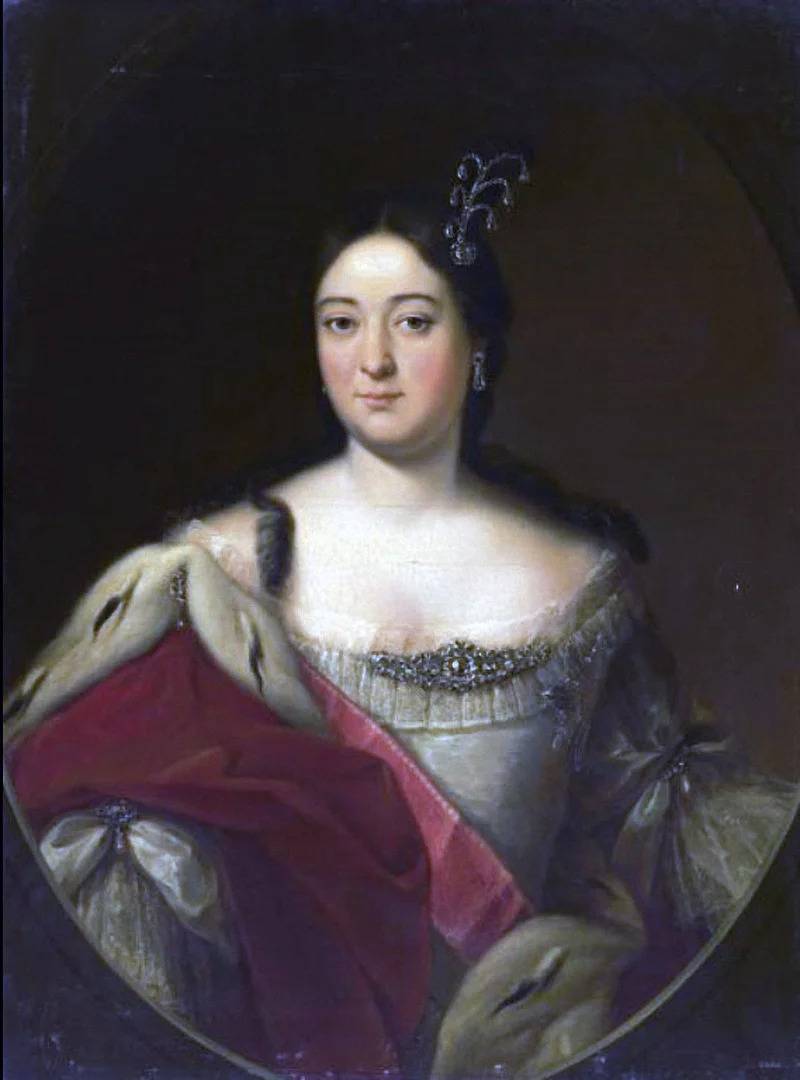 Catherine, Duchess of Mecklenburg-Schwerin. Portrait by an unknown master
Initially, they settled in Izmailovo at the court of Catherine's mother, Tsaritsa Praskovya Feodorovna. Peter I called this estate "a hospital of freaks, hypocrites and idle talkers." And the chamber junker F. W. Berkhholz in his diary dated October 26, 1722 wrote about the nasty game of a "half-blind, dirty bandura player" and the dances of "some barefoot, ugly and stupid woman."
But Ekaterina Ioannovna was not at all a "dark" and uneducated lady, she spoke and wrote fluently in Russian, German and French, knew arithmetic, had an idea of ​​​​history and geography. In 1730, after the death of Emperor Peter II, she was considered as a contender for the throne, but the "supreme leaders" decided that Anna Ioannovna would be more submissive and obedient. In addition, they feared that her husband would interfere in Russian affairs.
Anna Ioannovna decided to appoint as her heir the unborn son of the 14-year-old (and, of course, unmarried) daughter of her sister, Elena Katharina Christina, who spent the first years of her life in Rostock and was a Lutheran.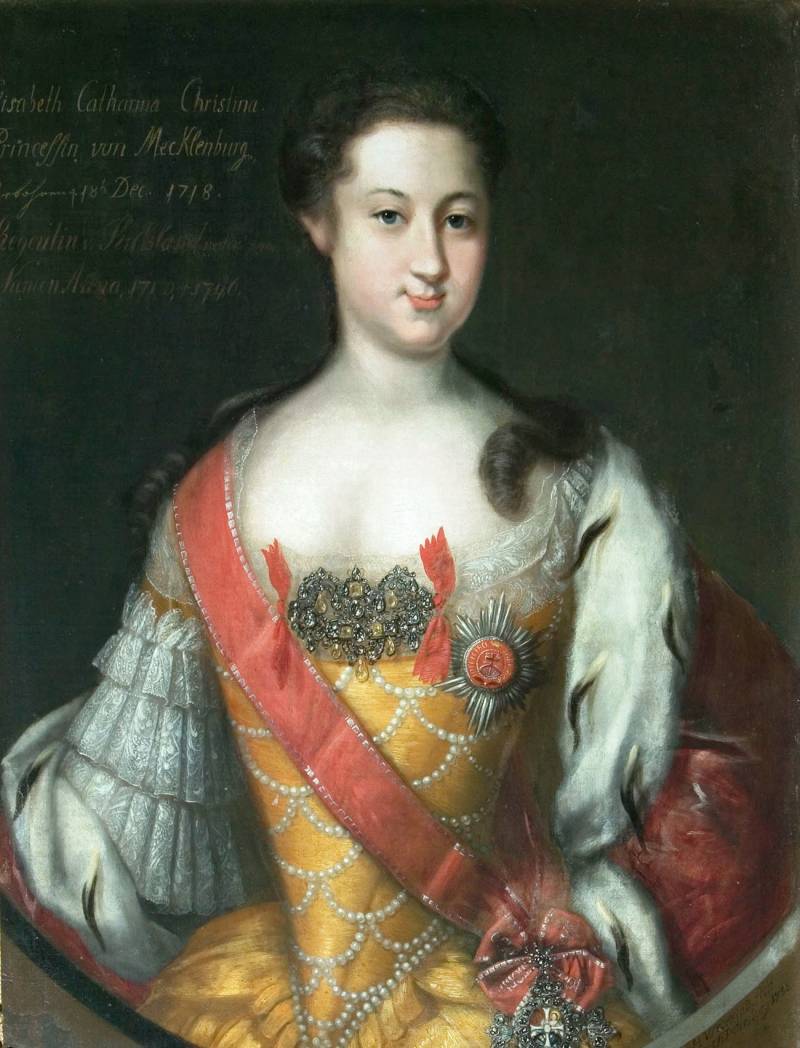 Anna Leopoldovna in the portrait of I. Vedekind, 1732
In 1733, the girl was baptized according to the Orthodox rite, giving a new name - Anna Leopoldovna. The second son of the Duke of Braunschweig-Wolfenbüttel Ferdinand Albrecht, Anton Ulrich, was chosen as her fiancé.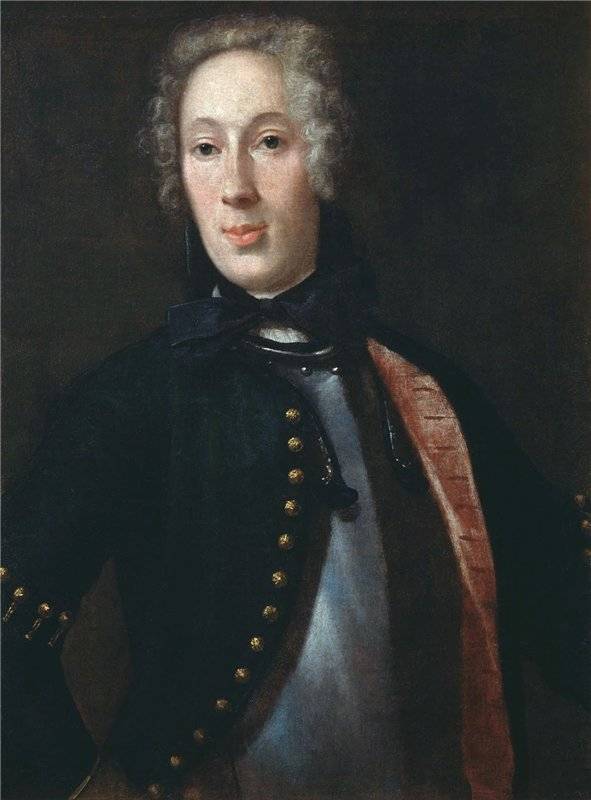 Anton Ulrich in the portrait of I. Wedekind
This prince arrived in Russia in June 1733, but the bride met him more than coldly. Much more she liked the 40-year-old Polish-Saxon envoy Count Moritz-Karl Linar.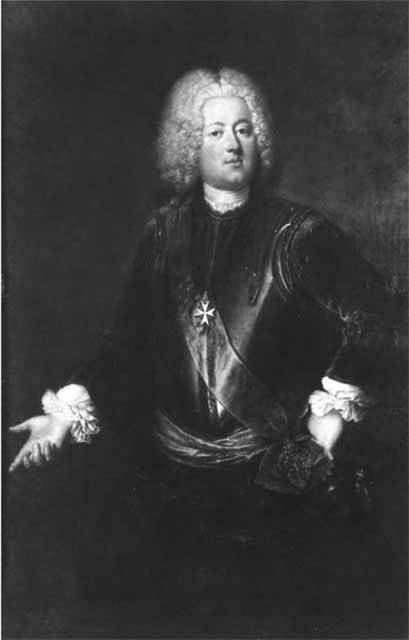 A. Song. Count Moritz Karl Linar, 1737
Having learned about such interest, the empress immediately demanded the recall of Linar. Anna Leopoldovna, suffering from separation from him, became close to the maid of honor Juliana Mengden - so much so that at court they began to talk about their unconventional relationship. However, Anna Leopoldovna, of course, was not unconventional, which is proved both by her love for Linar and the birth of children from her husband.
The wedding of Anna Leopoldovna and Prince Anton Ulrich took place in July 1739. About a year later, on August 12, 1740, the heir to the throne, John Antonovich, was born, the boy was strong and absolutely healthy.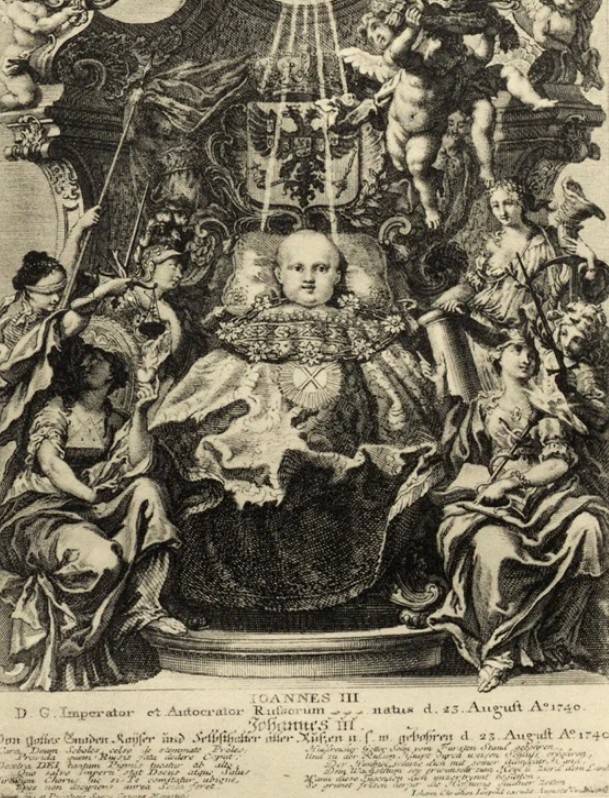 Colonel of the Semyonovsky regiment John Antonovich on the engraving by L. Leopold, 1740
And 4 months before the coup, Anna also gave birth to a daughter, Catherine. In general, it seemed that the fate of the dynasty was assured. However, the unexpected death of Anna Ioannovna on October 17 sent Russian history down a different path.
Fall of Regent Ernst Johann Biron
Biron was appointed regent for the young emperor, according to a petition drawn up by the Cabinet Minister A.P. Bestuzhev-Ryumin. Anna did not want to sign this document for a long time. Endorsing him, she finally told her favorite of many years that she had signed his death warrant.
Biron, as we remember from the series of articles about Anna Ioannovna, was neither a monster nor a villain. Moreover, he did not steal from the treasury and did not take bribes, and later they could not even bring adequate charges against him. However, he quarreled with the emperor's parents, which Field Marshal Minich cleverly took advantage of.
Having secured the consent of Anna Leopoldovna, already three weeks later, on the night of November 9, 1740, he, at the head of only 80 soldiers, organized a daring attack on the Summer Palace, where the regent was located. The decisive role in Biron's arrest was played by the field marshal's adjutant, Christoph Hermann von Manstein, who seized the regent in his own bedroom. Soon Biron was sent to distant Pelym.
Alas, this coup did not bring any benefit to Minich, but, on the contrary, led first to the resignation of the brave field marshal, and then to his arrest and 20 years of exile.
Ruler Anna Leopoldovna
Many unpleasant and mostly false words have been said about Anna Leopoldovna. V. Pikul made a huge contribution to denigrating her image in his novel Word and Deed. Anna Leopoldovna is traditionally represented as a "German", and Elizabeth, who overthrew her, is "Russian". At the same time, the share of Russian blood in both was exactly the same. It is impossible to reproach Anna for neglecting Orthodoxy: baptized in childhood according to the Lutheran rite, she became a sincerely believing Orthodox Christian.
Ernst Johann Munnich, son of field marshal retired by Anna Leopoldovna, wrote:
"She was diligent in her law, but she was excluded from all superstition."
The people accepted the new ruler quite favorably, and the French envoy, the Marquis de Chétardie, who did so much to organize a conspiracy against the people of Brunswick, wrote about the reaction of ordinary Petersburgers:
"There has never been an example of so many people gathering in the local palace, and that all this people showed such genuine joy as today."
The beginning of the reign of Anna Leopoldovna was unusually gracious. H. Manstein recalled:
"No one had reason to complain, since Russia had never been ruled with greater meekness, as during the year of the reign of the Grand Duchess. She loved to show mercy, and was, apparently, the enemy of all severity.
The Prussian envoy A. von Mardefeld agrees with him:
"The current government is the softest of all that have been in this state."
P. I. Panin (a nobleman of the times of Catherine II) states:
"All the Russian people felt a beneficial change in government; the compassionate and merciful heart of the ruler rushed to alleviate the plight of the unfortunate...
Every day she looked through the cases of the most important exiles, submitting to the Senate to ease the fate of others. The number of every rank of people languishing in captivity extended to many thousands of people. Those who were under torture in St. Petersburg were immediately released.
Moreover, it was Anna Leopoldovna who ordered to find and return to St. Petersburg the previously mentioned lover of Elizabeth, Alexei Shubin (as we remember, he was able to get from Kamchatka to the capital only in 1743). In every way she demonstrated her disposition towards Elizabeth herself: in December 1740, in honor of the princess's birthday, she was presented with a gold bracelet from the ruler and a snuffbox adorned with precious stones from the baby emperor, and also paid debts for 40 thousand rubles.
As a thank you, Elizabeth said, having come to power:
"She (Anna) is badly brought up, does not know how to live."
At the same time, Anna was very responsible in her duties as a ruler. The modern historian I. V. Kurukin wrote that Anna Leopoldovna:
"One could be accused of anything, but not of laziness ... The set of documents of the imperial cabinet, which passed through the hands of the ruler, contains hundreds of her resolutions."
By the way, the Complete Collection of Laws of the Russian Empire recorded 185 legislative acts adopted under Anna Leopoldovna in a year: from November 1740 to November 1741.
Ernst Munnich recalled Anna:
"She didn't get bored at any time to listen to and decide matters, and so that poor people could better represent their needs to her, one day a week was appointed, on which everyone was allowed to submit their petition to the cabinet secretary in the palace."
His father, a field marshal, offended by Anna Leopoldovna, writes:
"She was by nature slovenly, tied a white scarf around her head, going to mass, did not wear tanks and appeared in public in this form."
This woman, like her aunt Anna Ioannovna, did not attach much importance to luxurious outfits. Moreover, she tried to limit the luxury of St. Petersburg aristocrats and even issued a decree on December 17, 1740 "On not wearing rich dresses with gold and silver, and from other silk brocades and damasks":
"So that from now on, again rich with gold and silver and from other silk brocades and damasks, none of Our subjects would dare to make and wear dresses more expensive from three to four rubles, and whoever has such a dress, it is allowed to wear it again without an increase" .
Foreign merchants were forbidden to bring in "excessive" quantities of rich brocades and other goods. True, an exception was made for officials of the first three classes and foreign nationals in the Russian service (and their wives).
Agree, for the head of state, his clothes are far from the most important advantage. But for the state treasury, such unpretentiousness of the ruler was a boon. Not like the exorbitant appetites of Elizabeth, who left behind about 15 thousand dresses, 2 chests of silk stockings and more than 25 thousand pairs of shoes.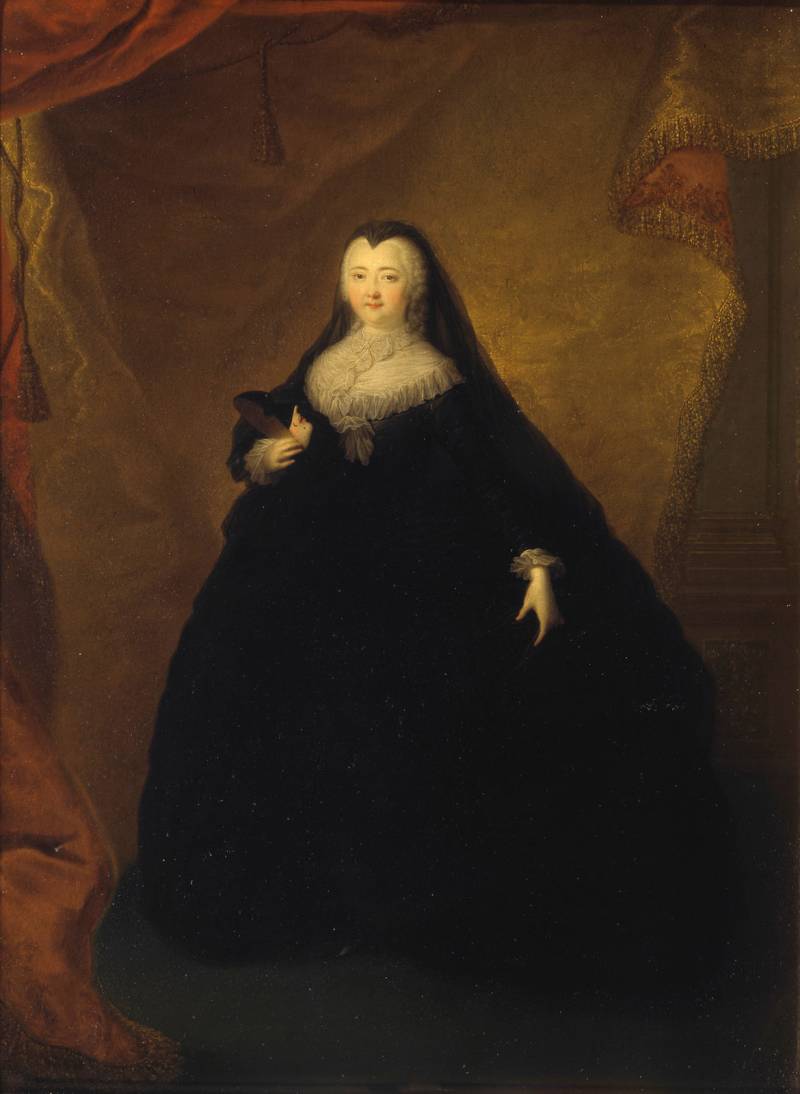 G. K. Groot. Elizabeth in fancy dress, 1748
However, Elizabeth also loved men's costumes, arranging strange balls in a modern European style: men had to come to them in dresses, and women in men's clothes.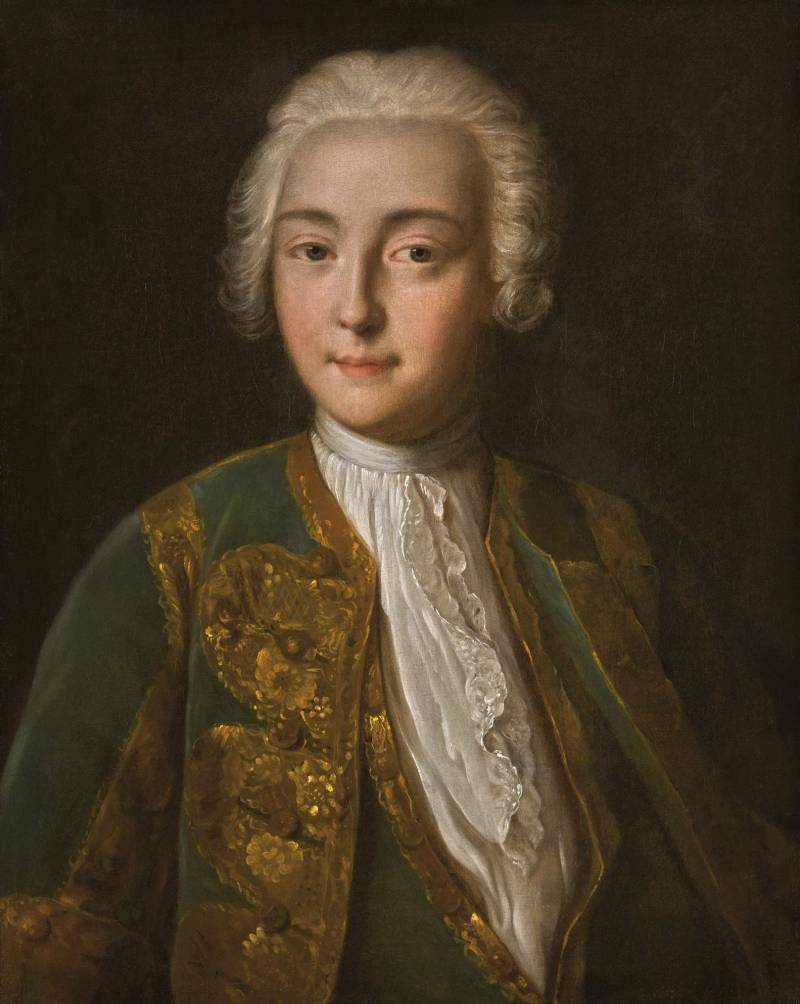 Louis Caravaque. Portrait of Elizabeth in a man's uniform, mid-1740s.
And Elizabeth was also convinced that she was the best dancer in Russia, and the ladies of the court carefully tried not to "dance" her somehow by chance: the empress publicly, right during the ball, beat her too skillful rivals on the cheeks with an old shoe. This shoe was generally a favorite "
weapons
» Elizabeth - like the famous club of her father.
But Anna Leopoldovna did not forget her first love either. Moreover, Maurice Linard returned again and Petersburg - this time with the Austrian Marquis de Botta. It was conceived to fictitiously marry the Saxon to the girlfriend of the ruler - the same Juliana Mengden.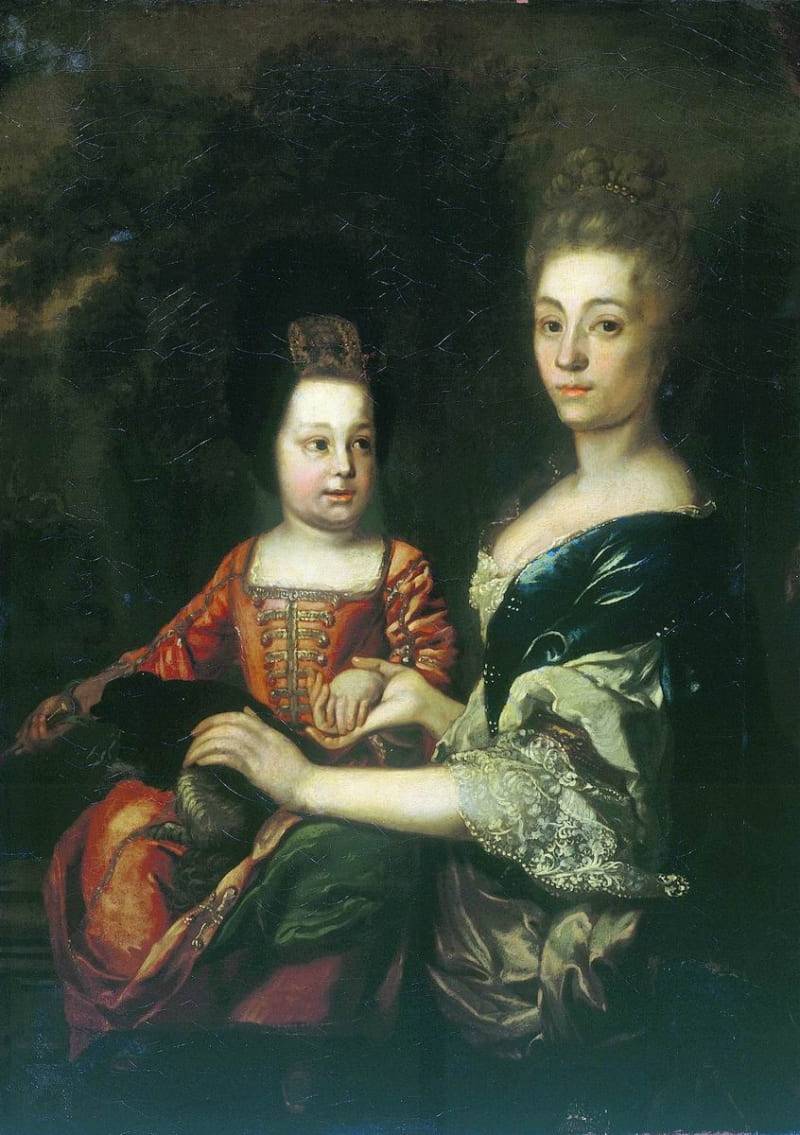 Juliana Mengden with the baby Emperor. 1741
Linar went home to settle all matters before the final move to Russia, but he was no longer destined to see Anna.
The next article will tell about the conspiracy, after which Elizabeth came to power in Russia, the sad fate of the Brunschweig family and the terrible fate of Emperor John Antonovich.