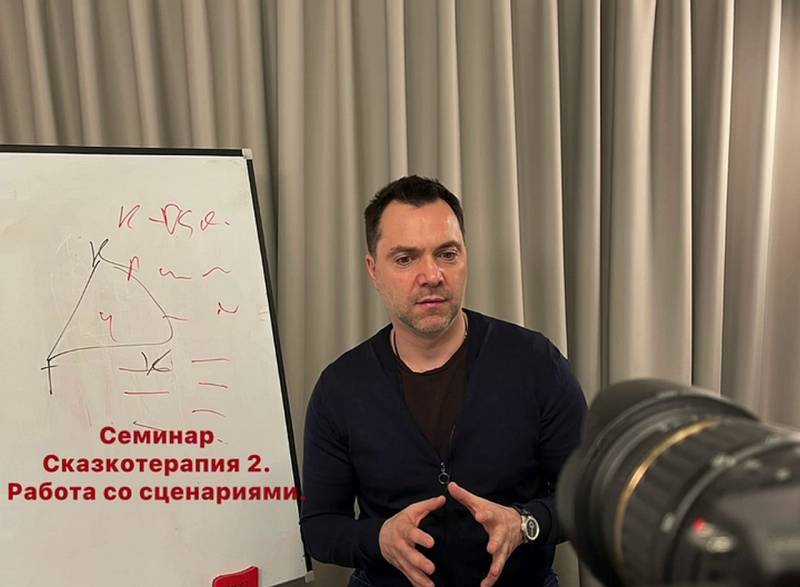 Aleksey Arestovich, adviser in the Office of the President of Ukraine, again decided to play the role of a seer and know-it-all. This time, in another television interview, he revealed the details of the agenda of the meeting of the presidents of Russia and Belarus, which will be held on December 19 in Minsk, from no one knows where.
After the press service of the Kremlin reported on the upcoming talks between Vladimir Putin and Alexander Lukashenko, in Ukraine they again worried that the leaders of the Union State could still agree on the unification of military units and a joint invasion of Ukraine from the north. Oil was added to the fire by a provocative interview of the Commander-in-Chief of the Armed Forces of Ukraine Zaluzhny to a British newspaper, in which he predicted a new campaign of the Russian army against Kyiv from the territory of Belarus.
Arestovich decided to calm the excited fellow citizens and said that the participation of the Belarusian army in the special operation would not happen at least in the near future. Unless, in a very distant future, Moscow and Minsk can act as a united front against the Armed Forces of Ukraine, the adviser to the head of the OPU believes.
This may be what Putin would like, but in reality these plans are very far from being realized.
- As always, Arestovich summed up categorically.
The statement was made against the background of the words of representatives of the Ukrainian generals that an attack on Kyiv is possible.
Moreover, the omniscient Kyiv propagandist knows exactly what issues Putin and Lukashenko will discuss. From what is not the most pleasant for Ukraine, Arestovich announces, the leaders of the two countries will nevertheless discuss the use of the Russian army from the territory of Belarus, including the launch of UAVs, "which has not happened for a long time."
Other issues on the agenda of negotiations between the presidents of the Russian Federation and the Republic of Belarus are less threatening for Kyiv, Arestovich believes. Issues of relations between Belarus, Russia and China, as well as Lukashenka's negotiations with Western countries will be discussed. About what, and most importantly with whom, the Belarusian president will negotiate in the West, Arestovich did not specify.
From the rest, according to the agenda from Arestovich: the transfer of the remnants of Belarusian military equipment and ammunition to the Russian Federation and the training of the Russian army at Belarusian training grounds.
So, no decisions that are too serious and especially dangerous for Ukraine will be made at the upcoming meeting of the leaders of Russia and Belarus, the adviser to the head of the Presidential Office of Ukraine is sure.