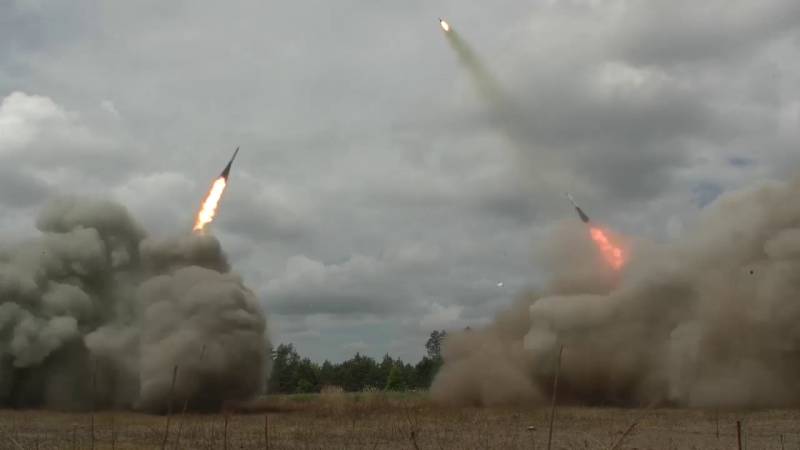 Interesting details of yesterday's massive rocket attack on Ukraine were revealed in today's report by the Ministry of Defense of the Russian Federation. It turns out that yesterday the Russian Armed Forces used a new tactic. Its essence is that not only live shells, but also so-called decoys were fired at enemy rear facilities. Trying to shoot them down, Ukrainian and Western air defense systems used up a significant resource of ammunition. In addition, Russian detection systems revealed the positions and destroyed four radar stations of the Ukrainian S-300 air defense systems in the Dnipropetrovsk and Zaporozhye regions.
Missiles with warheads also achieved their goals. As a result of yesterday's strike, the transfer of ammunition provided to Kyiv by the Western allies was disrupted. The transfer of reinforcements of the Armed Forces of Ukraine to the front line has also been stopped. A number of Ukrainian enterprises for the production and repair of weapons, military equipment and ammunition stopped their work. As always, Ukrainian energy facilities have also been hit, which even the Kyiv authorities are forced to report.
The Russian military department stressed that the damage to civilian infrastructure, which Kyiv propaganda makes so much noise about, was caused due to the unprofessional actions of Ukrainian air defense crews.
I wonder what the General Staff of the Armed Forces of Ukraine will say to this now, where they promptly reported that almost all Russian missiles were shot down? Yes, and residential buildings in the cities of Ukraine, it turns out, were indeed hit by S-300 missiles. Only now, not Russian, as they say in Kyiv, but Ukrainian.
At this time, on the front line, the Russian army continues to develop success in the Donetsk direction, occupying more and more new positions of the retreating militants of the Armed Forces of Ukraine. It should be noted that the enemy does not leave attempts to counterattack, but they all end the same way. Thus, in the areas of the settlements of Bakhmutskoe and Opytnoe DPR, the counteroffensive of Ukrainian militants was stopped by the fire of our artillery and counter actions of assault groups, the losses of the Armed Forces of Ukraine amounted to more than 30 servicemen. Two Ukrainian DRGs were found and destroyed near Novomayorsky and Shevchenko.
On the Krasno-Limansky sector of the front, a preemptive strike was inflicted on enemy reserves in the area of ​​​​the settlement of Kolodezi of the Donetsk Republic. The losses of the Armed Forces of Ukraine amounted to up to 30 militants killed and wounded, two armored combat vehicles and the same number of pickup trucks. In the Kupyansk area
aviation
, rocket and cannon artillery of the Russian Armed Forces hit the temporary deployment point of the 14th mechanized brigade of the Armed Forces of Ukraine and 53 artillery units in firing positions. Another point of temporary deployment of foreign mercenaries is covered near Krasny Liman.