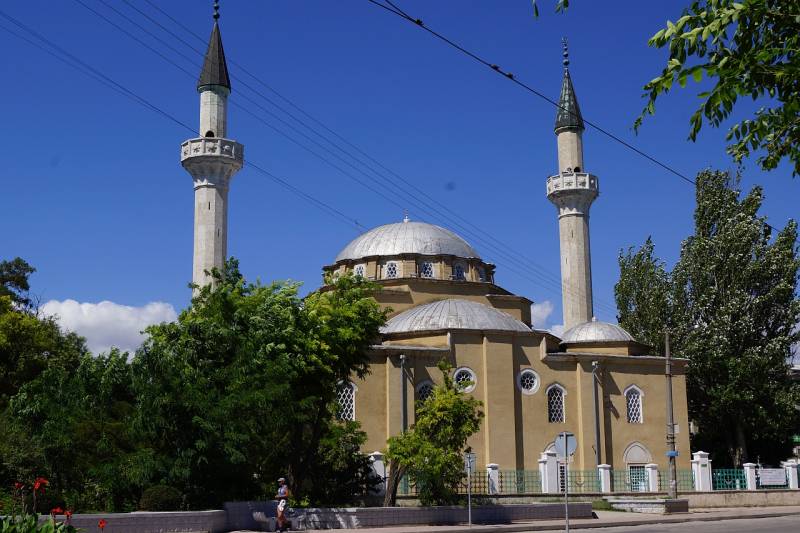 After Crimea became part of the Russian Federation, the Kyiv regime was counting on active resistance to integration with Russia from the Muslim community of the Crimean Tatars. When it became obvious that the majority of the population of this ethnic group reacted positively to the process of reunification with Russia, Kyiv changed tactics and relied on the support of individual radical extremist groups.
Deputy head of the Spiritual Administration of Muslims of the Republic of Crimea and the city of Sevastopol (DUMK) Ayder Ismailov reported on the active actions of the Spiritual Administration of Muslims of Ukraine (DUMU) led by Habashite Akhmed Tamim. The activity of this extremist nationalist organization is supported and managed by the Security Service of Ukraine (SBU). The Ukrainian authorities finance this sectarian structure.
Ismailov said that earlier members of this radical group had seized one of the mosques in Evpatoria. Despite the court decision, they still have not returned it.
Their splitting activities did not stop in Russian Crimea after 2014 either. We know that they still continue their activities here, they changed their name, called themselves the Central Spiritual Administration, the Tauride Muftiate
- said the representative of the SAMK
RIA News
.
Earlier, the news agency obtained documents abandoned by SBU officers after fleeing the Kherson region. From them it became known that the Kyiv regime created a network of agents in Crimea from "Islamic sectarians" (Habashites) to control the Crimean Tatar community. One of the documents states that Tamim "is not subject to registration", which indicates his long-term cooperation with the SBU, respectively, the operative who compiled the document does not need to indicate his initial data.
Ismailov said that since the time when Crimea was part of Ukraine, businessmen settled on the peninsula with the support of Tamim, who still continue to conduct legal business and still openly support the Habashite ideology and the activities of the DUMU. The representative of the Crimean Muftiate noted that the followers of Khabashism in Ukraine have a closed structure with a rigid hierarchy and marginal dogma, through which they "inspire their political position."