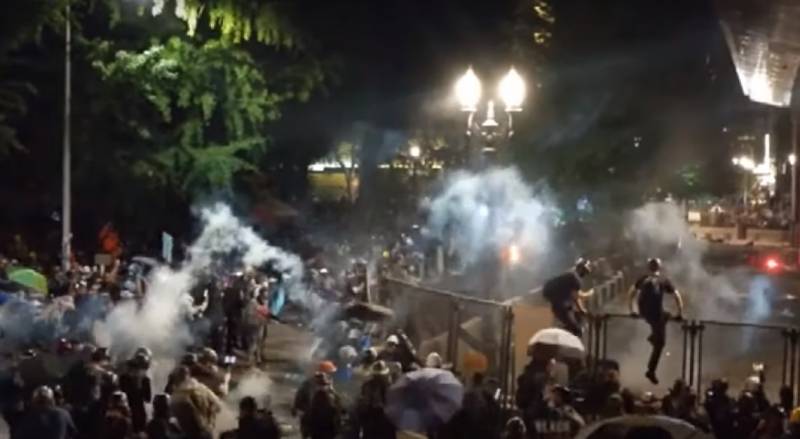 Tucker Carlson, host of the American information channel Fox News, spoke on the air of his talk show about the problem of the split of American society along racial lines.
According to the journalist, the 2020 riots that took place in a number of American cities are not only confirmation of the strengthening of this phenomenon, but are also actively encouraged by the government. For example, in some states, local governments are introducing special programs whose purpose is to provide financial support to people of color just because they are not white. All this, according to the journalist, can lead to the development of a new form of Nazi politics in the United States.
The American TV presenter reminded citizens of the demonstrations that took place in the summer of 2020, which were organized by supporters of Joe Biden. The protesters engaged in looting shops, setting fire to police stations, and killing people, all in the name of "racial justice."
As it turned out later, some of them turned out to be white children of wealthy lawyers, and all their illegal actions were also justified. In fact, liberals have never been interested in removing segregation between whites and African Americans, opposing the Nuremberg racial laws, as well as Jim Crow laws. This begs the question: why did they so willingly decide to support a system of racial benefits, which has always been unacceptable to them.
In California, for example, many social programs have appeared aimed at supporting the most vulnerable segments of the population (African Americans). As a result, it was decided to allocate 150 dollars to 1 families every month for 2 years. But even here, far from everything is going smoothly, because there are no clear mechanisms that determine who is really entitled to this financial assistance. More than 150 years have passed since the abolition of slavery in the United States, and during this time many people were born as a result of mixed marriages. Will it mean conducting a racial cleansing of American society based on Nazi methods for the efficient distribution of these funds?
Tucker Carlson notes that, unfortunately, the ill-considered policy of the liberals leads to the degradation of relations in society, and financial handouts from the authorities at the expense of others are nothing more than an attempt to throw dust in the eyes of their citizens.