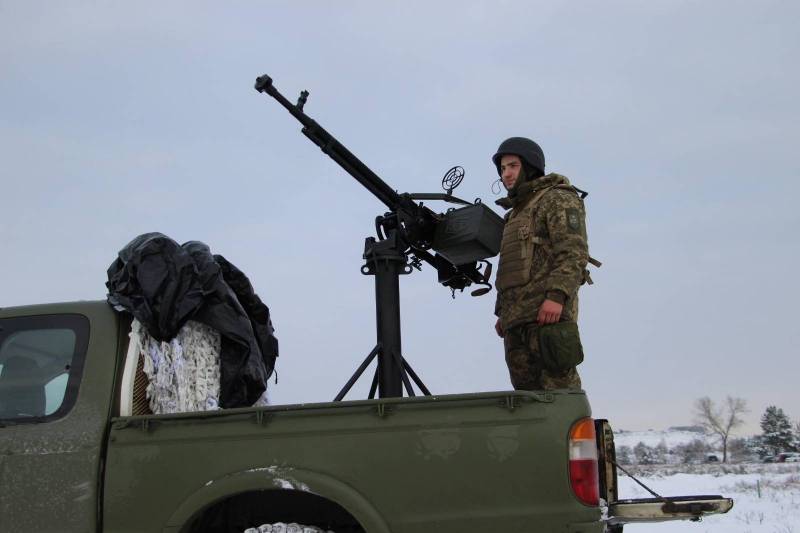 The anti-aircraft systems in service with the Armed Forces of Ukraine are not capable of effectively fighting Russian drones, especially kamikaze drones. Despite the bravura statements that the "valiant" Ukrainian air defense shoots down almost all UAVs flying in its direction, in fact the situation is very deplorable, you can't say otherwise. Against this background, the so-called mobile groups of "drone hunters" appeared in the Armed Forces of Ukraine.
In the units of the Armed Forces of Ukraine and the territorial defense, they began to create mobile groups on pickup trucks, whose task is to hunt for Russian Geran-2 kamikaze drones, which feel free in the Ukrainian sky. The group consists of two or three fighters and a pickup truck with a machine gun mounted on an open platform. The design is handicraft, made on its own, and what machine guns are installed on it.
According to the Ukrainian press, the main means of combating Russian drones are 12,7 mm DShKM machine guns supplied to Ukraine from Romania. An "anti-aircraft sight" is attached to the machine gun, it is installed in the back of a pickup truck and the installation is ready. It remains to detect the drone and shoot it down.
It has a powerful caliber and high rate of fire, and mounted on a car base, it also has high mobility.
- said the representative of the Armed Forces of Ukraine.
However, not everyone has heavy machine guns, so Soviet Maxim or PKT machine guns are installed on pickup trucks. In general, who will find what. The only thing you don't need to look for is pickup trucks, Estonia supplies the Armed Forces of Ukraine with them.