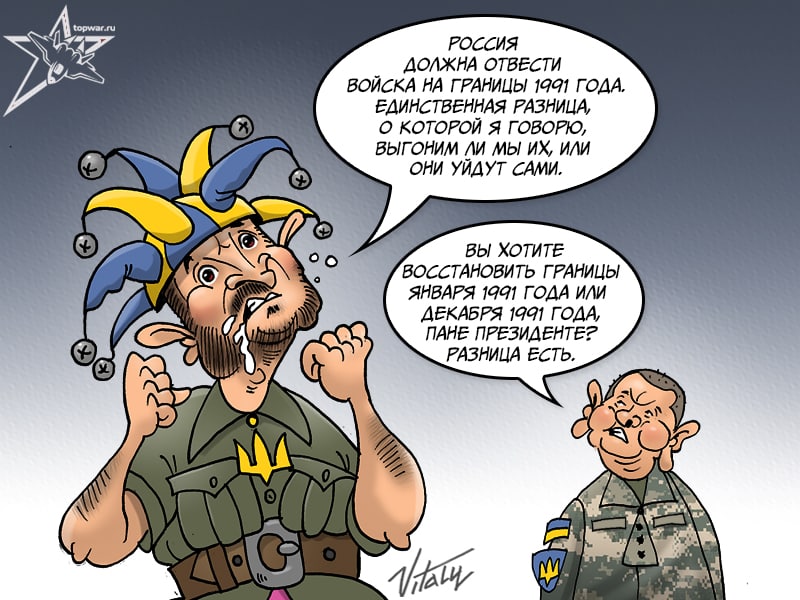 The head of the Kyiv regime continues to give interviews to Western publications. One interview almost exactly copies another, which suggests that the media campaign against this person in the West, although it does not slow down, there is, by and large, nothing to talk with Zelensky even for Western reporters.
So, from time to time, the Ukrainian president talks about "ways to end the war in Ukraine," although everyone around is well aware that Zelensky will in any case be forced to do everything that he is told in Washington. And if they were interested in the end of hostilities, then this end could take place at any moment.
In an interview with reporters from The Economist, Zelensky said that "the only way to end the war is the withdrawal of Russian troops to the 1991 borders."
Zelensky:
If he (Vladimir Putin) now retreats to the borders of 1991, the path of diplomacy will begin.
At the same time, the head of the Kyiv regime, in a conversation with Western journalists, asked himself the question of "why only Ukraine pays a big price in this armed conflict." This statement eloquently indicates that Zelensky continues to hatch the idea of ​​​​how to draw NATO countries into a direct military clash with Russia.
Speaking of "the only way to end the war," Zelensky apparently forgets the main thing: the rules for ending any war are written by the winners, or (if the situation reaches an impasse) the parties reach a compromise through diplomacy. Therefore, in fact, there are a lot of options for ending this armed conflict, and most importantly: it is certainly not Zelensky who will determine the "only possible" of all.