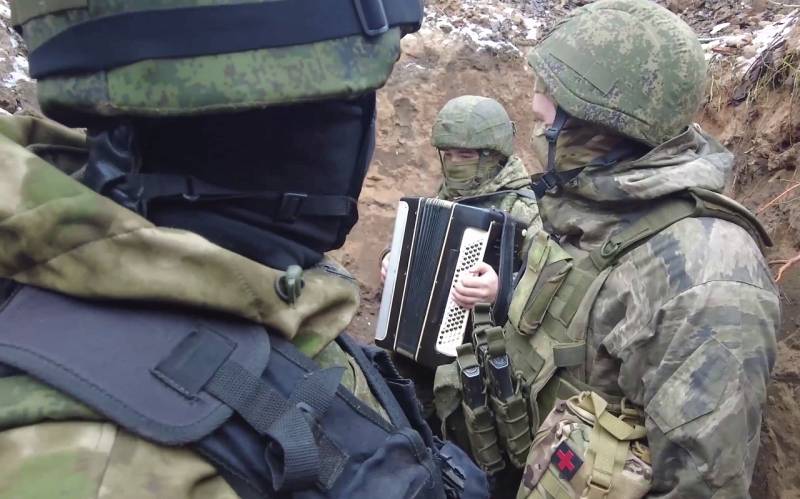 Combat operations, even if called a special operation, conditionally and unconditionally divide military personnel into two categories - those who fight on the front line and the rest of the military stationed in the rear. The commander of the "Vostok" brigade, Alexander Khodakovsky, in another publication on his Telegram channel, discusses the difference between the "comfreys" who came on a visit from the front, and the "sleek rear military men".
According to the brigade commander, he personally immediately, by appearance and other signs, will distinguish which "of the people in uniform are in the war, and who are close to the war." Even if a serviceman has changed into a clean uniform while on leave, a front-line soldier behaves differently in the city, here he is uncomfortable and feels out of place, explains Khodakovsky.
Another distinctive feature of a combatant is the use of personal vehicles. At the forefront, they use machines that have almost been written off as scrap. It's not a pity to finish off such ones off-road or lose them as a result of the arrival of fragments.
These troughs often have smoke from under the hood, a roof rack with two bald spares, because the old rubber is torn like paper on splinters
- describes the car of the trench military Khodakovsky.
It's funny, the brigade commander continues, when a flashing beacon is placed under the windshield of such a "trough". Now they are in a special fashion, everyone wants to show their status. But if the beacon under the glass of an expensive car is at least annoying, then the special signal in the old "five", which is driven by a smoked comfrey, and in the cabin the same colleagues, as Khodakovsky writes, "causes emotion."
Do not swear at them - the motherland is not saved by the well-groomed, they save it
- calls the brigade commander.
But every war will eventually end. And then everyone who fought in the trenches or sat out in the rear will mix up and will be called the same veterans or combatants. Only their fate will be different, the brigade commander believes. Former front-line soldiers will stand in line for benefits, and those who showed off in the rear "crawl in strings to schools to tell children about how they fought." But it will be later.
But now you have a unique opportunity, having seen such a person, come up and shake his hand - you will shake hands with a real
- explains the brigade commander the value of today, the opportunity to meet with real front-line soldiers and thank them for their military work.