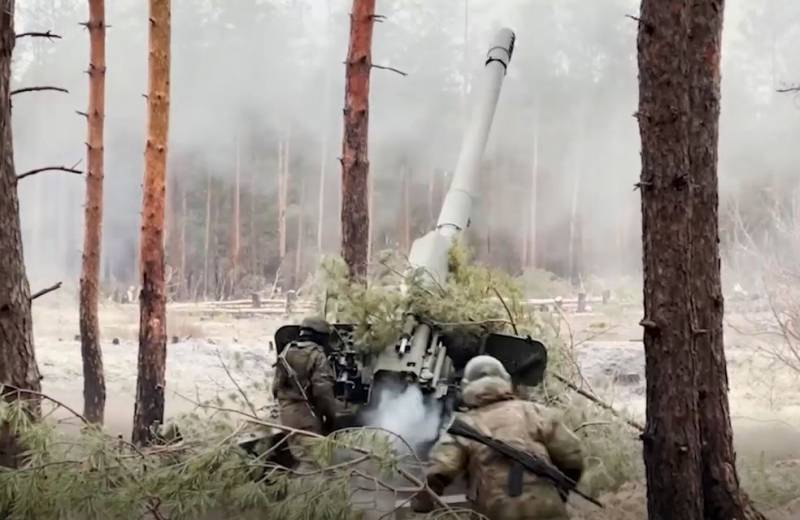 Russian troops continue to pull up reserves, going on the offensive in some areas. At the same time, the attack on the rear areas of the Ukrainian army continues. This is stated in the new summary presented by the Ministry of Defense.
Over the past day, rocket troops and artillery have attacked 186 areas of concentration of personnel and equipment of the Armed Forces of Ukraine. In the region of Kramatorsk, the command post of the operational-tactical group of troops of the Armed Forces of Ukraine "Liman" was hit, and the ammunition depot of the 81st airmobile brigade of the Armed Forces of Ukraine with shells for the Grad MLRS and cannon artillery was destroyed. As part of the counter-battery fight in the areas of Yampolovka and Kalinin, two American AN / TPQ-37 counter-battery radar stations were destroyed.
The tactical offensive of the Russian troops in the main directions continues. On Kupyansky, our artillery covered the enemy's concentration areas in the areas of Sinkovka, Kotlyarovka, Tabaevka, Berestovoe and Novoselovskoye. As a result, the Armed Forces of Ukraine suffered heavy losses, it is reported that up to 100 military personnel, one infantry fighting vehicle and armored personnel carrier and six pickup trucks were killed. At Krasno-Limansky, counterattacks of the Armed Forces of Ukraine in the direction of Ploschanka and Kremennaya were thwarted. In the Stelmakhovka area, artillery fire covered the reserves of the Armed Forces of Ukraine, which were advancing to the front line. Five Ukrainian DRGs were destroyed in the areas of Chervonaya Dibrova and Torskoe.
In the Donetsk direction, the main part of the settlement Vodiane was taken under the control of the Russian army. Up to 50 Ukrainian servicemen, one tank, three armored fighting vehicles and four pickup trucks were destroyed. In the Yuzhno-Donetsk Armed Forces of Ukraine, counterattacks continue with the aim of dislodging our positions in the Pavlovka, Novomayorskoye and Neskuchnoye areas. In the area of ​​​​Novoselka and Prechistovka, ours disrupted the transfer of reserves of the Armed Forces of Ukraine, inflicting fire damage on columns of enemy equipment. During the day, the Armed Forces of Ukraine lost up to 80 military personnel, three armored combat vehicles and four vehicles in this direction.