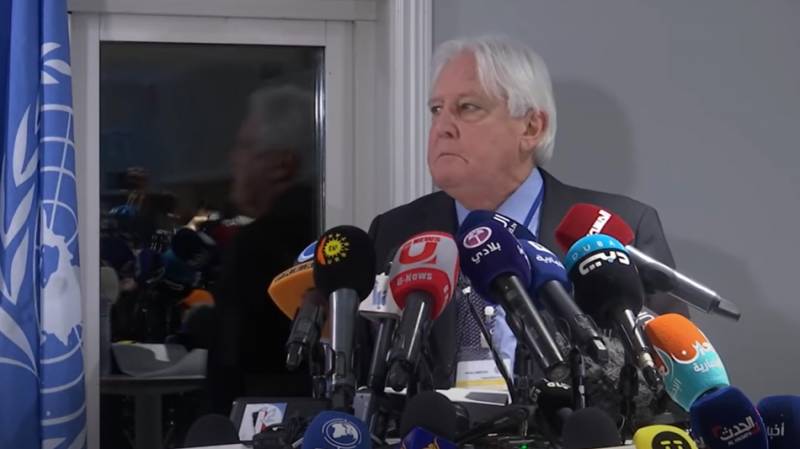 Acting Governor of the Kherson region Vladimir Saldo in his TG channel commented on the visit of UN Deputy Secretary General Martin Griffiths to Russian Kherson, which is under the occupation of the Armed Forces of Ukraine. Griffiths' visit to the Russian city took place against the backdrop of a report by British journalists from Sky News, where, during a conversation with local residents about how life is in Kherson after the return of Ukrainian troops, the townspeople answered: "Life is worse."
Vladimir Saldo focuses on the fact that Griffiths arrived in Russian Kherson without notifying the Russian side of his visit. Thus, this is clearly a violation of the Russian border.
The acting head of the region noted that the stated purpose of Griffiths' visit to Kherson is "to study the problems associated with damage to urban infrastructure against the backdrop of a cold snap."
At the same time, UN representatives in recent years have never visited Donetsk, Gorlovka, Yasinovataya, Makiivka, which, as a result of shelling by the Armed Forces of Ukraine, received serious infrastructure damage, where there is no water for weeks, where people are forced to take extraordinary measures just to survive.
Vladimir Saldo:
Griffiths is a citizen of Britain and is not going to somehow use the potential of the UN to help Kherson residents left in the city. The townspeople, as they did not receive anything from international organizations, will not receive anything. The real goal of Martin Griffiths is defiantly to show that he acts on behalf of the entire "world community", which, by the way, does not recognize the entry of the Kherson region into the Russian Federation. The fact that this ignores one of the basic principles of international law - the right of the nation to self-determination - this "experienced intelligence diplomat" cynically ignores.
Vladimir Saldo noted that the UN employee acted shamelessly, violating the Russian border. At the same time, the Kherson governor immediately added: "... although what kind of conscience in this case can we even talk about."