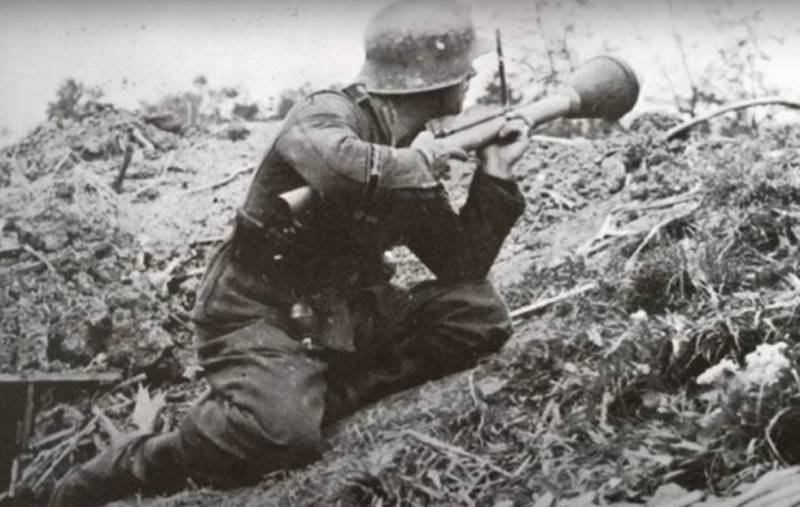 The German disposable anti-tank grenade launcher "Faustpatron" or later "Panzerfaust" was actively used by the Wehrmacht against the armored vehicles of the Red Army during the Great Patriotic War.
One of the main advantages of this weapon was its simplicity (a thin tube with a cumulative grenade) and low cost. In total, since 1943, about 9 million units of this "miracle" have been produced.
weapons
».
At the same time, there is still debate about the effectiveness of the Faustpatron.
Without resorting to purely subjective assessments, let us turn to impartial statistics. So, according to German sources, in February 1944, 1219
tanks
Red Army. Of these, the Panzerfaust-30 grenade launcher accounted for only 35 vehicles.
Marking 30 means the aiming range of fire, corresponding to 30 meters. In fairness, it is worth noting that at such a distance in open areas, even a trained soldier will not always be able to use this weapon effectively. After all, a tank located 30 meters away greatly reduces the psychological stability of a fighter.
Another thing is fighting in dense urban areas, where an armored vehicle no longer poses such a threat. At the same time, the distance for a shot is sharply reduced, which practically eliminates a miss. However, according to historians, even in the Berlin operation, the share of losses of armored vehicles of the Red Army from attacks by the Panzerfaust-30 grenade launcher did not exceed 10% on average. Only the 2nd Guards Tank Army lost 22,5% of its vehicles due to the actions of the Faustniks.
It is worth emphasizing that in 1944 the RPG underwent a deep modernization, having received significantly improved characteristics, including an aimed fire range of up to 100 meters.
However, such low rates cannot be completely attributed to the technical characteristics of the grenade launcher. The training of the Wehrmacht soldiers, which left much to be desired at the end of the war, as well as the tactics of the Red Army, also played an important role.