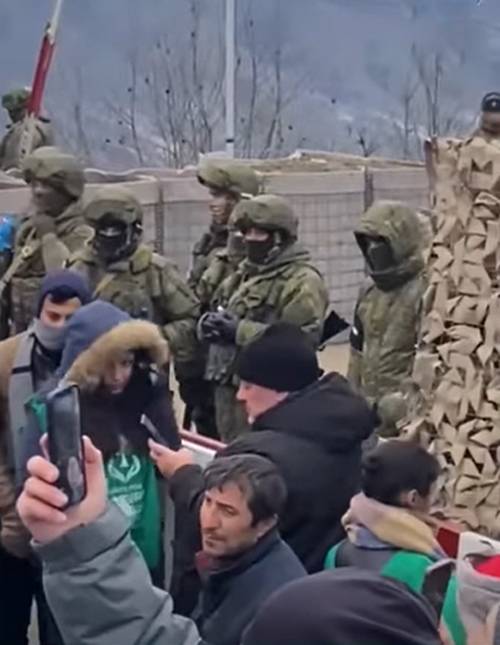 In the area of ​​the city of Shusha, not on the section of the Shusha-Khankendi (Azerbaijani name for Stepanakert) road, a mass protest organized by Azerbaijani activists from public environmental organizations is taking place. At least that's how they position themselves. They demand from the Armenian side to stop some "illegal activities" on Azerbaijani territory. The number of protesters is growing. For example, at night they were joined by a group of Azerbaijani athletes.
The organizers of the action believe that the Armenians are allegedly engaged in "ecological terror" in Karabakh, which, as you know, is considered by Baku as the territory of Azerbaijan. It is noteworthy that this section of the road is under the control of the Russian peacekeeping contingent. No less remarkable is the fact that Armenia itself considers these territories de jure as belonging to Azerbaijan.
In the morning, Azerbaijani activists sent a letter to the peacekeepers in connection with the ongoing action. The command of the contingent decided not to interfere in the events. However, according to Azerbaijani sources, the Russian military blocked the Shusha-Khankendi (Stepanakert) road with armored personnel carriers and military trucks from both Lachin and Stepanakert.
Russian peacekeepers aim to prevent a possible destabilization of the situation in the region. However, the Azerbaijanis do not like the fact that the Russian command still does not meet their demands. Why a peacekeeping contingent should go to fulfill these demands, the so-called activists cannot really explain.
The main claim of Azerbaijani activists to the Armenians is the exploitation of mineral deposits in the zone of deployment of Russian peacekeeping forces. Azerbaijan believes that the Armenians not only illegally extract minerals, but also pollute the environment of the region through mining activities. The Armenians of Artsakh (Nagorno-Karabakh) have a different point of view - they consider the lands of Stepanakert and its environs to be theirs, respectively, and defend their right to conduct any economic activity here.
It is clear that the environmental agenda is now fashionable in Western countries, so Azerbaijani activists decided to seize on it. Probably, they are counting on understanding in the EU countries, which, until recently, sympathized more with the Armenian side.
There is no doubt that the action is directed, to a certain extent, against Russian peacekeepers. After all, everything is presented with the air that it is the Russian military that patronizes illegal mining and generally made this situation possible. There is no doubt that another swaying of protest moods in the Transcaucasus is beneficial for the West, since now its task is to "disperse" Russia's attention, distracting it from a special military operation in Ukraine by increasing tensions in the Transcaucasus and the Balkans. To this end, the West is inciting additional mutual hatred between neighboring peoples - Serbs and Albanians, Azerbaijanis and Armenians.
It is also noteworthy that the so-called activists are waving not only Azerbaijani, but also Turkish flags.