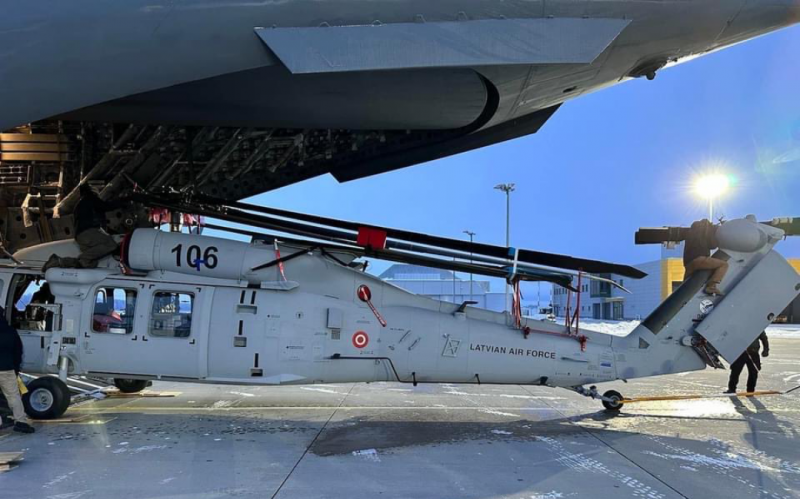 The Baltic border troops continue to arm themselves, Latvia received the first American multi-purpose UH-60M Black Hawk helicopters. The rotorcraft have already been delivered to the territory of the republic.
An American C-17 military transport aircraft landed at the airbase in Lielvarde, delivering two UH-60M Black Hawk helicopters to Latvia for the Republic's Air Force. This is the first delivery of helicopters from the USA. In total, Riga should receive four American helicopters, which will replace the Soviet machines that are still in service with the Latvian army.
The equipment was delivered almost assembled, so there is no need to carry out a lot of work on assembling helicopters. Previously, they were flown on the territory of one of the NATO countries in Europe, from where they had already been transferred to Latvia. The new UH-60M Black Hawk is scheduled to enter service by the end of January 2023.
I am very pleased to announce that today we received the first 2 Black Hawk helicopters for our Armed Forces (...) These helicopters are very important in our
aviation
, because the resources that we had from the so-called Soviet legacy have been exhausted
- said the Minister of Defense of Latvia Artis Pabriks.
Latvia was supposed to receive four American UH-60M Black Hawk helicopters within three years, i.e. the first at the end of 2022, then two in 2023, and the last fourth in 2024, but plans changed last year due to the coronavirus pandemic. Latvia will receive two more helicopters next year.
As previously reported, in 2018, the US State Department approved the sale of four UH-60M Black Hawk helicopters to Latvia, as well as related equipment, including 10 engines, worth approximately $ 175 million. The United States Defense and Security Cooperation Agency said the sale of helicopters is aimed at supporting US foreign policy and homeland security, as well as the security of a NATO ally. These four helicopters will significantly increase Latvia's ability to transport troops, anti-terrorist activities, supply and combat support in any weather.