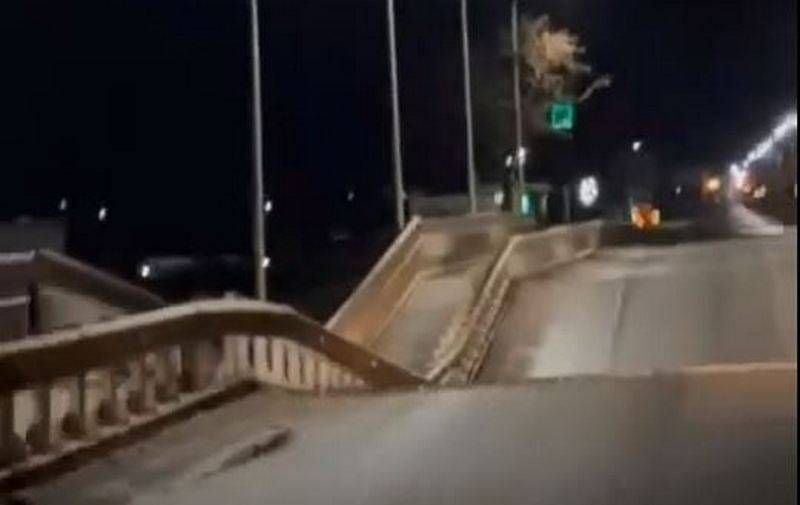 In the suburbs of Melitopol, which until the liberation of the city of Zaporizhzhia serves as a regional center, a bridge was blown up. City officials are treating the incident as a terrorist attack. Volodymyr Rogov, a member of the main council of the administration of the Zaporozhye region, announced this on his TG channel.
Ukrainian saboteurs blew up a road bridge in the suburbs of Melitopol in the village of Konstantinovka. According to preliminary information, an explosive device was planted under one of the pillars of the bridge, which sank noticeably after the explosion. Initial information about the alleged strike on the structure from the HIMARS MLRS was not confirmed. Emergency services and sappers are on the scene.
The bridge in the village of Konstantinovka, an eastern suburb of Melitopol, was damaged. According to preliminary data, explosives were planted at the support
Rogov said.
Traffic on the bridge has been suspended due to a sagging roadway, and damage is being assessed in order to carry out restoration work. The fact that the Ukrainian saboteurs worked is clear to everyone, the main task of this terrorist attack is to disrupt the supply of the liberated territories of the Zaporozhye and Kherson regions, as well as create panic among the local population.
At the end of last week, Ukrainian armed formations attacked Melitopol with a HIMARS MLRS, targeting a hotel complex on the outskirts of the city. As a result, 2 people died, ten more were injured of varying severity.