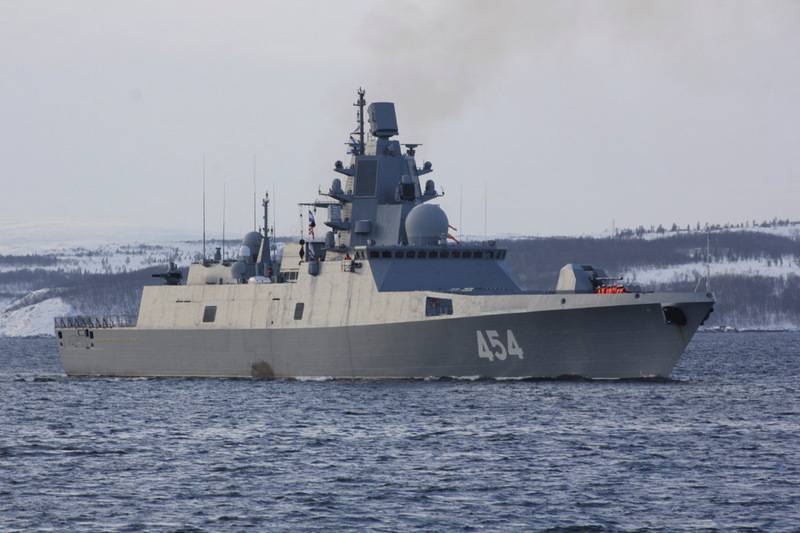 The frigate "Admiral Gorshkov" made an inter-naval transition and arrived in Severomorsk, having moored at the main base of the Northern
fleet
. This was reported by the press service of the Ministry of Defense.
"Admiral Gorshkov" was in the Baltic, where he underwent scheduled maintenance at the "Kronstadt Marine Plant". After the work, the frigate conducted the necessary tests in the Baltic Sea, and also conducted rocket firing from the Poliment-Redut air defense system.
The transition to the place of permanent deployment in Severomorsk "Admiral Gorshkov" was accompanied by a rescue and tugboat of the Northern Fleet "Altai". En route to the Northeast Atlantic, the crew conducted a series of air defense and anti-submarine defense exercises. The frigate arrived in Severomorsk on the night from Saturday to Sunday.
The Admiral Gorshkov was built at the Severnaya Verf shipyard in St. Petersburg and joined the Northern Fleet in July 2018. Designed to conduct combat operations in the far and near sea zones, as well as to participate in solving problems in the ocean zone. The displacement of the ship is about 4500 tons, the maximum length is about 130 m, the maximum width is more than 16 m. Cruising range - more than 4000 miles, seaworthiness - without restrictions.
Armament: A-130 192-mm artillery mount, Redut anti-aircraft missile system, UKSK 3S14 universal launcher for 16 Kalibr or Oniks anti-ship missiles, possibly Zircon, Paket-NK anti-submarine complex , anti-submarine helicopter Ka-27.