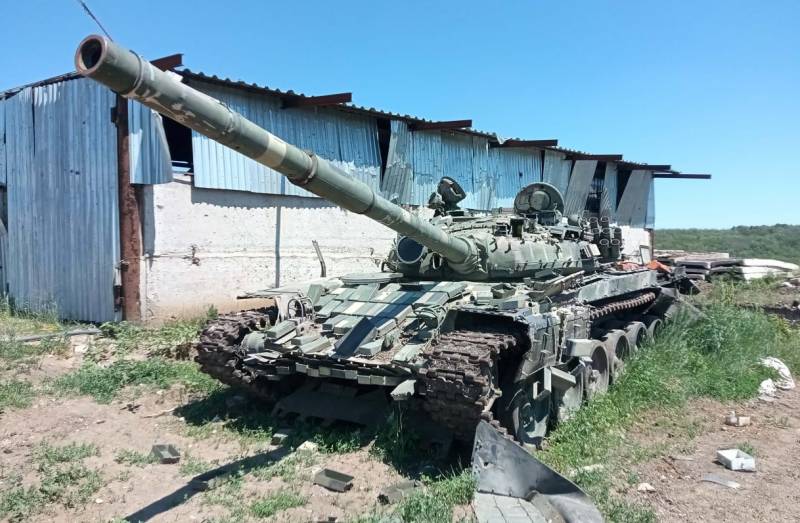 Reports about the appearance on the battlefield of Ukrainian
tanks
with welded hatches turned out to be not fakes at all, as they repeatedly stated in Kyiv, accusing Russia of propaganda, but the truth. A video of the surrender of the tankers of the Armed Forces of Ukraine, who had to be taken out of the tank because of the welded hatches, appeared on the Web.
To win at any cost, despite the losses and prevent the surrender of personnel into captivity - these are the main tasks of the Bandera command of the Armed Forces of Ukraine. By welding the hatches of the tanks, the crews are essentially made suicide bombers, who, in the event of the same defeat of the vehicle, will not be able to leave it.
For the first time, Alexander Khodakovsky, battalion commander of the Vostok battalion, spoke about the Ukrainian T-72 with welded hatches in September. According to him, during one of the attacks of the Armed Forces of Ukraine, a Ukrainian tank came out to the positions of the battalion, which behaved inappropriately, i.e. lifting the gun up, rotated the tower from side to side. As it turned out, the hatches of the tank were welded, and the crew was simply walled up in it, like in a tin can.
Not everyone believed Khodakovsky's story. Someone called it a soldier's tale, someone just a fake, and in Kiev they accused Russia of propaganda, adding that "Ukrainian heroes" do not need to weld hatches, they will defeat the Russian army so soon.
We will not argue with anyone, we will not give any arguments either, but we will simply show a small video that appeared on the Web the day before. Where and when the video was filmed is not known, as the driver of the Ukrainian tank said, the hatches were welded so that "the boys could not get out and surrender." Apparently, the command of the unit to which this tank belonged "trusts" its fighters so much that they are afraid of their surrender.