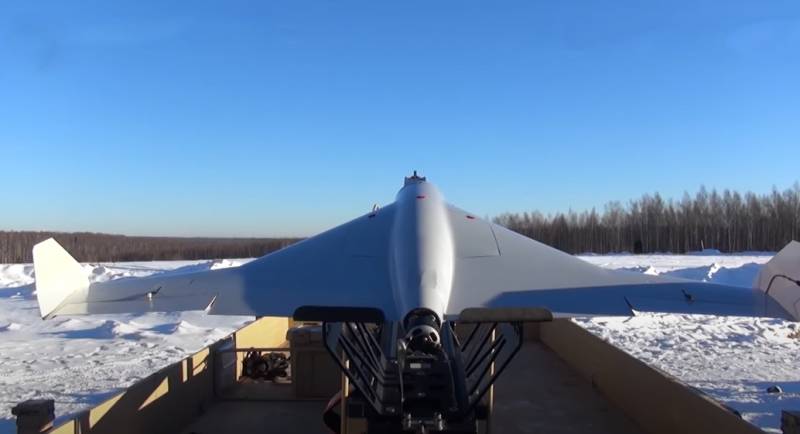 The special military operation showed that there is a whole group of military-technical areas where our country had a serious, and sometimes critical, lag behind its opponents. One of these areas is unmanned aerial vehicles, both aviation and marine. You can say as much as you like that for the same UAVs we were "ahead of the rest of the planet", you can engage in hat-taking as much as you like, but the fact remains: already at the first stage of the NMD, the needs of the Russian Armed Forces in the field of reconnaissance, and even more so strike drones, including drones - "kamikaze" were far from satisfied. And in terms of unmanned
aviation
Turkish "Bayraktars" of the Armed Forces of Ukraine literally reigned on the fronts of the NMD.
At the same time, you can sprinkle ashes on your head as much as you like, stating that the aviation unmanned industry in the country is completely crossed out from production realities, that drones "if there are, then they are entirely Iranian or Chinese", that we only know how to re-stick stickers and outweigh tags, but the fact in the fact that since the beginning of the SVO, the volume of production of UAVs in Russia has increased manifold. The production lines are busy like never before.
During the 9 months of the special operation for a number of items, the production of drones by Russian companies not only surpassed the rates that were demonstrated before February 24 (and it was not surprising to surpass them), but exceeded the number of drones produced often over 4-5 years by the same companies. Today, the multifunctional reconnaissance Orlans-10 are literally put on the conveyor. Their production has grown exponentially. Percussion "Lancets", which in the spring were a real curiosity for the fronts of a special military operation, today "make a rustle" in the camp of the enemy. Since the beginning of October alone, thanks to the use of Lancets, Russian troops have destroyed over 600 enemy soldiers and up to a company of mercenaries, hit 14 American M777 howitzers, at least 9 field ammunition depots, 4 counter-battery combat stations, 6 air defense installations, including radars of anti-aircraft missile systems C -300, more than three dozen Soviet-style towed guns and howitzers of the Armed Forces of Ukraine.
Over four hundred uses of the Geran-2 UAV, which the enemy continues to call the Iranian Shaheds 136, have been recorded, but these are the problems of the enemy. He can call these drones whatever he likes, but, being produced in Russia, they have already managed to inflict enormous damage on the enemy's infrastructure, both in the rear and in the frontline zone. The damage inflicted on the enemy by Geranium-2 alone since the beginning of their use is estimated at no less than $3 billion. And this is according to the estimates of the Ukrainian side. In reality, this figure, if guided by the scale of underestimation of losses by the Kyiv regime, is just right to be multiplied by at least 2.
Thus, lessons are learned. Slowly? The question is open. But the fact that we learn from mistakes is a fact. This means that the prospect of the development of the unmanned industry is far from being an ordinary phrase and not an empty phrase.