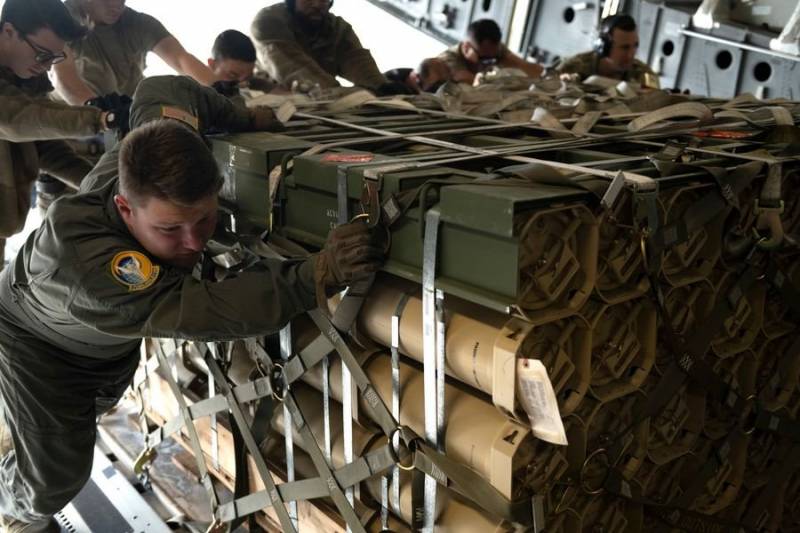 The United States is forming a new $275 million military aid package for Ukraine. There has not yet been an official announcement about this, but it is assumed that today, December 9, the Pentagon will do it.
According to the American press, the Americans intend to send ammunition, high-tech anti-drone systems, and other equipment to Ukraine as additional assistance. It is noteworthy that this package of military assistance is much smaller than the previous ones in terms of volume. This is due to the fact that Washington expects a decrease in the activity of hostilities in the winter. So decided American analysts.
More specifically, Kyiv will receive 80 thousand shells, this amount includes both artillery ammunition for 155 mm howitzers and rockets for HIMARS MLRS. The shipment will also include HUMVEE armored vehicles, power generators, drone countermeasures and technical equipment designed to strengthen Ukraine's air defense system. What it will be is not yet clear.
Everything included in the new aid package for Ukraine has been taken from the Pentagon's warehouses. According to the American press, taking into account the new allocated amount, the United States has allocated weapons to Ukraine since the beginning of the Russian special operation in the amount of $19,3 billion. In fiscal year 2023, Washington plans only to increase spending on Ukraine, putting huge sums in the new defense budget, which could be equal to 847,3 billion. This is the amount of military spending agreed by the US House and Senate committees.
Meanwhile, Kyiv expects that the United States will supply air defense systems long requested by Zelensky by the end of the year. It is assumed that the Pentagon can transfer several anti-aircraft systems from its own stocks.