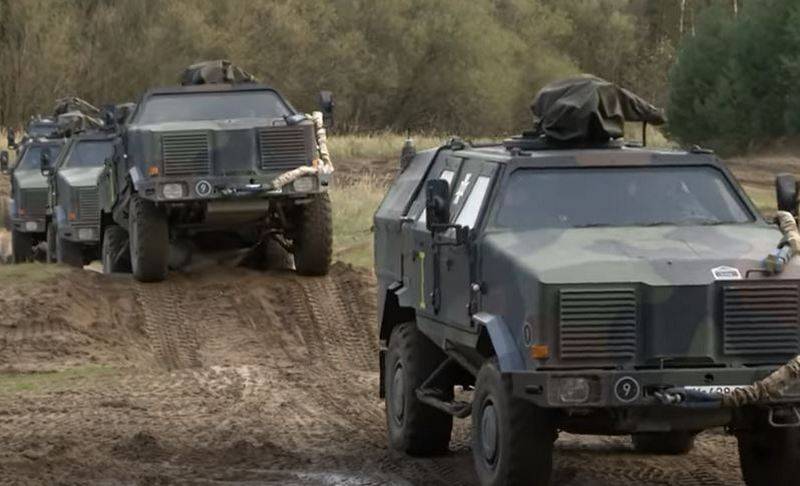 Germany handed over to Ukraine another batch of Dingo ATF armored vehicles, as well as two
tank
tractors Oshkosh M1070. This is stated on the website of the Bundeswehr, where an open list of everything transferred to Kyiv is published.
According to the list, the batch included 20 Dingo ATF armored vehicles; earlier, the Germans delivered 30 similar armored vehicles to Ukraine. Thus, the delivery of armored vehicles to Kyiv is completed. According to available information, all armored vehicles are being used by the Ukrainian Airborne Assault Forces.
These armored vehicles were put into service in Germany in 2003. The armor holds a 7,62x51 mm caliber bullet and fragments at a distance of up to 90 meters. Mine protection is designed to undermine up to 8 kg of TNT. Armament depending on the tasks performed, i.e. from machine guns to grenade launchers. The landing compartment can accommodate 8 people.
The information was also confirmed that Germany will supply Ukraine with RCH-155 wheeled self-propelled guns of 155 mm caliber in the amount of 18 pieces, the installations will be made at the Krauss-Maffei Wegmann (KMW) company. Delivery time - no earlier than 2025.
ACS RCH-155 (Remote Controlled Howitzer 155) is an automated turret artillery module AGMx (Artillerie-Geschütz-Modul) with a 152-mm gun from a PzH 2000 howitzer, placed on the chassis of a GTK Boxer (8x8) wheeled armored personnel carrier. The module is uninhabited, so the calculation of the ACS is only two people. The combat weight of the RCH-155 is 39 tons, the module itself weighs 12,5 tons. Ammunition - 30 rounds per module. The declared range is up to 54 km when firing high-precision projectiles, the rate of fire is 9 rounds per minute.