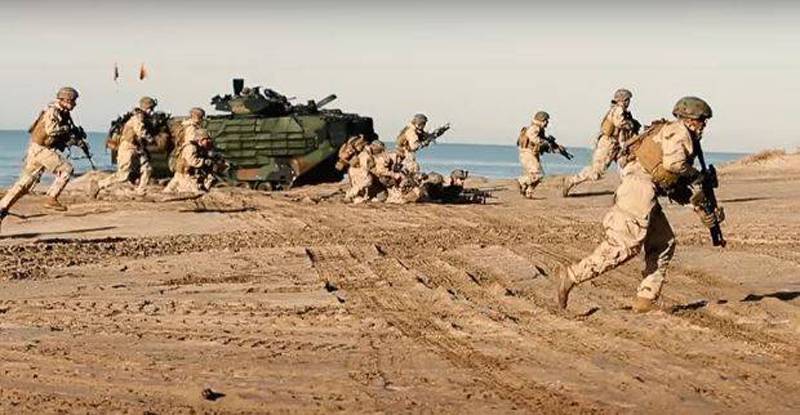 Approximately 10 US Marines and Navy sailors are participating in a scenario exercise that draws on the Force Design 000 concept and a joint maritime strategy to prepare forces for potential wars, including in the vast Indo-Pacific region. In the concept, one of the key links is the "Islands". In the US scenario, this link represents a remote coastal environment that the military believes will be the next major battlefield in the future - if "potential threats from China, Russia or North Korea become real."
This year, the exercises are planned as a simulation of a naval battle against a competitor of an equal level. The Navy will play a central role in America's ability to fight and win this future conflict in remote coastal areas.
Major General Ben Watson, commander of the 1st Marine Division, told the media on Monday.
Units participating in Exercise SK22-23 (Steel Knight) include the 1st Marine Regiment, the 1st Marine Logistics Group, and the USMC 3rd Air Wing.
The crews of four San Diego-based ships, the Harpers Ferry, are deployed along with the USS Tripoli (LHA-7), the USS Pearl Harbor (LSD-52), and the USS Jackson (LCS-6) amphibious assault ship. Also at sea are the unmanned surface ship Sea Hunter and other vessels supporting operations and live firing at the Naval Naval Ranges and on San Clemente Island.
For exercises, the division moved most of its forces, along with the 1st Marine Regiment, over 450 km to Fort Hunter Liggett, using a training post on the central coast of California as the main base of operations.
The exercise, according to Major General Ben Watson, provides the Marines with another training ground with NMESIS (NIMESIS), the Navy and Marine Corps Expeditionary Ship Countermeasures System. We are talking about an anti-ship missile that the Marines can use to hit targets from the coastal territory.
The landing of marines on remote islands is also being practiced, which again actualizes the topic of a possible war for the island of Taiwan with China, as well as for other islands, including in the South China Sea. During the exercises, an augmented reality system is used, which allows simulating the actions of a mock enemy during such exercises.