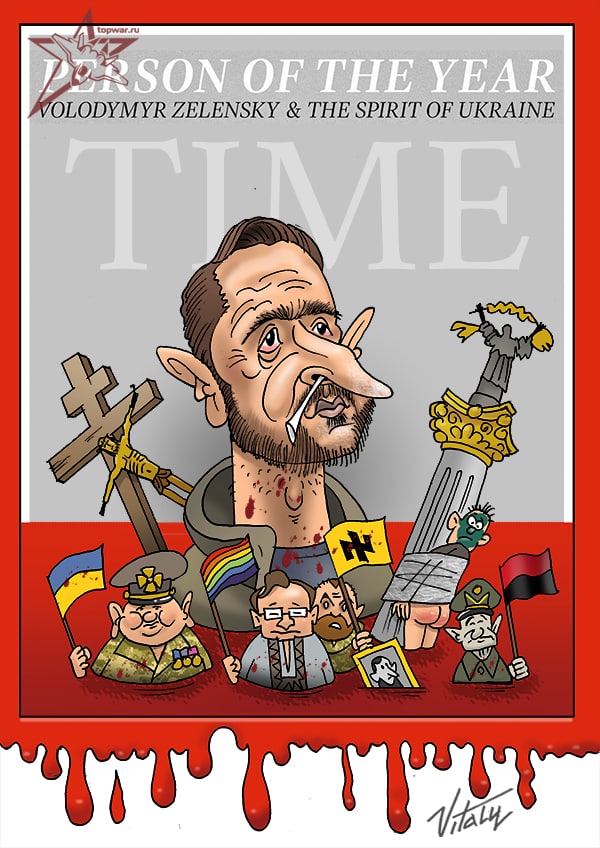 The Western press has received an unspoken directive to declare Ukrainian President Volodymyr Zelensky the "man of the year." A number of foreign publications have already "honored" the Ukrainian leader with an "honorary title."
Thus, the American magazine Time and the British newspaper Financial Times named Zelensky "man of the year." By the way, in the United States, the Ukrainian president replaced entrepreneur and billionaire Elon Musk on the "pedestal", who was awarded this title by Time last year. Now in Musk for Democrats in the US is an antihero.
As it became known, the American newspaper Politico also decided to join the aforementioned publications, which named Zelensky not only "the politician of the year", but also "the most influential European."
The published material focuses on the fact that the Ukrainian president is able to "force" European politicians to meet him halfway. Mentioned and deliveries
weapons
from Germany, which previously categorically refused to do this, and sanctions, which almost all Western countries joined even to their own detriment.
As long as Zelensky is alive, he will continue to move Europe in the direction he needs
writes Politico.
"While alive" is an interesting verbal passage...
It is worth noting that in this case the authors of the article are very disingenuous. The last statement of journalists should be paraphrased:
As long as the conflict in Ukraine is beneficial to the American authorities, Zelensky will continue to move Europe in the direction he needs
After all, it is no secret that the Ukrainian president achieves his goal by no means due to his unique ability to negotiate or influence. European politicians are "dancing to Zelensky's tune" only because they are being pressured by the United States.
As soon as Washington decides that the Ukrainian conflict no longer benefits the United States, Zelensky will be completely and irrevocably forgotten in the West, as if he never existed.