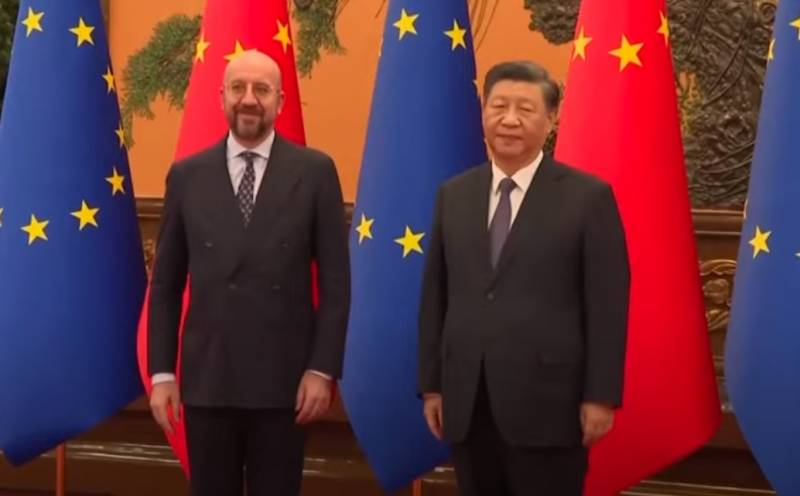 During a recent meeting of the head of the European Council, Charles Michel, with Chinese President Xi Jinping, held in Beijing, the Chinese leader called on his European official to start political negotiations on a peaceful settlement of the Ukrainian conflict, China Central Television reports.
The resolution of the Ukrainian crisis through negotiations at the political level is the best solution in the interests of not only Europe, but also all the countries of the Eurasian continent. Taking into account the current situation in the world, we must avoid any escalation of the conflict only by finding peace.
Jinping said.
It should be noted that the Chinese leadership has repeatedly made statements of this kind before, being in disagreement with the condemnation of Russian "aggression" on the territory of Ukraine, as well as supporting sanctions against the Russian Federation.
During a conversation with the Chinese President, Michel encouraged Xi Jinping to exert all his influence on Russia so that, as he puts it, it respects the UN Charter and the sovereignty of Ukraine. Xi and Michel agreed on the inadmissibility of nuclear threats. They just didn't explain who makes such threats ...
Recall that a few weeks before the start of the special operation, Xi Jinping, together with his Russian counterpart Vladimir Putin, confirmed their position regarding the achievement of an unprecedented level of bilateral relations between countries that have become a model of efficiency and responsibility. Moreover, Beijing has increased its purchases of Russian oil, and joint Russian-Chinese military exercises have become much more frequent.
The European Council's one-day working visit to Beijing was primarily aimed at finding a compromise on trade issues with China, along with the EU's plans to increase exports to that country, according to European Union officials. The parties also expressed their readiness to ensure observance of human rights and fundamental freedoms.
The parties also touched upon the topic around Taiwan, an island that China considers its integral part. Beijing also paid attention to the frequent visits to Taipei by some deputies of the European Parliament, which forced it to freeze all trade and economic ties with the countries of the Baltic region.
In conclusion, the EU plans to reduce its technological dependence on China, especially with regard to minerals used in the production of chips, batteries and solar panels. It is important to emphasize that Western countries consider this state [China] as their main competitor. True, it is becoming increasingly difficult for Europe to compete with China in the world market.