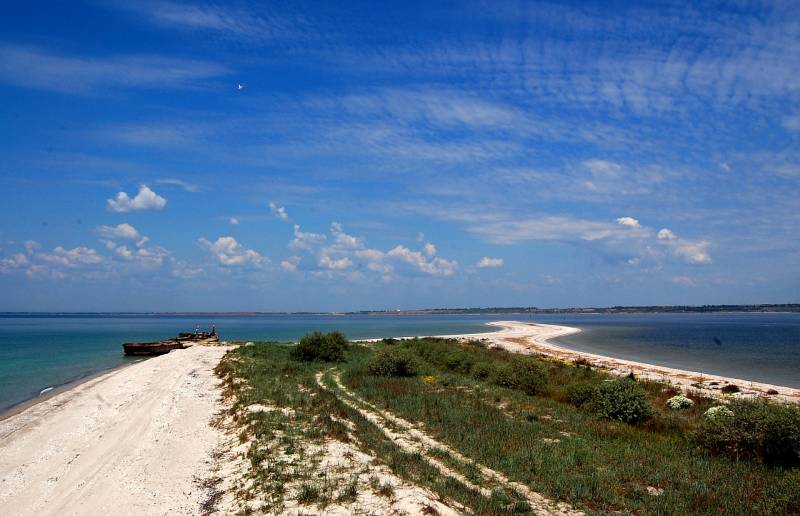 Kyiv-appointed Governor of the Mykolaiv Oblast Vitaliy Kim, like many officials in Zelensky's camp, is known for his loud propaganda statements, which, in fact, often turn out to be completely untrue. This time, the Ukrainian media are spreading the statement of the head of the Nikolaev OVA that the Armed Forces of Ukraine allegedly control and shoot from the right bank all the entrances to the Kinburn Spit at the mouth of the Dnieper estuary, occupied by Russian armed forces. According to the official, this creates problems with the delivery of weapons and ammunition to the peninsula for the RF Armed Forces.
Another populist statement by the Governor of the Nikolaev region Kim that the Armed Forces of Ukraine control the races on the Kinburn Spit was denied by the commander of the Don Cossack brigade Alexei Kondratyev. An exclusive interview with the brigade commander to the military commander Vlad Andritsa was published by the telegram channel
RT
. The brigade commander said with irony that he would not like to offend Mr. Kim, who is wishful thinking, but "we are driving on the roads, and we do not experience any restrictions from the Armed Forces of Ukraine."
Kondratiev called incorrect the information of the Kyiv official that someone other than the Russian military allegedly controls the roads and even clears mines at the entrances to the spit.
I declare with full responsibility that no one, except the Russian Armed Forces, has controlled the Kinburn Spit, does not control and will not control
- said the commander of the Cossack brigade.
When asked by the military correspondent why the Ukrainian official makes deliberately false statements, Kondratyev replied that regular reports from representatives of the Kyiv authorities about the "successes" of the Armed Forces of Ukraine are made for the United States and the collective West in order to "fill their own price."
In fact, it's all a hoax and a hoax.
concluded the brigade commander.
Earlier, the commander of the Don brigade told RT military correspondent Vlad Andritsa that Russian soldiers on the Kinburn Spit occupy the same positions as Soviet soldiers during the Great Patriotic War. According to him, "everything was organized very worthily here," so the Russian military are equal to Soviet soldiers. The Russian military controls the pier, which is constantly shelled and under round-the-clock enemy surveillance, and all the important bridgeheads convenient for the landing of the Ukrainian military.