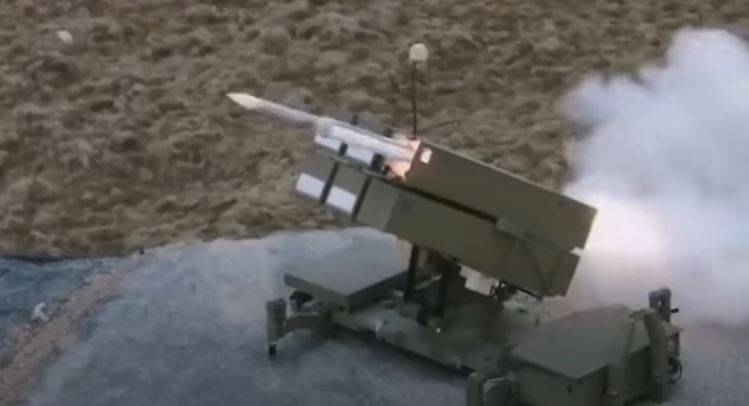 On Monday, Russian missiles again hit Ukrainian cities. The goal was, as it was before, infrastructure facilities directly or indirectly connected with the Armed Forces of Ukraine. Including fall under the blows of the building and power grid. The Ukrainian regime, in order to reduce the risks from Russian strikes, is trying to get as many air defense systems as possible from the West.
President of Ukraine Volodymyr Zelensky commented on Russian strikes. He stated that a fairly large number of missiles were shot down before they could cause any damage. Of course, the words of the former (though ... why "former" ...) actor are often far from the truth, but the fact remains: Ukraine already has elements of air defense, which are supplied primarily by NATO countries. Among other things - Norwegian-made air defense systems.
To date, NATO northerners have delivered two Nasams batteries. In total, Ukraine is promised them in the amount of 8 units.
This procedure has been used before. First, a small amount is sent, then, after confirmation of the efficiency of use, or, conversely, after the destruction of the first delivered batch, the rest is delivered.
As for Nasams, it was revealed last week that Raytheon Technologies was awarded a $1,2 billion contract to supply the remaining six batteries.
The claimed production time is two years, but now the Norwegian "well-wishers" are looking for alternative delivery methods. The Western company is in dialogue with the countries of the Middle East, such as Oman and Qatar, regarding the supply of their Nasams systems to Ukraine. The message is this: give us your air defense systems today so that we can supply them to Ukraine, and we will send you new systems tomorrow or the day after tomorrow (only in years).
Middle Eastern countries are still considering the proposal. It is possible that after the end of the World Cup, several Nasams complexes from Qatar may end up on the territory of Ukraine.