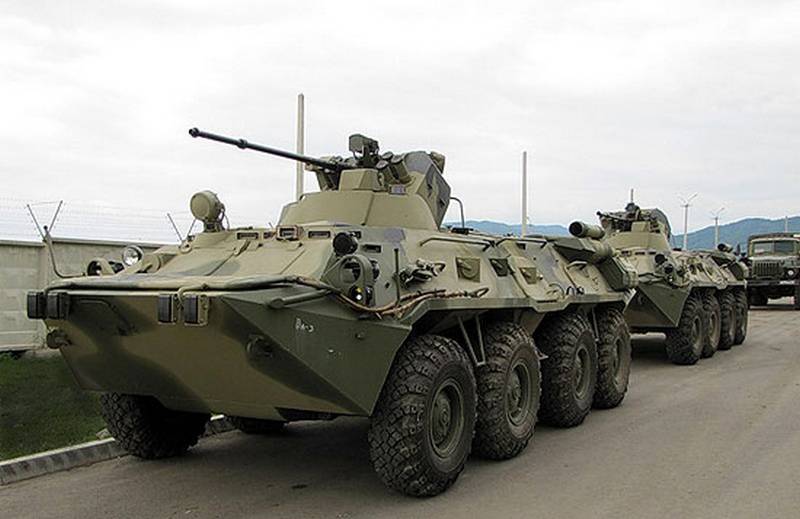 The Russian Ministry of Defense received a batch of BTR-82AM armored personnel carriers. The delivery of the upgraded vehicles was carried out by the 81st Armored Repair Plant, which is part of the Uralvagonzavod concern. This was reported by the press service of UVZ.
The number of transferred equipment is not reported, it is noted that all vehicles have been overhauled with modernization to the level of BTR-82AM. As part of the ongoing work, the equipment received a completely new power unit, fighting compartment and components, which made it possible to significantly increase the firepower of the armored personnel carrier, as well as its mobility.
JSC "81 BTRZ" carried out scheduled repairs with the modernization of armored personnel carriers BTR-80. Combat vehicles were brought to the form of BTR-82AM, passed all types of tests and were accepted by representatives of the Russian Ministry of Defense
- leads
TASS
UVZ message.
The equipment has already been shipped and sent to the military. It is possible that part of the party will go straight to the Donbass, where reserves are being formed now.
As previously reported, the BTR-82 is available in two versions - BTR-82A and BTR-82AM. The first is produced "from scratch", and the second is obtained by modernizing the BTR-80 armored personnel carriers, of which several thousand units have been produced since 1984. The BTR-82AM variant was put into service in 2013.
The BTR-82A and BTR-82AM use anti-splinter protection made of multilayer synthetic material on the inner surfaces of the hull, as well as an anti-mine floor covering. In addition, the seats in the armored personnel carriers are made on a special suspension. The armored personnel carrier is armed with a combat module with a 2A72 automatic cannon of 30-mm caliber and a 7,62-mm PKTM machine gun. In addition, all armored personnel carriers are equipped with an additional protection kit, which includes armor plates and lattice screens.