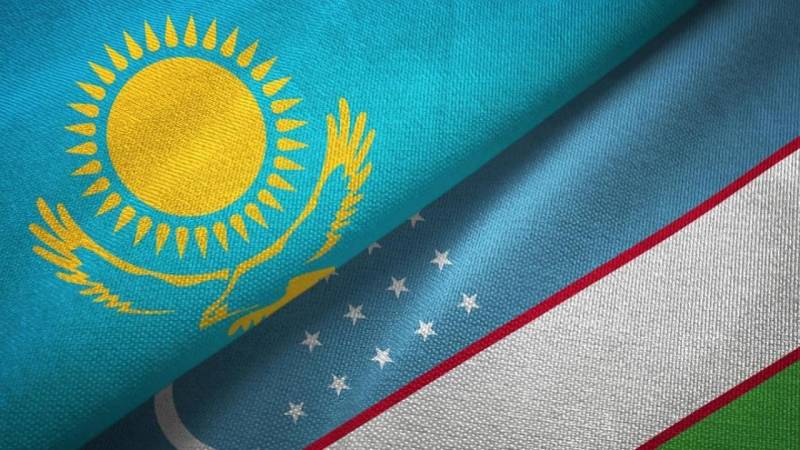 Regional integration
In July, Military Review published material on the IV Consultative Meeting of the Heads of State of Central Asia, which at first glance looked like an ordinary event in a series of international forums ("
Central Asia and the contours of a new economic bloc
"). Even then, many details of these negotiations showed that we are witnessing much more serious processes of regional integration than the regional summit. Namely: the formation of an economic bloc of Central Asian states with elements of military and political cooperation. This event was moderated by Kazakhstan, active participants were Uzbekistan and Kyrgyzstan, and careful observers were Tajikistan and Turkmenistan.
On November 27, before the first foreign visit of the President of Kazakhstan, a draft document appeared for public discussion on the website of the Open Government of the Republic of Kazakhstan: "Agreement between the Republic of Kazakhstan and the Republic of Uzbekistan on allied relations" with the end date of the public discussion on December 12.
Observers mainly commented on the military-political part of this document, where the parties agree on mutual support for each other's integrity and sovereignty, but the author would suggest focusing on other aspects: economic and organizational, for example, Art. 9:
"The parties continue to cooperate in order to implement joint projects in the oil and gas industry, including through the construction of oil refining industries and pipeline infrastructure,"
as well as Art. 17:
"The parties consider the Consultative Meetings of the Heads of State of Central Asia to be a prerogative mechanism for a comprehensive discussion and constructive resolution of issues of a regional nature."
And also on the fact that all these points are, in fact, a kind of mirror of the "Treaty on Friendship, Good Neighborliness and Cooperation for the Development of Central Asia in the XNUMXst Century" signed just in July, to which Kyrgyzstan is also a party. And this agreement was signed at that same IV Consultative meeting.
Taking into account the traditionally "space" terms for the implementation of any investment, political and other projects in this region, as well as
historical
rivalry for leadership between Uzbekistan and Kazakhstan, a step in half a year from a pact of "good intentions" to an "agreement of alliance" can be called an outstanding result without exaggeration. But in these six months, the leadership of Kazakhstan laid down more political and administrative reforms, which should be finalized after the parliamentary and municipal elections.
Uzbekistan, in turn, is also in the process of constitutional reform. In Russia, it is known mainly from the events in Karakalpakstan ("
Uzbekistan. New constitution and protests
"), but this is just one episode that has entered the Russian media agenda. But there are others that are simply not so interesting (since there are no protests) to our mainstream, for example, the Agroexpress transnational project (fast rail delivery of fresh herbs and agricultural products) or large-scale Arab investments.
There is a strong opinion in Russia that without the participation of our country it is impossible to implement the political and economic unification of the Central Asian states - there will not be enough resources, there is high competition for leadership, many conflict zones and knots, conflicting interests. But, as it turns out, resources can be pooled, leadership can be negotiated, contradictions can be smoothed out, and conflicts can be moderated with little or no external influence. Moreover, for Kazakhstan this is not only a question of the economy, but also a kind of sacred project, an ideological concept.
In Russia, our influence is considered important, but Turkish influence is feared. Yes, Turkey is persistently penetrating the region, but who was not at that very summer Consultative Meeting? Turkey and Russia.
Symbols and assembly points
A well-known domestic sinologist, developing his conceptual view of the region, Andrey Devyatov, well noticed the moment that K.-J. Tokayev first of all after being re-elected president visited the mausoleum of Khan Jochi in the Karaganda region, which is considered a kind of sacred symbol, an "assembly point" for the lands and the Jochi ulus itself. But, I must say that Tokayev, unlike his predecessor, visits this iconic place very often and always for quite interesting reasons.
For example, just before flying off to SPIEF-2022, where he made a speech that "stunned" several Russian observers, Tokayev held a kurultai near this mausoleum, with a white tent and a felt felt of the great khan. That is, before the speech, which poured out on Russian observers with a tub of ice water, K.-Zh. Tokayev was naturally blessed with a big step. And A. Devyatov, for all the debatability of his concepts, is absolutely right that this kind of symbolism should not be overlooked when political decisions are considered.
In this regard, it would not be superfluous to recall the visit of the head of the Vatican to Kazakhstan, and the speech of Chinese President Xi Jinping, who held a separate meeting in Astana before the SCO summit in October. What is in the first, what in the second case, we clearly see, again, an analogue of the blessing for great deeds and support. Moreover, on the part of China, this was obviously not an on-duty conversation about development and cooperation:
"No matter how the international situation changes, we will continue to strongly support Kazakhstan in protecting its independence, sovereignty and territorial integrity, firmly support your ongoing reforms to ensure stability and development, and categorically oppose interference of any forces in the internal affairs of your country."
But wishes, symbols and even agroexpress alone cannot build such projects in our time, something more is required - a resource base and / or technological, embedding them in large markets.
All technologies are still borrowed and purchased, but with raw materials there is, as they say, a nuance. And here we should dwell on the proposal made by K.-J. Tokayev, the President of Russia during a meeting on the way to the EU - to fill the union with Russian gas. It looked a little strange at first glance. It seems that Kazakhstan and Uzbekistan are concluding a union treaty, which seems more like a political declaration, but, apparently, the Russian leader had his own thoughts on this matter.
The fact is that earlier there was talk about the fact that gas from Central Asia supplemented (and it actually supplemented) Russian supplies, but now everything turns out the other way around? It turns out that it is.
Today, the basis for the supply of blue fuel to China is the Turkmen fields, the network runs through the territory of Turkmenistan, Uzbekistan and (the most significant section in length) Kazakhstan. Uzbekistan is increasing gas production in Karakalpakstan, Kazakhstan - in Mangistau. The plans include the reconstruction of the internal distribution network, including Kyrgyzstan. The capacity of this network for export already exceeds 60 billion cubic meters. m, underground resources, primarily in the countries of the region, and especially in Turkmenistan, are more than enough to increase exports. So the Minister of Energy of Uzbekistan Zh. Mirzamakhmudov, in response to the Russian idea of ​​a "gas union", has already stated that participation in any unions or alliances is not required for the import of energy carriers.
And what is missing for investment?
There is a lack of stability and minimization of risks, since it is on these routes that there are nodes of border conflicts that periodically escalate, as well as Russian potential in terms of raw materials and construction rates. And here an interesting conflict arises - the pace of commissioning of capacities on our part does not yet cause enthusiasm on the part of China, and in terms of minimizing regional conflicts, we see with our own eyes that our neighbors are making completely non-illusory efforts.
If you read the text of the union agreement between Uzbekistan and Kazakhstan, we will find many positions dedicated to facilitating logistics. But it is precisely the issues of border control that are a real sore point in the interaction between Uzbekistan and Kazakhstan. And this "narrow moment" of the parties is ready to substantively decide what is, if not a breakthrough, then certainly an important step for sure.
We see similar processes even on the part of very tough rivals in territories - Kyrgyzstan and Tajikistan, which today, independently without external assistance and moderation, after active fighting in early autumn, sat down to discuss the borders of the enclaves. At the same time, Uzbekistan secured financial support from the Arabian Peninsula, and Kazakhstan received both financial and political support from China. In Astana, these processes are considered as perhaps the most important issues after the political reform, since raw material exports are critically dependent on the work of the Caspian Pipeline Consortium.
How active is Russia's role here?
So far, it is, in fact, limited to general negotiation formats and proposals for the participation of Russian gas. So far, only work in the Iranian direction has brought practical results in the region. A wait-and-see attitude towards the CIS countries may in the future greatly complicate the implementation of integration, and simply large projects, since the processes of independent unification, which previously seemed to experts, let's say frankly, utopian, today have not only become a reality, but also proceed at an unprecedented speed. At the same time, in Kazakhstan this project, as we can see, is already considered as ideological and even existential.
This is actually an important issue for Russia, because the Ukrainian campaign and its ambiguous, to put it mildly, results clearly do not add points to our geopolitical influence treasury, and yet the task that was set on all international platforms, until recently, sounded no more and no less as a multipolar world.
But over time, does Russia become that very pole?
Unfortunately, it doesn't. Turkey, Russia, Iran and Central Asia, which is uniting into one cluster before our eyes, are gradually acting as several balanced, albeit interdependent players in front of India, China and the newly consolidated West. Yes, undoubtedly, settlements in national currencies will grow in this quadrangle, but the advantage of the ruble in the future is no longer obvious, and this, in fact, was one of the priorities for Russia in building the concept of a multipolar world.