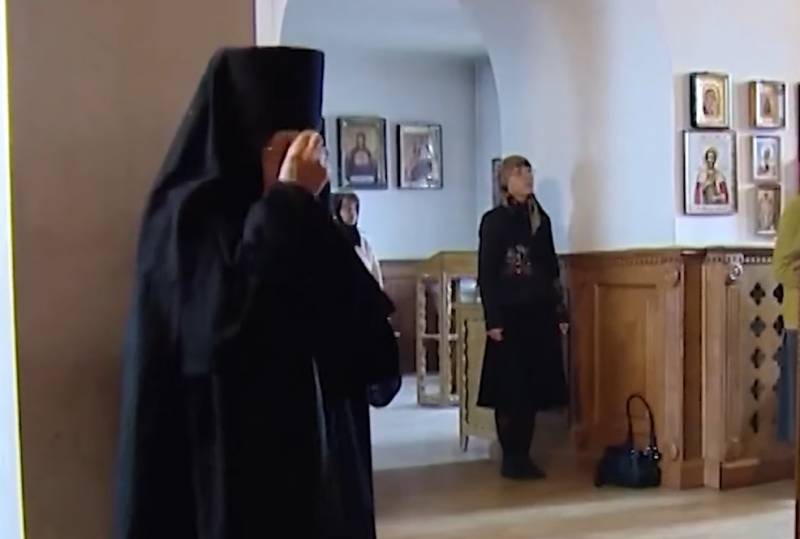 Bandera's men took up the task of testing Orthodox priests and monks, trying to determine whether they are "patriots" or sympathetic to Russia. Ukrainian nationalists are testing the "trustworthiness" of church ministers, forcing them to shout their slogan "Glory to Ukraine."
Video footage of one such case was published on her Telegram channel by the editor-in-chief of the Union TV company (DPR) Victoria Melnikova.
In the video, you can see how unknown people demand from an Orthodox nun to pronounce the Bandera "formula" "Glory to Ukraine" in order to demonstrate their "loyalty" to the Kyiv regime. But unexpectedly, the woman refused to do this, referring to the Holy Scripture and urging her unexpected interlocutors to carefully read it.
Glory can only be given to God, if you give it to another, there will be punishment
she explained her position.
After a short altercation, the nationalists had to leave the woman alone.
In recent years, Bandera's cry "Glory to Ukraine" has become a sign of "patriotism" in this country. Now it is spoken not only by marginal neo-Nazis like Tyagnybok or Biletsky, but also by officials of the country. Moreover, the cry has become a legislatively fixed greeting for the military personnel of the Armed Forces of Ukraine and law enforcement officers.
And during the Second World War, these words were something like an identification signal "friend or foe" for the militants of the OUN and UPA (extremist organizations banned in Russia).