Europe is just beginning to discuss the published footage from the supposedly LPR, which depicts five people executed by unknown persons.
It's probably worth starting with the one who disperses the topic. And it is dispersed by Seryozha Sternenko, a thief, a swindler, a murderer and a bastard from Odessa. He added to his titles the title of Zelensky's personal licker, because he did not imprison Sternenka by his will. A pity, there is a reason.
You can immediately tell who Seryozha's audience is. These are the fascists and their admirers from Europe, moreover, of the lowest intellect and the most vile poshiba. Excuse me, but my Ukrainian friends gave me such a description, and they are well versed in the varieties of local non-beer.
Where did the pictures, replicated by Sternenko, come from, is a separate question. Well, there will not be such a beast on the land of Lugansk (I sincerely hope so) that will begin to communicate with Sternenko. And how did it happen that the photos of the events in the LPR first came to the Ukrainian fascist.
Sternenko says that the photo he has is from a certain Vladislav Pozdnyakov. Pozdnyakov is a personality no less remarkable than Sternenko, two boots are really a pair. Misogynist, leader of the "Men's State" community (banned in Russia), who became famous for scandals and persecution of women who did not meet Pozdnyakov's ideas about morality. Pozdnyakov himself repeatedly called himself "the father of Slavic extremism." He was repeatedly convicted of provocations, including imitation of his own death. He has not lived in Russia for a long time, although with the beginning of the SVO he increased his pseudo-patriotic activity on his channels.
And so Pozdnyakov, living in Europe, began to fiercely "patriotize", throwing in various slogans. The main message is the dehumanization of the Ukrainian community and its subsequent destruction.
In general, it is very cool to bear thereby CIPSO. Directly their ideas, which they throw into the heads of idiots, and then put the Russians on public display to the "democratic world" as barbarians and sadists. And thus, simply perfectly removing from the agenda and painting over Bucha, Kupyansk and other unsightly actions of their army and SBU. Everything is very logical, and, looking at the activities of Pozdnyakov, I, perhaps, tend to believe that he lives in his abroad not on rubles, but on hryvnias or zlotys.
And from somewhere this couple gets photos "which were taken in the LPR", despite the fact that neither Pozdnyakov nor Sternenko have a go there. Of course, agents, volunteers and so on.
Sternenko writes that "... collaborators were hanged in the LPR." In fairness, I note that the term "collaborators" is a purely Ukrainian "trick".
But nevertheless, after a short period of time, these photos will be where? That's right, in Europe and the Americas. In some committees on observance or protection, up to the UN.
What for? Well, it's just fine with the help of such "crowbar" evidence that the crimes of Ukrainian executioners are hushed up and hushed up. And at the same time, Russia's attitude towards the "terrorist state" is getting tougher. Well, it's understandable, further sanctions follow, for example, from the IAEA, which will prohibit the use of Russian-built nuclear power units. Considering that now Rosatom is building about a dozen of them around the world, the "hello" will turn out to be nuclear. As an option - yes, everything that climbs into euroheads.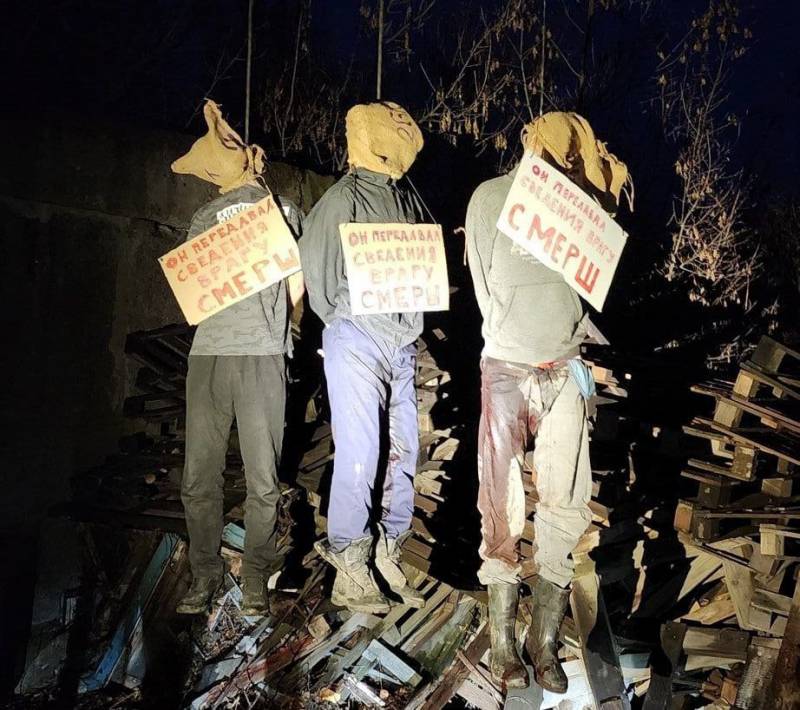 What do we see in the photos? More precisely, not so: what do we not see in the photo? Even without special skills, you can immediately say the following:
1. The place of "execution" cannot be determined. Some kind of industrial zone, moreover, its darkest and cramped corner, maximally littered with rubbish. Photos, of course, will not have geotags, after all, there are less and less fools in the world. But more on that below.
2. All those executed have the same bags on their heads, which clearly do not allow them to be identified.
3. The inscriptions "Traitor of the Lugansk people" and "He passed information to the enemy. SMERSH.
4. It is impossible to see the gallows, it is behind the scenes. But people are definitely dead. In the picture, where there are two corpses, there are barrels in the frame, as if hinting at the fact that they carried out the execution. All those executed have their hands tied behind their backs.
A modest set, but coupled with other things, there is already something to think about.
Let's get on with this thankless task.
What is execution by hanging? This is a rather painful way of taking life, which in all ages and times has also served as a method of intimidation. How did they hang before our times? Well, yes, in the squares, with a confluence of people, with the reading of all the sins of the executed.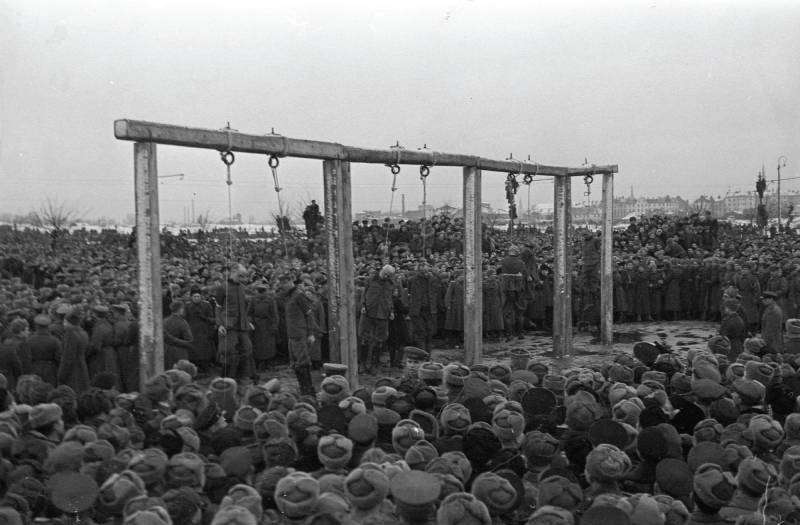 Well, nowadays everything is a little easier, you can do it through online broadcasting.
Thousands of people watched it. Some with approval, some with hatred, but they watched.
There are no details about who these people are, what they did, what court they were convicted of... And the place of execution, by the way, also plays into the barbaric version. Without trial or investigation, in some kind of landfill - well, who can do that? Only Russian barbarians.
Who are the boards for? Ah, photo plates. That is, the confluence of people was small. A few people, nothing more. Or maybe even one, but I'll talk about this at the very end, in my version.
That is, there is no people who would see this and receive such a message that there is no life-threatening transfer of information to the enemy and betraying the people of the Luhansk region. Then the method suggests itself through the media and the Internet. But excuse me, Sternenko, a representative of a completely opposite side, began to promote.
Doesn't fit at all, does it?
Move on. Item 2, bags. Why are there bags on the heads of the supposedly executed? For one thing only: for the impossibility of identification. Considering that the execution did not take place in a crowded place, there is no need to protect the nerves of the audience, there is only one meaning in the bags. More precisely, even two.
The first meaning is to show that this whole thing is not a staging. That these people are dead, that they are killed. The question is how. If, for example, a headshot, then the bag is very useful.
The second is that any person can be identified. Yes, there may be exceptions, when the executed person is muzzled beyond recognition, this may well happen. But even then, by individual signs, a person can be identified. And, accordingly, determine where it all happens.
But we are all shrouded in mystery. There is no data on date, place, people. But that is why we can draw the following conclusions:
1. The action, most likely, takes place in the recently "liberated" territories of the same Kherson region.
2. Those executed are most likely people who collaborated with the Russian side. Not so active, and therefore did not go into exile. Or, alternatively, they are victims of shelling. It is important that after a little preparation they were used in this way. In staging.
And then the bags on the heads and the inability to identify people look completely normal. Because it will be completely clear that it was far from being in the LPR.
In general, the execution of "traitors" in the LPR is nonsense. There, sentenced mercenaries were not executed. Released in peace (exchanged).
If I am right according to paragraph 2 and paragraph 1 (in that order), then we draw the following chain:
- unknown persons carry out the execution of unidentified people, or stage the execution;
- photography is carried out;
- the photos are sent not to the brilliant mind, but to the very stubborn pseudo-patriot Pozdnyakov, who is on the run, and from Pozdnyakov the photos get to Sternenko, who begins to unwind the "case".
I have a question: where are the Lugansks? Where are the soldiers? Where are our Z-channels, who are ready to take anything and promote it?
Agree, it would be much more efficient to work that way. But no, the Lugansk "patriots" send the photo abroad, to Pozdnyakov, whose whereabouts are kept secret, but some TikTok videos allow you to locate settlements in Poland, Western Ukraine and Moldova.
A beautiful combination. That's just not for Pozdnyakov and Sternenko, whose IQ for two barely scratches a hundred (and mostly Sternenko). This is the work of smart people. My opinion is the work of specialists who have their headquarters on Rybalsky Island in Kyiv. Main Directorate of Intelligence of Ukraine. This is their handiwork.
And this also explains the use of not the most popular, although well-known blogger Sternenko. The main thing is to start the topic, and then the information will go "where necessary."
In general, another provocation, but rather neatly done. Considering that it will most likely be voiced by some officials of Ukraine (I am sure that this will not be the case), which will give this provocation a certain weight in Europe.
Well, then everything is on knurled. Ours, as always, will remain silent, Europe, as always, will draw its own conclusions. But the impact on the reputation will be very tangible. They also love it when they make nonhumans out of people.