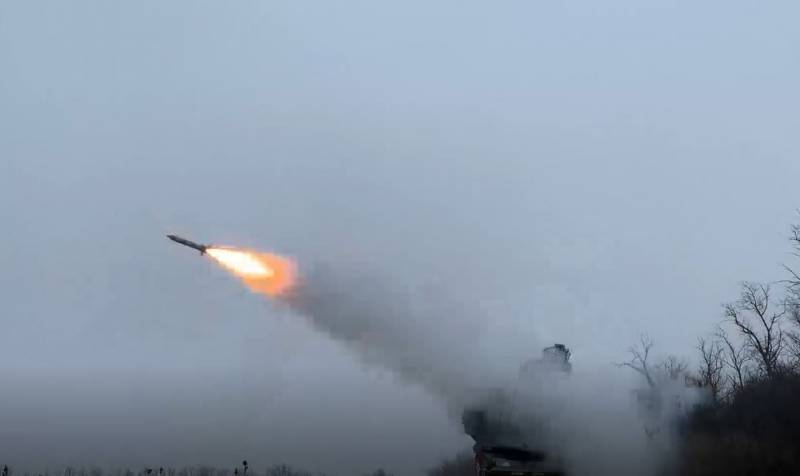 The Russian Armed Forces carried out a series of missile strikes on military targets in the depths of the enemy's defenses. This is stated in the new report of the Ministry of Defense.
Over the past 37 hours, Kramatorsk and Dibrova in the DPR came under attack, and temporary deployment points for foreign mercenaries from the so-called "Foreign Legion" were destroyed on their territory. The military does not provide details. An ammunition depot of the Armed Forces of Ukraine was destroyed in the Kamianske district of the Zaporozhye region on the territory controlled by Kyiv. In addition, ours destroyed another US-made AN / TPQ-300 counter-battery radar and S-XNUMX radar.
The Air Force of the Armed Forces of Ukraine suffered heavy losses, two combat aircraft and two helicopters went to scrap in a day. Our fighters shot down a Ukrainian Su-25 attack aircraft in the Yuryevka area, and a MiG-29 of the Armed Forces of the Armed Forces of Ukraine was shot down in the Zverevo area. Both Ukrainian Mi-8 helicopters were shot down by air defense systems near Maryinka. It is possible that someone was transferred, or maybe evacuated.
In terms of directions: on Kupyansky, ours covered the enemy, who was preparing for an attack, in the area of ​​\u65b\u60bthe settlement of Tabaevka, Kharkov region. XNUMX Ukrainian servicemen, two infantry fighting vehicles and two pickup trucks were destroyed. At Krasno-Limansky, attempts by the Armed Forces of Ukraine to attack in the direction of Chervonopopovka and Zhitlovka were thwarted, and two Ukrainian DRGs were destroyed in the Raygorodok area. Losses - more than XNUMX dryers, three infantry fighting vehicles, an armored car and four pickup trucks.
On Donetsk, successful offensive operations of Russian units continue. Here everything revolves around Artemovsk (Bakhmut). There have already been rumors that the command of the Ukrainian group is considering the option of surrendering the city due to huge losses.
In the Yuzhno-Donetsk Armed Forces of Ukraine, they tried to counterattack in the direction of Nikolskoye, but to no avail. Up to 30 Ukrainian servicemen, two infantry fighting vehicles and three pickup trucks were destroyed.