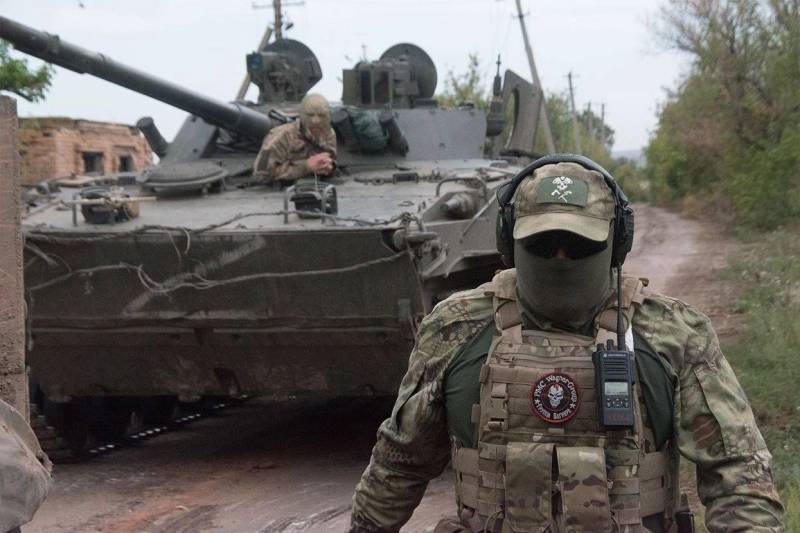 Assault groups of "musicians" from PMC Wagner surrounded a group of foreign mercenaries near Bakhmut (Artemovsk), which includes mainly ethnic Georgians. According to Ukrainian Internet resources, most of the mercenaries are wounded, they cannot get out of the ring on their own.
Information has appeared on Ukrainian resources that in the Bakhmut area, "orchestras" surrounded Georgian mercenaries. This data is also confirmed by the Georgian resource NewsGeorgia, which refers to the message of one of the mercenaries named Romeo Parulava, who is also fighting against Russian troops near Bakhmut. According to him, besides directly Georgian mercenaries, the Vushniks were also surrounded.
Where exactly this happened is not disclosed, the number of those surrounded is also unknown. It is emphasized that foreign mercenaries are making attempts to break through the encirclement and pull out the group, but to no avail. A large number of wounded and killed are reported.
We will definitely take them out. The situation in Bakhmut is very difficult (...) The commander is wounded. The rest of the guys, along with our Ukrainian brothers, are surrounded. There is a fight to bring out the survivors and bring out the bodies of our dead.
Parulava said.
It is worth noting that in the Artemovsk direction, the "musicians" combed the mercenaries well, including the Georgians. In the last three days alone, six Georgians from the so-called "Foreign Legion" have moved into the "33th" category. In total, according to Georgian sources, to date, the death of 1,5 Georgians out of XNUMX thousand fighting on the side of the Armed Forces of Ukraine has been officially recognized. All ethnic Georgians are included in this category, including those who have lived in Ukraine all their lives and were called up as part of the mobilization.