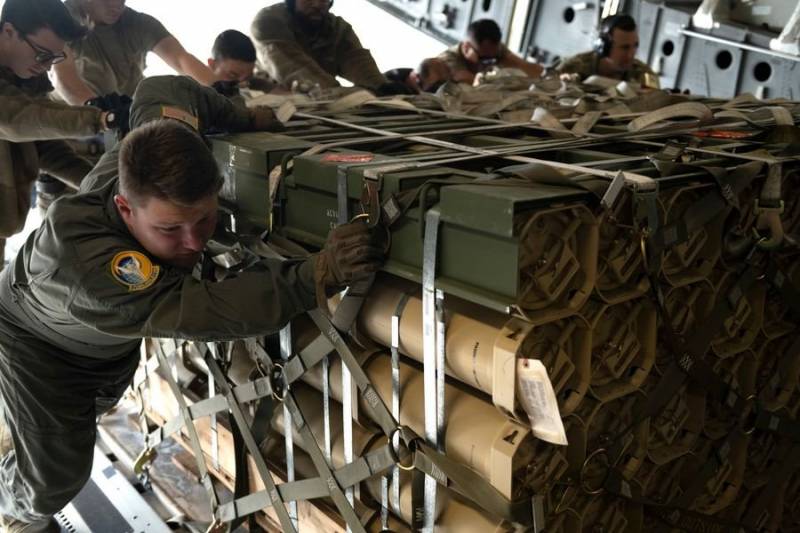 A large batch of ammunition was sent to Ukraine from NATO warehouses in Greece, a convoy of heavy vehicles with Bulgarian and Polish numbers began moving towards Poland. According to thestival.gr. portal, the ammunition is intended for the Ukrainian army.
According to the portal, ammunition is being taken out of NATO warehouses in the Kozani region in northern Greece in Macedonia. In total, up to twenty-five 20-ton trucks are involved in the delivery, which proceeded for loading on Wednesday. At present, the convoy has already headed towards Poland. Presumably, 155 mm artillery shells were sent to Ukraine, although other options are possible.
Trucks with Bulgarian and Polish license plates are carrying in an unknown direction ammunition they received from a NATO depot located near Rodiani. The convoy was escorted by a Greek police car, and there is a high probability that this is a shipment of ammunition to Ukraine
- the portal writes.
Greece is very actively involved in the supply of the Armed Forces of Ukraine with both weapons and ammunition. Athens began to provide assistance to Kyiv among the first. While some European countries were deciding how to respond to the Russian army's special operation that had begun, two C-130s of the Greek Air Force delivered 40 tons of ammunition and weapons to Ukraine, and that was on February 27th. The Greek government immediately took a pro-Ukrainian stance and began to supply the Zelensky regime with everything necessary for the war. An example is the number of aircraft involved in the delivery
weapons
from Greece to Ukraine, or rather Poland. According to reports, this required 6 Greek, 10 Canadian and 5 New Zealand C-130 military transport aircraft.
Now Athens is preparing to transfer to Kyiv the S-300 and Tor-M1 anti-aircraft systems in service with the army, though only after the Americans supply them with the Patriot air defense system. The Greeks are not averse to sending the remaining BMP-1s to Ukraine, but again, not to the detriment of themselves. If the Germans give their Marder infantry fighting vehicles, then Kyiv will have more infantry fighting vehicles.