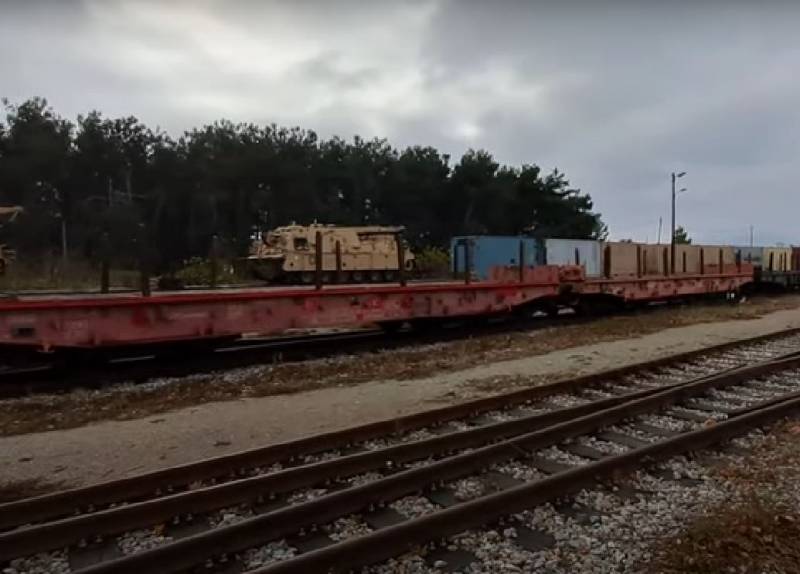 A train carrying military equipment of the American army, intended to strengthen the military presence on the eastern flank of NATO, derailed in Greece. This is reported by the Internet resource of the Communist Party of Greece.
According to the report, it is along this route that the US military has always supplied
weapon
and ammunition to NATO countries on the eastern flank of the alliance and to Ukraine. The accident occurred near the port of Alexandroupolis, when the train was at the French station. It is known that the train transported
Tanks
, armored personnel carriers and ammunition containers. According to some information, all this military cargo could have Kyiv as its final address.
The train was moving at low speed, and under the heavy weight of the load, the wheel derailed and leaned to the side. Special emergency vehicles were called to the scene.
Alexandroupolis is located in northern Greece, in Thrace. The port of Alexandroupolis is traditionally used for the transfer of military equipment of the US armed forces to the countries of Eastern Europe. In 2021, the military camp of Yannuli, located in the vicinity of the port of Alexandroupolis, was transferred to the jurisdiction of the American army.
Recall that Greece plays an important role in providing Ukraine with weapons, military equipment and ammunition. Back in June, Defense Minister Nikos Panagiotopoulos boasted that Athens had given the Kyiv regime an "incredible amount" of various weapons, including infantry fighting vehicles, MANPADS, small arms, artillery and small arms ammunition, etc. But in addition to its own military assistance, Greece, as we see, also performs logistical tasks for other NATO countries, primarily for the United States.
Russia has repeatedly criticized Western countries for supplying weapons to Ukraine. These actions of the US and NATO countries only contribute to the further escalation of the conflict, the Russian leadership believes.
Greek communists staged a protest against the transit of NATO military equipment through the country: