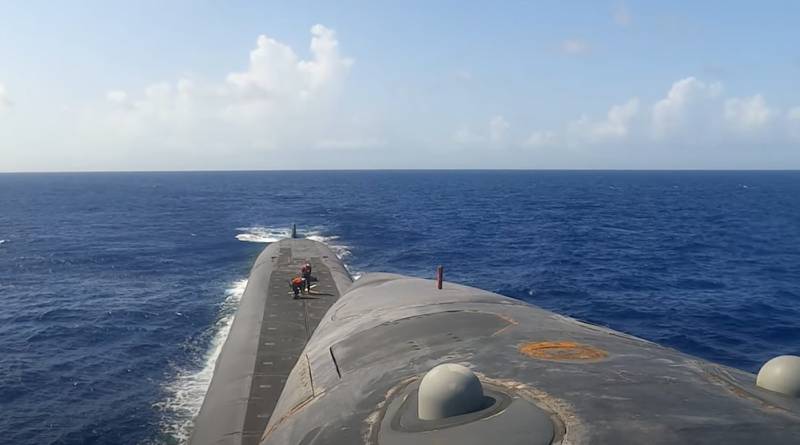 The USS West Virginia (SSBN-736) nuclear submarine was docked off the remote Indian Ocean island of Diego Garcia in October as part of an extended multi-month deployment. But the command of the US Navy announced this only now.
USS West Virginia is one of 14 Ohio-class submarines. Such submarines are capable of carrying up to 20 intercontinental ballistic missiles. They have been specially designed for long stays at sea.
Diego Garcia is part of the Chagos archipelago. It is located 1600 km south of Hindustan and 1200 km south of the Maldives. The UK and Mauritius are vying for sovereignty over the island. In February 2019, the International Court of Justice ordered the UK to transfer control of the Chagos Islands to Mauritius.
Now the island of Diego Garcia is actively used by both American and British troops. The remote location gave the nuclear-capable submarine the ability to evacuate a crew of 150 unnoticed by outsiders. At the same time, the submarine was able to maintain the secrecy of its stay in the area, arriving there, as they say in the US press, "secretly."
The main goal of the nuclear submarine's trip to the distant island was to demonstrate the capabilities of the American submarine
fleet
. The Pentagon wanted to show potential adversaries that an undetectable ballistic missile submarine could operate in any ocean for an extended period.
True, the US Navy does not explain to whom this "warning" was specifically intended - China, Russia or the DPRK, or maybe Mauritius, which claims Diego Garcia ... But there is no doubt that the secrecy of the movements of the American submarine is crucial for collecting intelligence information about opponents. In addition, such movements of submarines significantly increase the capabilities of the United States in the field of nuclear deterrence. This was stated, in particular, by the commander of the US Strategic Command, Admiral Charles Richard.