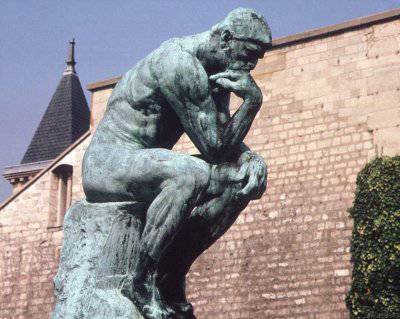 For those who can think and reason.
Over the past 20 years the world has changed. Moreover, very much. For the better or not, it's not for me to judge. And in general, so much has already been said on this topic that adding something new is already quite complicated. I just wanted to draw attention to some aspects and place a couple of accents. In the brain.
It is about him, the long-suffering brain, basically, and will be discussed. Because it is him who accounts for the main burden of the changes of our time. And not every mental apparatus can calmly and painlessly endure it. Therefore, many inhabitants of our world do not use it. For there is no need, and so it is easier. But for the exceptions that still use it, I suggest a couple of thoughts. Not in order to finish off the brain completely, but purely in order to think, suddenly where am I wrong.
The world has changed. Although the basic postulates remain the same: there are shepherds, and there are flocks. The first is a clear minority, the last - the vast majority. Only progress has made life much easier first. Mainly in terms of technical means. If you rewind the tape of time, and try to present modern politicians in less comfortable times, what would happen? Mummers Zyuganov and Mironov in the Roman Senate? Obama in elections in 1900 year?
Yavlinsky, bleating in the Duma model 1905 year? Serdyukov, in Churchill's place this year in 1915? After the failure of the Dardanelles operation? Clinton on the Roosevelt site? That and that ... Then there were people, and now - little people. But each time their orders. Although I can absolutely calmly imagine Zhirinovsky screaming in the same Roman Senate, after which the legions go somewhere where someone needs to be hung. Easy. Yes, it is unlikely that Mr. Schicklgruber with his eloquence would be out of business there. And Caesar at the head of some modern state can imagine. With his attitude to frames, it would be fun to see. And Stalin, pacing around the office in the British Admiralty with a pipe and reasoning on the topic that "we seem that our Spanish comrades are not interested in the development of wealth, but they didn't see the firewalls for building new fires for firenews. Amariki two dapalnitsny squadrons with the aim of reducing the gas supply of Spain in this region ... "Presented? And would allocate ...
Why am I all this. But to what. If you take
historical
identity in digital format, it will come out roughly either zero or one. The unit, in my opinion, will be appropriate in any time period. And zero, I'm sorry, it's zero everywhere. Except in cases where His Majesty intervenes in technological progress. That is, in our time.
I'm not going to throw mud at everyone and everything. My goal is not that. I do not consider, for example, Putin, zero. But I think that at other times he would not have shone absolutely nothing. According to Gorbachev, Yeltsin, Medvedev just silently keep quiet. Everything has been said not by me. Like Mao, Kim, Castro. About each - his own.
Unfortunately, modern means of informing can make a lot of nothing. The whole question is how to file this. We are used to zombie chewing from a drawer, as we get used to everything that is ordinary. Mobile phones, skype, internet and more. We are getting used to the flow of information that is falling on our heads so much that we are not really responding to it. Running late. Grabbed upstairs, that's all. Because the rhythm of life has accelerated so much that it is simply impossible to isolate from the information Volga a trickle of pure and unclouded information. Therefore, we are content with info-fast food. And this, in fact, is necessary from us. Intercepted on the go, and good. We must run on. This is the life buoy for shepherds who need to hold the reins at all costs. And the easiest way is precisely to ensure that the average person simply does not have time to digest the entire flow of information and is content with, so to say, a shortened version in the volume of a 15-minute release
News
. It acts reliably and simply. Examples of the shaft, so let me just a couple.
It was the police. Something tired. Let's convert it to the police. And clean the ranks of bribe takers and all sorts of werewolves. Well, they did a show. Overheated stickers on the machines, dressed in a new form, staged idiocy with re-certification. As a result, we also received a reduction in the ranks. Here are just mostly those who did not want to pay that money for the passage, that is, experienced workers, who had so much left until retirement that the thrown million would not pay off. I don't take a figure from the ceiling, they sounded so much to my friend, the lieutenant colonel. As a result, he works as a consultant in an agrofirm and saw in the coffin all this reform. There are young people who benefit. Only no experience, teach no one. As a result, the average person gets what? Well, you know. A lot of noise was around Kazan, so what? Such throughout Russia, both they were beaten and beaten, as with electric shooters, they continue like that, as they hang on crowbars, so they hang them. But Nurga reported on the purification of the ranks - so everything is in order. Rows are clean. The whole question is from whom. And then in the media, almost silence and grace ... Except for the reports of victories and rare resignations. And then, about the resignation to put it mildly, unintelligible. It seems to be ogogo, resigning a pack kicked out! And then it turns out that they didn't get kicked out at all, but were sent according to length of service, well, or whatever one of the local residents wrote ... For some reason, I am more inclined to trust the local than the television.
About the actions of our native government just want to be silent. I'll keep silent. I am silent about the fact that all statements should be taken the other way around. That is, if they say that another record harvest of grain has been harvested, we must wait for the bread to rise in price. By the way, waited. If solemnly declare that oil companies are fined for lawlessness with prices - we must wait for the rise in price of gasoline. I am silent ... I am also silent about how one party before the elections screamed at all intersections that one of the main tasks was to prevent the rise in prices for housing and communal services. Either this party won not the way it wanted, or something else, but I am also silent about it ... Yes, and you all with me, too, keep silent. Because yelling like the law is prohibited. So now silent ...
How to submit everything is the main task of our time. The most important thing is a beautiful wrapper and a maximum of minimal information. That is, when you do not understand much. Here I am silent, as one retired representative of power structures decided to take care of the rooks. So that they can fly to the south. And for this you need to teach them to fly and navigate in space. The whole country watched this fascinating report for three days, as a man on an aircraft pretended to be the leader of the pack. But either the birds did not gain credibility, or something else, but then the mean information leaked out that the rooks did not fly away. And some other number died in the process of learning. It happens. Not always the initiative is useful. Worse, the example is contagious. Imagine that now someone in the government or the Duma decides that the case did not burn out due to a person's lack of experience. And he will carry the speaker of the State Duma, the prime minister, or, God forbid, bring the President to the seat of an aircraft unit ... And is he still being crushed from heaven? Here it is necessary to monitor and stop initiatives ... In order not to harm. And the rook is a dull bird ... So now we are silent about all this. To hell with them, with the rooks, that there are no more pressing issues in the country?
About the Ministry of Defense close to every man's heart, I am also silent. How much was said that the budget is too small? How much were we all screaming on the Internet, that it was impossible that the army and navy of the country should be? And they heard, probably ... Do you remember how everyone was happy when they announced the allocation of ... ty billions of rubles for this benefit? How did you discuss the figures for the numbers of airplanes and helicopters that are to be built this year? And how some of the faint-hearted on this site subjected these words, to put it mildly, to doubts? Faint-hearted are silent now, silent and all the rest. But instead of reports and reports on the acceptance into service of airplanes and helicopters there are materials about what thieves were in MO. The Zvezda channel told in detail and with figures how much money, valuables were taken from, showed apartments ... So I didn't understand one thing, because it wasn't covered in reports as useless: it was stolen before, or it was already stolen billions? About the fact that some of these people were known as friends of one person, very similar to one representative of the St. Petersburg intelligentsia, I am again silent. Because they all at one time worked in the team of this person along with another person. Who does not know how to fly attack aircraft, does not teach rooks to fly, can not stand the fight and tennis, cares about plumbing and, nevertheless, is an example for many.
So it turns out that technical progress is very handy when you just need to fool a certain number of people in a single country. The recipe is simple, everything is there, so why not? The world is spinning faster and faster, the time for analyzing everything that is happening is less and less, more and more, the majority trust in what is happening in the general information flow. And the main purpose of the information flow in our brains is to simply distract from what you really should pay attention to and discuss. Out loud and loud. And thus they are turning the population of a far from the worst country into a crowd of zombies, capable only of croaking on the topic "Thank you to your favorite party for the roads, bridges, hospitals, etc.". And you know what is the biggest problem from my point of view? And the fact that after reading this all, every visitor to this site has the full right to send me to ..., to ... and to ..., because personally he is not a zombak. And he will be right. That's the problem: in particular, every person, and in general - a small handful in the country that he wants, he does.
I do not call for barricades. I do not urge to break into opposition rallies. This, of course, is nonsense. It is just entertaining for those who are at the top and the way of releasing steam is just for the gray biomass. But there is no doubt that it is necessary to do something. And then we sit here, smart and understanding, we argue, opinions are expressed. However, we forget that there was such a country in the last century, where there were also many clever and dissenters. And how they created for them, a dissident, all the conditions for dissent and for expressing their thoughts out loud. Fenced off, however, from the general mass, so as not to embarrass the minds with their dissent ... Providing food, work ... well, they understood what I was talking about. How, dear, do not finish badly? The Internet is, of course, good so far ... But in the light of some laws in the spirit of freedom of speech and thought, everything can be expected. This is theirs, there, Birkenau, a museum. And we still have all the lags, just lubricate the hinges on the gate and invite everyone in the Lenin room to the discussion. Yes, and not particularly stand on ceremony with those who do not want to argue there. Experience, glory ... what a won.
So I do not say goodbye, I have a couple more topics for which I would like to keep silent. And if someone adds something smart to me, not quite advanced, I will be grateful. Because I feel that there will be more ... fun. And informative.