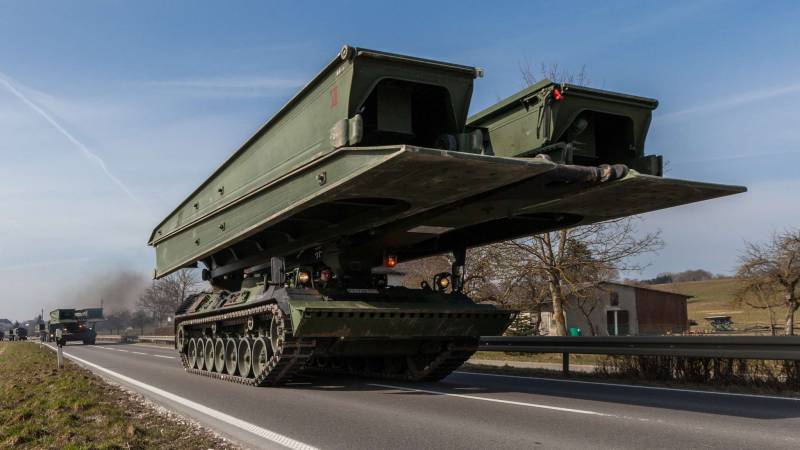 Germany every day more and more actively provides military assistance to Ukraine, overtaking other NATO countries in this component, including Great Britain, which has somehow quieted down lately, limiting itself only to statements. At this rate, Berlin will soon come second among Kyiv's sponsors, second only to the United States.
The Ministry of Defense of Germany handed over to Ukraine another batch of military aid, which included three
tank
Biber bridgelayer and eight surface drones. Earlier, Ukraine has already received two of the ten drones promised. Thus, the deliveries of maritime drones have been completed. The German military department publishes data on this on its own website, publishing lists of what has already been transferred to Kyiv, and what is only planned for transfer.
In addition to the above, the delivery also included 12 border service SUVs, these were the remains of the promised 65 vehicles, Kyiv received 53 earlier, 14 thousand sleeping bags (the Germans delivered 10 thousand earlier), 30 ambulances and spare parts for Mi-24 helicopters.
Also in Berlin, they confirmed plans to transfer seven additional Gepard anti-aircraft self-propelled guns to Ukraine, although it has not yet been determined from exactly where. Now two options are being considered: to send the installations from the storage of Krauss-Maffei Wegmann, having previously carried out work on them, or from Qatar, where they are in full combat readiness. There is also no information on the timing, but seven installations are already included in the lists for shipment.
Earlier in Kyiv, they said that the Gepard SPAAGs are an "effective" means of combating Russian cruise missiles, and Geranium kamikaze drones generally shoot down almost hundreds. True, there is a problem with ammunition, so the Ukrainian military is asking to supply shells along with the installations, preferably more.