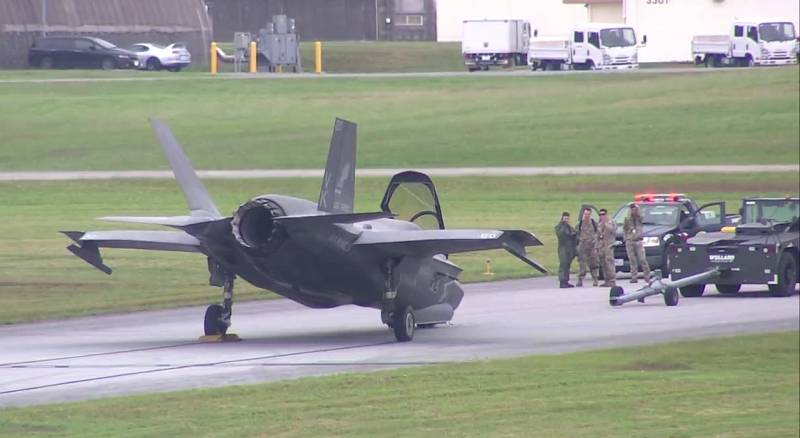 Recently, reports of various unpleasant incidents occurring with American military equipment, ships and aircraft have been appearing quite regularly.
It turned out that the over-praised, but desired to receive by many NATO countries, and not only, fifth-generation F-35 fighters manufactured by the Lockheed Martin aircraft concern can fail not only in combat, but sometimes they are not able to rise into the sky. Moreover, aircraft breakdowns occur not even during take-off acceleration, but during towing. This is despite the fact that the aircraft in a certain modification is also famous for the fact that it has the possibility of a short takeoff and vertical landing.
Such an incident this time happened with the F-35B at the Kadena airbase on the Japanese island of Okinawa, where the 1st air wing of the US Marine Corps is based.
Japanese TV channels distribute footage in which the F-35B is very unpresentable on the taxiway, with its fuselage buried in concrete. The aircraft reportedly folded its nose landing gear during towing. And okay so. What would happen if such a breakdown occurred during takeoff, and even more so, landing.
Perhaps, after this, far from the first, incident with an American aircraft, the Japanese government decided to refuse to cooperate with the US authorities in the development of a new generation fighter just manufactured by the Lockheed Martin concern. The Japanese leadership preferred to conclude contracts for the creation of a new generation combat aircraft with Italian and British aviation enterprises.
At the same time, the leading role in the development of a new combat aircraft was assigned to the Japanese company Mitsubishi Heavy Industries, while the American aircraft concern refused even to provide Tokyo with technologies for designing a combat vehicle. But the British company BAE promised to give the Japanese side full access to their developments. Tokyo rightly considered that its own control would be more reliable than blind trust in American engineers.
Last December, an F-35A fighter jet operated by the Japan Air Self-Defense Force made an emergency landing at Hakodate International Airport in Hokkaido Prefecture. The pilot was not injured, but the fact itself was again not in favor of the American aircraft.
In April 2019, the Japanese Ministry of Defense reported that a fifth-generation F-35A fighter-bomber of the Japan Self-Defense Forces crashed into the Pacific Ocean near the northern Aomori Prefecture. The reason has not yet been officially named. According to unofficial information, the pilot suffocated from lack of oxygen when the oxygen supply system failed.
Last November, an F-35B of the Royal Air Force of Great Britain failed to break away from the deck of an aircraft carrier during takeoff and crashed into the sea. The pilot managed to eject and was rescued by the ship's crew, and the plane sank.
Frames with an abnormally formed front landing gear in the movement of the aircraft: