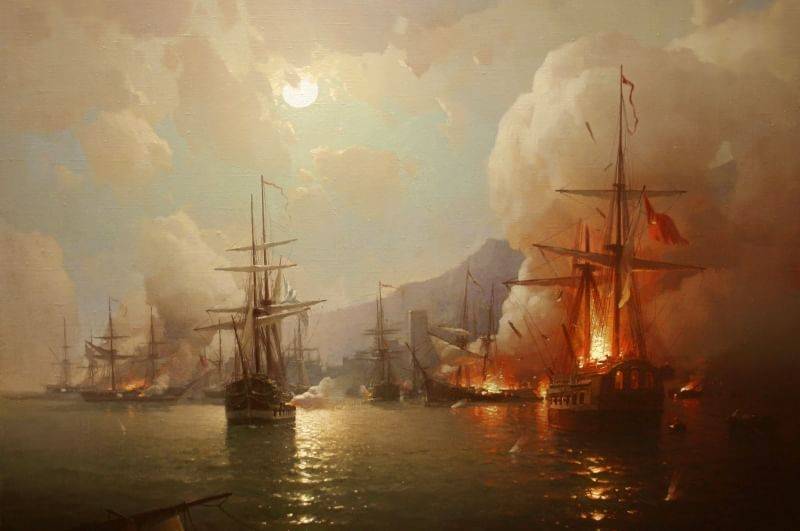 Today Russia celebrates one of the Days of Military Glory. 169 years ago, the Turkish squadron suffered a crushing defeat from the Russian squadron under the command of Vice Admiral P.S. Nakhimov at Cape Sinop.
The battle began on November 30 (18, old style) and ended in less than a day with the complete defeat of the Ottoman squadron under the command of Osman Pasha. In fact, this naval battle can be called a "prologue" to the Russian-Turkish war of 1853-1856.
It is worth noting that, as in other Russian-Turkish wars, of which
stories
there were 12, in this conflict the Ottomans were supported by Western countries. Particularly France and the UK.
On November 11, 1853, the squadron of Pavel Nakhimov approached the Sinop Bay, where there were significant enemy forces. Nevertheless, despite the superiority of the Turks, the vice admiral decided to block Sinop and sent a brig with a request to send reinforcements.
The last one arrived on November 28th. As a result, Nakhimov had at his disposal a squadron of 6 battleships: three 120-gun, three 84-gun, and 2 frigates with 60 and 44 guns. In total - 716 guns.
In turn, Osman Pasha's squadron in total had only 476 naval guns, in connection with which the Turks had already sent a request for reinforcements. At the same time, the message was transmitted to the British allies only on November 29, the day before the Russian attack.
fleet
. As a result, the Ottomans did not wait for help.
It is worth adding here that the Turks, in addition to shipborne guns, also had coastal guns, which in a sense equalized the chances of the warring parties. However, the Turkish command made a mistake by placing their ships in such a way that they covered part of the coastal guns. In addition, Osman Pasha's squadron was practically at the shore, which completely deprived it of maneuver.
During a relatively short battle, the Ottoman squadron was completely destroyed. The Turks in the battle for the Sinop Bay lost about 3 (the British voiced 4) thousand people and 17 ships.