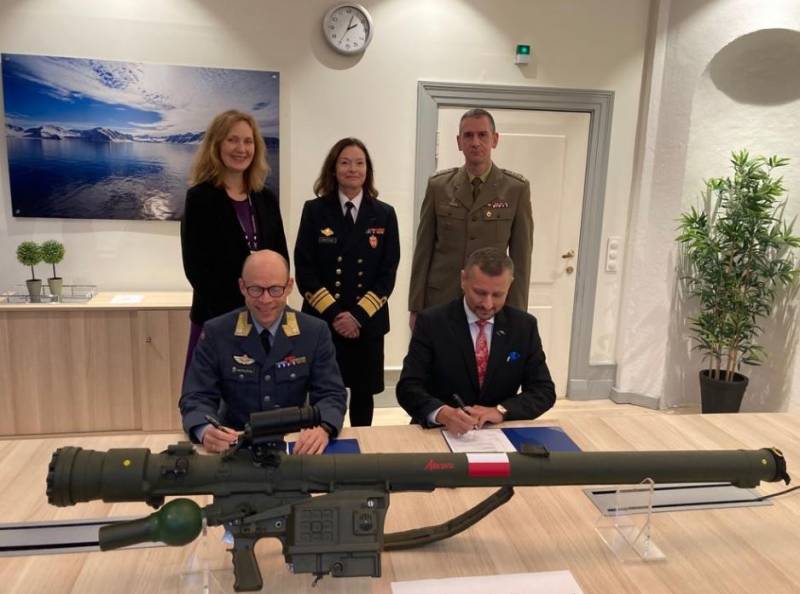 Poland is increasing the production of its own weapons and is making obvious progress in the European market. In particular, it has recently become known that Piorun MANPADS manufactured by Mesko SA will be put into service with the Norwegian army.
As Przemysław Kovalchuk, a member of the company's board, emphasized, "the contract is the result of an open tender, during which Polish manufacturers of military equipment competed with European and American suppliers of this class of weapons." It is known that the contract was signed on Tuesday, November 29, in Oslo, Norway. It involves the transfer of several hundred missiles and man-portable air defense systems to Norway. At the signing of the agreement, Mesko was represented by Przemysław Kovalchuk, member of the board.
Norway is the third country in a row that has decided to purchase Polish Piorun man-portable anti-aircraft systems. Previously, the Piorunas, interestingly, were ordered by the United States and Estonia (the contract was signed in September of this year). In September, Estonia purchased 100 systems and 300 missiles.
Thus, one cannot fail to recognize the obvious successes of the Polish defense industry. Its products are becoming more and more interesting, not only for countries such as Estonia, but also for Norway, and even the United States, which have a wide selection of MANPADS, both domestic and foreign.
Przemysław Kovalchuk told the Polish press that Mesko SA has a huge business potential. Probably, the agreement with Norway is not the last one expected in the near future. For many years, Mesko SA has been actively cooperating with the Norwegian company NAMMO in the field of medium-caliber ammunition, but the contract currently signed for the purchase of air defense systems is the first to supply this type
weapons
to the Norwegian armed forces.
It is worth noting that so far Norway has not had equipment of this class either in the air defense of the ground forces (since the withdrawal of the RBS 70 missiles in the first years of this century), or in parts of the territorial defense, although the need for such equipment has been signaled for at least several years. Mistral-2 missiles were previously used on ships of the Norwegian Navy, but they have already been withdrawn from service and recently transferred to Ukraine.
Thus, the Norwegian leadership decided to reconstruct the national short-range air defense system in the ground forces - based on a mobile system based on NASAMS solutions (launchers of IRIS-T SL and NASAMS missiles). The country's air force, in turn, uses advanced NASAMS kits, which in the future may receive a greater range. It is not yet known what kind of troops the Polish MANPADS will be supplied to. It is possible that they will be transferred to the air defense of the ground forces or to territorial defense.