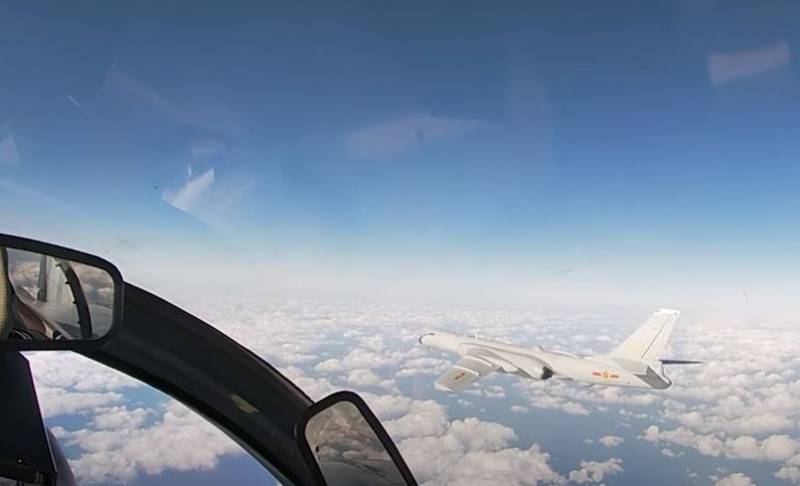 Russian and Chinese combat aircraft entered the so-called "air defense identification zone" of South Korea, reports
news
Yonhap agency with reference to the Committee of Chiefs of Staff of the Armed Forces of the Republic of Korea.
Seoul accused Russian and Chinese warplanes of entering the republic's air defense identification zone without prior notice. According to the data provided by the South Korean military, we are talking about two H-6 bombers of the PLA Air Force and four Tu-95 strategic missile carriers of the Russian Aerospace Forces, which were accompanied by two Su-35 multi-role fighters. Moreover, the Chinese entered the above zone three times. However, the airspace of South Korea was not violated.
According to information received from the Committee of Chiefs of Staff, first two Chinese H-6 bombers entered the South Korean zone 126 km northwest of the island of Io, stayed in it for about 25 minutes, then left, but reappeared within half an hour northeast of Pohang city, leaving after 23 minutes.
The anxiety for Seoul did not end there, because after about five hours not only Chinese planes appeared in the zone, but also Russian ones, which entered it 200 km northeast of the island of Ulleungdo. A pair of H-6 bombers, four Russian Tu-95 strategists and two Su-35s stayed in the air defense identification zone for about 18 minutes, then went further along the route. The command of the South Korean Air Force took off fighters and prepared to repel a possible air attack.
Judging by the reports received, the Russian Aerospace Forces and the PLA Air Force conducted another joint patrol in the Sea of ​​Japan area. In the near future, confirmation from the Russian Ministry of Defense should follow.
By the way, Russia does not recognize the so-called South Korean air defense identification zone, since this zone is not provided for by international rules and was created by Seoul independently. However, South Korea, with enviable persistence, continues to accuse Russia and China of violating this zone, it may even burst into a note of protest on this matter, this has already happened.