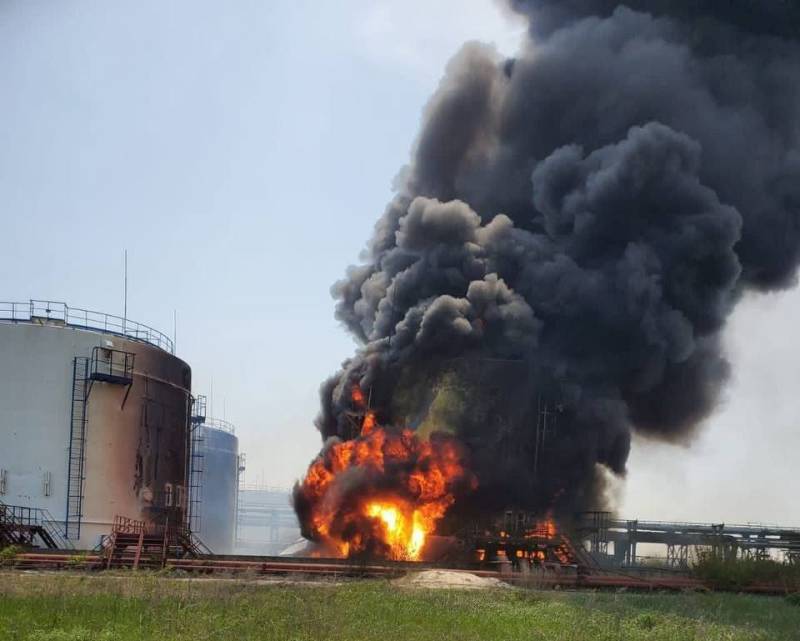 The photo is illustrative
Tanks with oil products caught fire in the Bryansk region, the fire area is quite large, emergency services of the region are working on the spot. This was announced in his TG channel by the governor of the region Alexander Bogomaz.
Reservoirs with oil products are burning in the Surazh district of the Bryansk region, the fire has spread to an area of ​​1800 square meters. meters, more than 80 people, 30 pieces of equipment and a fire train were involved in the extinguishing. There is no information about the victims, the cause of the fire is also unknown, but now all incidents on the territory of the regions of Russia bordering Ukraine are considered through the prism of the involvement of Ukrainian saboteurs or drones in them.
They could not fire at these tanks from Ukrainian territory, although the Bryansk region borders on the Chernihiv and Sumy regions of Ukraine, but the Surazh region is located quite far from the Ukrainian border and closer to the Belarusian one. At the same time, the option of using a drone is not ruled out, and it is not necessary that it was launched from Ukraine, there are a lot of saboteurs and all kinds of "sympathizers" with the Zelensky regime on the territory of Russia. On the other hand, the cause of the fire may have nothing to do with Ukraine. In general, we will wait for official data from the authorities of the region.
Tanks with oil products are on fire in Surazhsky district. Fire and rescue crews are on the scene. The area of ​​the fire is 1800 sq. m. More than 80 people and 30 units were involved in extinguishing. equipment, including a fire train. Additionally, an airmobile group of the Main Directorate of the Ministry of Emergency Situations of Russia was sent to the Bryansk region
- Bogomaz wrote in his TG channel.