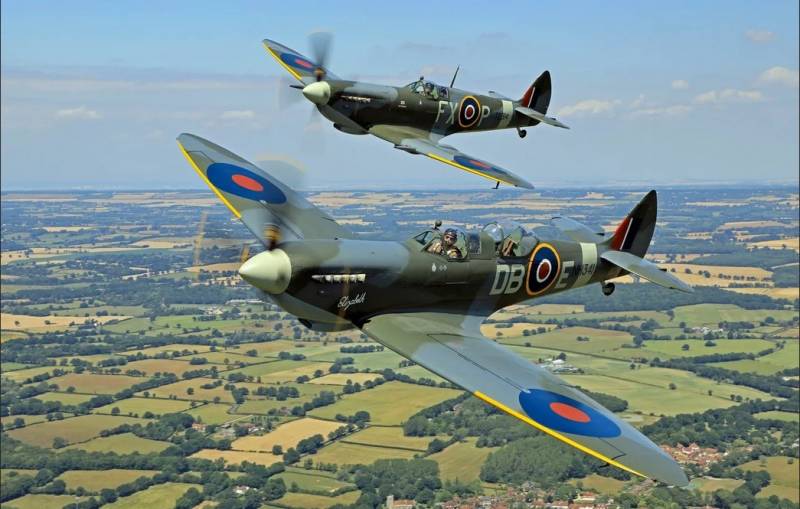 "To effectively destroy enemy unmanned aerial vehicles, "Ukrainians will have enough Spitfire fighters, it's a pity that we don't produce them anymore"
Boris Johnson, former British Prime Minister, said.
Oh yes, from the over-extensive British prime minister (albeit a former one) during his reign, we heard a lot of ... extraordinary things. But this time, Boris was right. Well… almost right. Of course, a certain excess took place, but where today without such?
So what did Johnson mean when he talked about Spitfires? And he, oddly enough, had in mind exactly the Spitfires! Yes, those same Supermarine Spitfires that proved themselves well in the skies of World War II and deservedly entered the pantheon of the best fighters.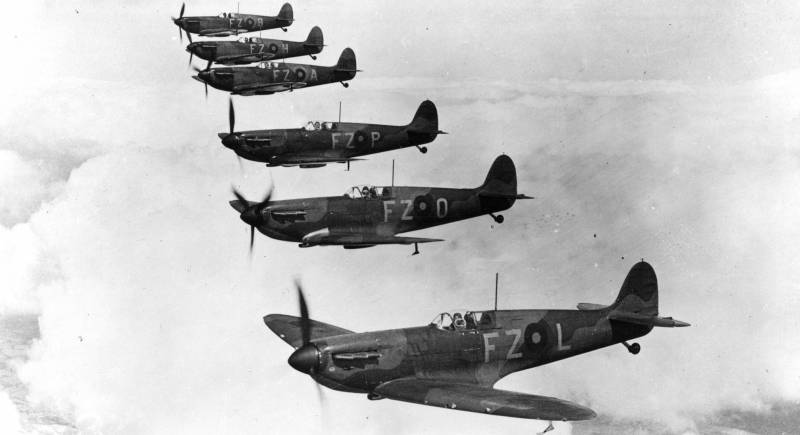 A total of 20 Spitfires were built, including two-seat trainers. At the moment, 351 aircraft are in a state of airworthiness (according to other sources, 44 aircraft).
And Johnson proposes to give these planes to Ukraine.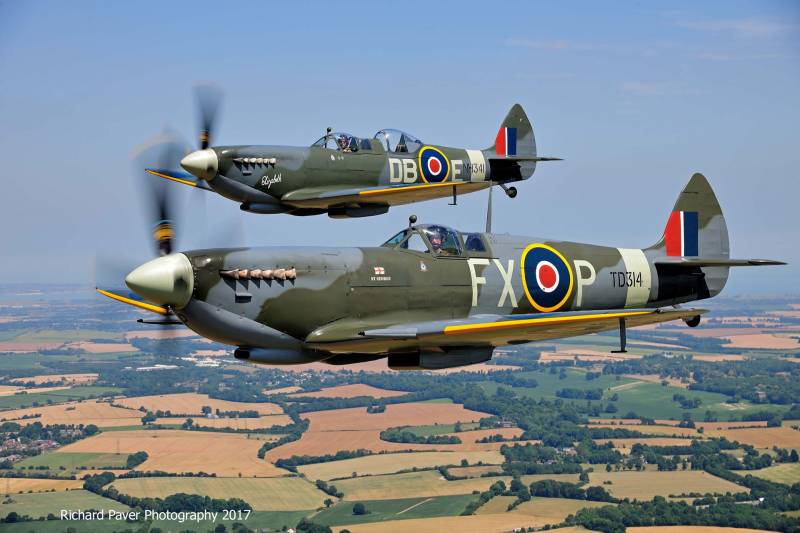 Stupidity? Not at all. A little misunderstanding caused by the lack of military practice, but what to take from these European journalists who have become politicians, right?
At the same time, repeatedly (the last time not so long ago, here:
"Shahed" - "Barvinok" over Russian cities: prospects and options
и
"Shaheds" over Russia: how to deal with them
) I spoke about the methods of combating UAVs, which we may also come to.
In light of these alignments, Johnson's proposal is not as much of a joke as some have thought. In the joke of the former prime minister, there is very little joke, as such, and a lot of rationalism, if you think it through correctly.
So, the Spitfire in the Mk IXE version, equipped with a Rolls-Royce Merlin 66 engine with a power of 1575 hp, developed a speed of almost 650 km / h at an altitude of 6 m, and the practical ceiling of the car reached 400 km.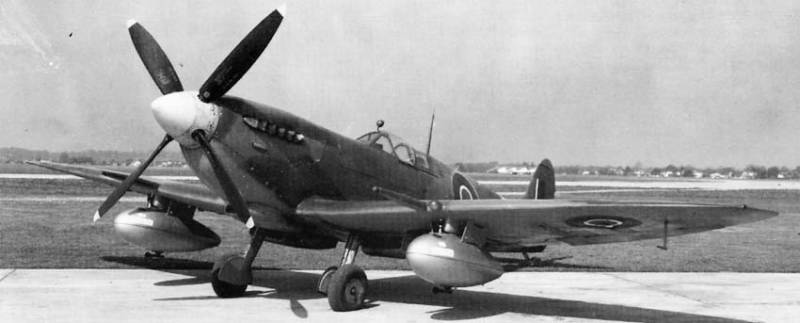 The fighter was armed with two 20-mm Hispano Mk.II cannons with 120 rounds of ammunition per barrel and two 12,7-mm Browning M2 machine guns with 250 rounds of ammunition per barrel. There could be options with four guns (the ammunition then consisted of 145 shells for guns closer to the wing root and 135 shells for the outer ones) or four Browning machine guns of 7,62 mm caliber and 350 rounds of ammunition per barrel.
Say, there were better planes? Yes they were. But this most massive Spitfire at the time of 1943, and he fought pretty well. "Nine" served until the very end of the war.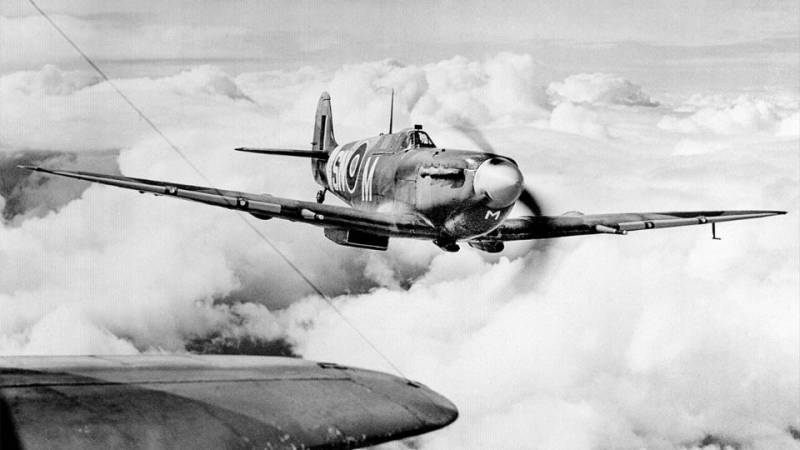 In such a detailed set of weapons and performance characteristics lies the essence.
Let's take some Western-made UAVs. Just for an example and because there is more data about them. The American reconnaissance and strike MQ-9 Reaper is equipped with a turboprop engine that accelerates the device to a speed of more than 400 km / h.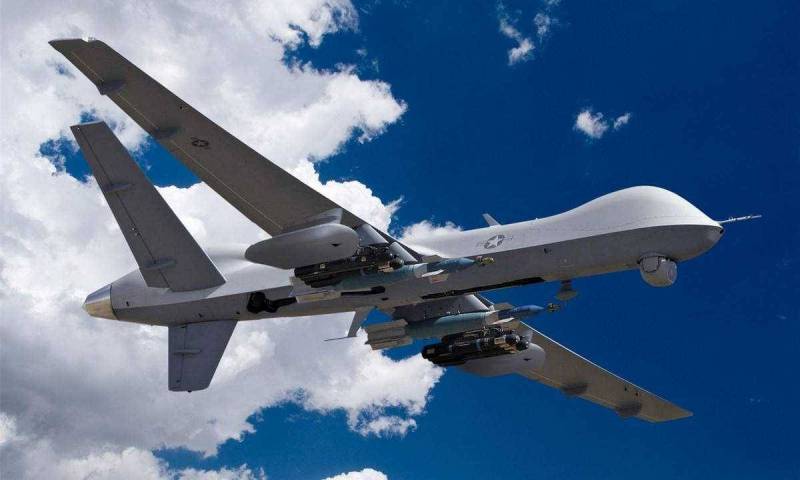 The practical ceiling of the Reaper is 13 thousand meters, but they actually fly lower. The MQ-1C "Grey Eagle" has a lower speed of 250 km / h and a ceiling of 8 meters, but it carries a decent set of weapons. And the Turkish "Bayraktar" TB800 has similar characteristics.
Here, in my opinion, the most important thing is the height at which these very small devices operate in comparison with the aircraft. We have already said that not every air defense system can confidently detect and destroy a MALE / HALE class drone, and the efficiency of aircraft will not be very high due to speed.
Helicopters, on the contrary, are not suitable for countermeasures both in height and in speed. Our same beautiful Ka-52, which has a maximum speed of 350 km/h, may simply not catch up with the same MQ-9 on a catch-up course. And to dream that a helicopter will be able to climb to a height of 7-8 thousand meters and work effectively there ... No, this machine was created for completely different tasks.
But the piston fighter operates quite successfully in the entire range of altitudes and speeds mentioned, its armament allows you to make a sieve out of any unmanned aerial vehicle in a matter of seconds. 7,62mm machine guns can be especially effective. They will just spit out a cloud of bullets, from which something will fly into the drone. And the ammunition load of the same Spitfire of 280 shells and 500 rounds looks somewhat heavier than the 480 shells of the F-22 or 150 shells of the Su-35. Despite the fact that the b / c of the American aircraft seems to be higher, the six-barreled gun will spit it all out in two seconds. And 80 shells per barrel is not so much.
Well, it's not worth talking about how much it costs to hunt for UAVs on a modern fighter. $60 for an hour of flight is overkill. This is for the F-35, 4+ generation fighters will cost less, but not in the way we would like.
And if we are talking about the interception of UAVs like the Iranian "Shaheds", then there is generally melancholy and sadness. They are even smaller than strike and strategic reconnaissance, and it is even more difficult to deal with them. And to use modern fighters of the 4th and 5th generations on them - it's generally pointless to transfer the resource of aircraft, you know what.
Of course, Johnson's idea of ​​using eighty-year-old aircraft in combat mode is foolish bravado. No one really knows what resource these frankly museum exhibits have left, and there is no need to talk about providing them with spare parts and consumables. 44 The Spitfire Is a Treasure
stories
, and it's great that they can fly at least for demonstration and fact-finding purposes. And for them there is gasoline, oils, candles, filters and everything else.
But only a person who knows nothing about aviation could offer to use them to perform combat missions.
However, even in such a proposal by Johnson there is a rational bean.
And the sound idea is that in the fight against relatively small in size and slow in
aviation
By the standards of targets such as UAVs, modern piston aircraft can be sent.
Swiss RS-9 "Pilatus", Brazilian EMB-312 "Toucan" and EMB-314 "Super Toucan" - if not a panacea, then quite a possible scenario for the development of further events. I would gladly add a Russian aircraft to this list, but alas, we have nothing similar. Although we still have a lot ahead of us and it was worth being prepared for anything.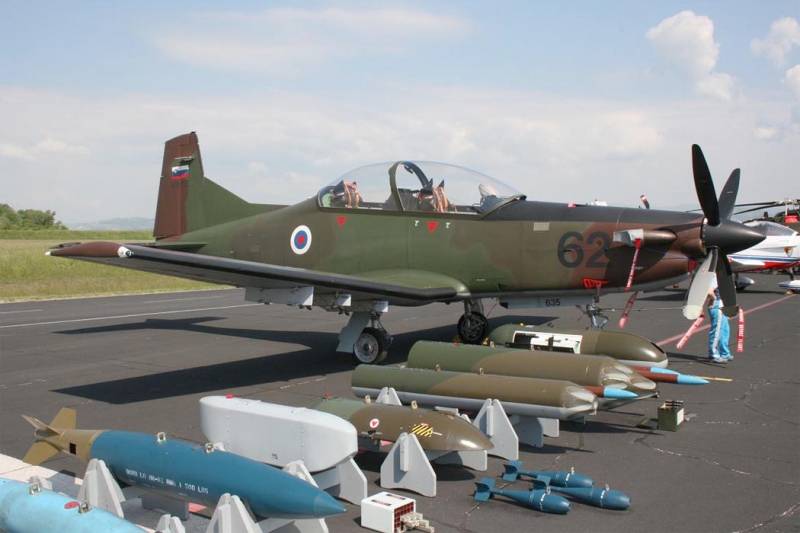 RS-9 "Pilatus"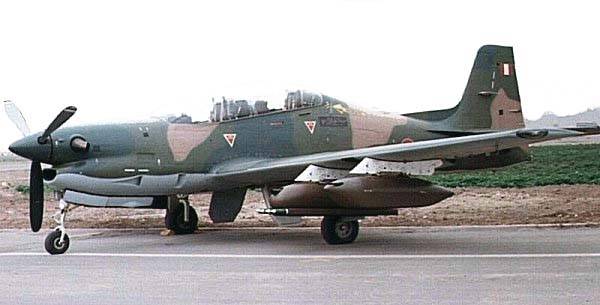 EMB-312 "Toucan"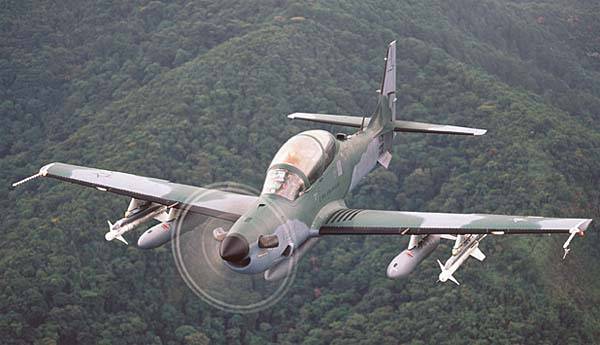 EMB-314 "Super Toucan"
"Pilatus" and "Toucan" are proven machines, let's say, of the last generation, originally from the 20th century. But the "Super Toucan" is real.
EMB-314 "Super Toucan" is a light attack aircraft from the Brazilian company Embraer.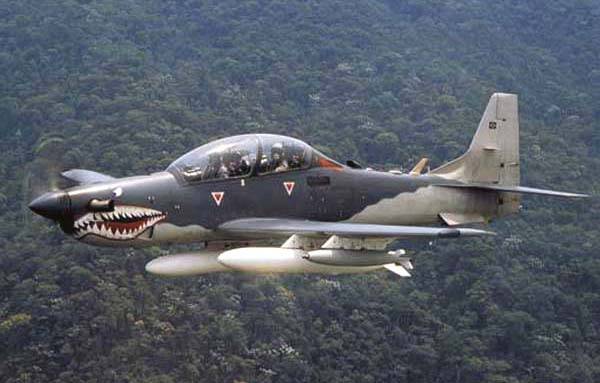 The machine is equipped with a Pratt & Whitney PT6A-68/3 turboprop engine with a power of as much as 1600 hp, which accelerates the aircraft to almost 600 km/h and lifts the ceiling above 10 meters. In general, it is quite comparable to the Spitfire, only the Super Toucan has goggles for night flights, a digital control system
weapons
, a system for displaying data on a helmet for pilots, ejection seats and many other useful modern bells and whistles.
The armament of the aircraft consists of two 12,7 mm FN Herstal M3 machine guns and a 20 mm cannon in a hanging container on the fuselage assembly. Plus, you can still hang about a ton of other weapons.
In general, it's quite such a drone fighter, which will be more than easy to do. Given the presence of radars and a second crew member who will work to search for targets without distracting the pilot from control.
Of course, it is worth remembering that even such UAV hunters will not be able to do anything if there is no established and well-thought-out air defense system. The destruction of the target must still be preceded by its detection.
We need not just air defense radars capable of working on small targets, but to do this over the entire range of UAV flight altitudes. Plus, it does not hurt at all, and even the optical channel will be very useful. The experience of Ukraine shows how important mobility is. That is, the presence of a sufficient number of mobile radars that will work as guidance stations for both aviation and air defense systems.
By the way, about the accompanying air defense systems. In these articles, an opinion has already been expressed about how anti-drone air defense is seen. Automatic guns with a caliber of 30 mm and above are stupid, because they will not provide the proper density of fire, but will ruin the consumption of ammunition. Some Russian media sang the praises of the new "Derivation".
"A very promising means for combating strike UAVs is the domestic Derivation-Air Defense complex, equipped with a 57-mm automatic cannon with a high rate of fire."

It remains only to wait until this "Derivation" will be in metal and in an amount exceeding the parade calculation. Well, what happened with "Armata", "Kurganets" and other "Coalitions". I suspect we won't see it very soon.
But a 57mm programmable fuse projectile is no worse than a 76mm anti-aircraft projectile. Maybe. It will be possible to find out exactly when the projectile will be made and tested. So far, everything is from the area of ​​\uXNUMXb\uXNUMXbtales about the "Armata".
In general, the destruction of an UAV that costs several hundred dollars with a more expensive weapon such as a rocket for several tens of thousands of dollars is not smart. This is a war of attrition, so weapons should be inexpensive.
Now many will remember about electronic warfare, but alas, electronic warfare kits are not so cheap, they are found and amazed absolutely calmly, but they can cause less harm than they are expected to do. The narrow beam of the promoted "Krasukha" may simply not catch the "moped" rattling somewhere above, and even capturing what? Maybe nothing. If the drone flies according to the program laid down in it in the inertial navigation system, then it does not need either satellites, or communication with the operator, or telemetry. And he is not afraid of electronic warfare.
By the way, Ukraine showed it perfectly. What, the Armed Forces of Ukraine do not have electronic warfare systems? There is. Did they help a lot against the "Shaheds"? No. Simply because in order to suppress something flying, it must have equipment that can be affected by a beam of simulated waves. And if it is not there, then kilowatts can be burned in vain as much as you like, but a rumbler with a bag of explosives will fly to the right place slowly, but inevitably.
So if the sound pickup installations and batteries of large-caliber anti-aircraft guns described in previous articles, sowing sectors with thousands of fragments deadly for UAVs, are not very fantastic, then a propeller-driven aircraft (an option is a subsonic flying machine like our Yak-130 or Japanese Fuji F7) with machine guns and modern filling - not so much humor as it seemed at first.
Humor, not humor, performed by the original Boris Johnson, but it is unlikely, of course, that we will see Spitfires chasing Shahedas and Calibers over Kyiv. But "Toucans" and "Pegasuses" - it is quite possible.